RETURN TO SEARCH RESULTS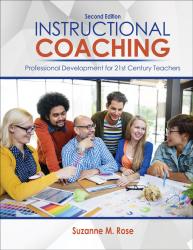 Instructional Coaching: Professional Development for 21st Century Teachers
Author(s): Suzanne Rose
Edition: 2
Copyright: 2021
Pages: 182




Details: Print Product |
Instructional Coaches have been busier than ever, meeting the professional development needs of teachers as teachers have been, often reluctantly, moved into teaching in online formats as the result of the pandemic. This second edition of Instructional Coaching: Professional Development for 21st Century Teachers, includes new and updated resources for instructional coaches as they strive to assist and support teachers with these new challenges. Providing relevant, personalized, and impactful professional development is more important than ever.
Readers will find useful organizational tips, forms, and information to support their coaching endeavors such as:
co-teaching
teacher study groups
coaching cycles
book discussion groups
Introduction
CHAPTER 1 Introduction to Instructional Coaching
What Do Instructional Coaches Do?
Typical Instructional Coach Tasks
Models of Instructional Coaching
Instructional Teams
Resources
1.1 Roles of the Literacy Coach
1.2 Beginning of the Year Letter
1.3 Literacy Topics Survey: Elementary
1.4 Literacy Topics Survey: Middle/Secondary
1.5 Elementary Literacy Materials Survey
1.6 Middle/Secondary Literacy Materials Survey
1.7 Team Goals Chart
1.8 Online Resources for Keeping Meetings Running Smoothly
Reference
CHAPTER 2 Organizing for Coaching
Establishing a Schedule
Sample Daily Instructional Coaching Schedule—Elementary Level
Sample Daily Instructional Coaching Schedule—Middle or Secondary Level
Tips for Scheduling with Recalcitrant Teachers
Mastering Recordkeeping
Resources
2.1 Daily Coaching Schedule
2.2 Weekly Coaching Calendar
2.3 Scheduling Survey Form
2.4 Daily Coaching Record
2.5 Individual Coaching Record
CHAPTER 3 Effective Professional Development and Adult Learning
Effective Professional Development—
You're the Coach: Professional Development Scenario
Characteristics of Effective Professional Development
Schoolwide Professional Development Plans
Principles of Effective Adult Learning
Involving Teachers In Professional Development Presentations
Resources
3.1 Professional Development Needs Survey
3.2 Options for Professional Development
3.3 Tips for Effective Presentations
References
CHAPTER 4 The Coaching Cycle
The Coaching Cycle
Identifying the Leverage Point for Effective Coaching
Resources
4.1 Instructional Coaching Resources
4.2 Identifying the Coaching Focus/Leverage Point
CHAPTER 5 Teacher Study Groups
Teacher Study Groups
Goals for Teacher Study Groups
Professional Development Modules
Resources
5.1 Sample Teacher Study Group Agenda
5.2 Teacher Study Group Log
5.3 Resources for Teacher Study Groups
Reference
CHAPTER 6 Book Study Discussion Groups
Book Study Groups
Goals for Book Study Groups
Tips for a Successful Book Study Group
Selecting and Obtaining the Books
Resources
6.1 Suggested Books for Book Study Groups by Topic
6.2 Resources for Book Study Groups
References
CHAPTER 7 Observing Instruction
Observing Instruction
Being a Reflective Observer
Sources Which Influence Observations
What Should I Observe?
Observation Cycle
Keeping Track of Ideas during Observations
Resources
7.1 Classroom Observation Form
7.2 Seating Charts
7.3 Classroom Observation Organizer
7.4 Notes for Follow-up
7.5 Online Resources for Observing Instruction
CHAPTER 8 Studying Instruction
Studying Instruction
Lesson Study
Video-Based Self-Reflection
Video-Based Student Observation for Professional Development
Intra- and Inter-School Classroom Visitations
Focused Content Lessons
Resources
8.1 Resources for Lesson Study
8.2 Video-Based Self-Reflection Viewing Guide
8.3 Student Video Observation Guide
8.4 Generic Classroom Visitation Observation Guide
8.5 Supporting Teachers' Attempts to Use New Approaches
References
CHAPTER 9 Systematic Observation of Instruction
Systematic Observation of Instruction
Rating Scales
Classroom Coding Systems
References
CHAPTER 10 Demonstration Lessons
Demonstration Lessons
Planning for Demonstration Lessons
Resources
10.1 Demonstration Lesson Observation Guide
10.2 Demonstration Lesson Plan
10.3 Ideas for Demonstration Lessons
10.4 Post-Demonstration Lesson Summary Form
Reference
CHAPTER 11 Co-Planning and Co-Teaching
Co-Planning and Co-Teaching
Co-Planning and Co-Teaching Process
References
CHAPTER 12 Instructional Rounds
Instructional Rounds
Goals for Instructional Rounds
The Professional Learning Community
Resources
12.1 Instructional Rounds Record Sheet
Reference
CHAPTER 13 Technology Tools and Professional Development
Technology Tools and Professional Development
Blogs
Wikis
Video
Social Media
References
CHAPTER 14 The School Professional Development Center
The School Professional Development Center
Goals for a Professional Development Center
Planning the Professional Development Center
Resources
14.1 Organizing Books and Materials
14.2 Keeping Track of Books and Materials
14.3 Identifying Needed Resources—Teacher Survey
14.4 Resource Budget Request Form
14.5 Resources for Inexpensive Materials
CHAPTER 15 Making Professional Development a Priority for All Teachers
Making Professional Development a Priority
Assessing Professional Development
Reference
Appendix: Professional Development Activities
Schoolwide Literacy Action Plan Activity
Classroom Observation Activity—
Pinwheel Discussions: Large Group Conversations
Studying Instruction Activity
Demonstration Lesson Activity
Technology Tools Activity
Print
$165.38
ISBN 9781792456350
Details Print Product