RETURN TO SEARCH RESULTS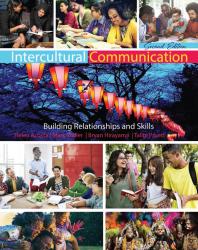 Details: Print Product |
Intercultural Communication: Building Relationships and Skills provides clear explanations of relevant communication theories and practical advice for improving communication skills. This text is designed to introduce students to the most important concepts, theories, and strategies related to intercultural communication. It enables students to establish and maintain satisfying relationships with people from other countries and cultures.
Intercultural Communication presents topics among 10 chapters:
Chapters 1 and 2 provide a solid foundation for understanding intercultural communication. In Chapter 1 you'll gain an understanding of the scope of intercultural communication and in Chapter 2 you'll learn about how we need to learn to appreciate both similarities and differences.
Chapters 3-6 are skill-centered chapters that focus on learning to adapt and empathize, verbal communication, nonverbal communication, and managing intercultural conflicts.
Chapters 7-9 are pivotal chapters that help you to come to an understanding of who you are and how your culture and co-cultures have influenced and formed your personal identity through exploration of your values and worldviews, history and multifaceted identity.
Chapter 10 presents advice about intercultural communication in very specific contexts (romantic relationships, travel, and healthcare).
The accompanying workbook provides reading guides, journal assignments, activity sheets, and self-tests. Students are able to check their basic understanding of the concepts and theories presented in the textbook while analyzing and evaluating their own intercultural communication strengths and weaknesses.
The print bundle consists of a print text and print workbook.
The eBook bundle consists of an eBook text and the digital workbook is hosted through Publish1st.
Preface
About the Authors
Dedication
Chapter 1 Foundations of Intercultural Communication
Chapter 2 Appreciating Both Sameness and Difference
Chapter 3 Adaptation and Empathy
Chapter 4 Verbal Communication
Chapter 5 Nonverbal Communication
Chapter 6 Approaches to Conflict
Chapter 7 Values and Worldviews
Chapter 8 History vs. Histories
Chapter 9 Our Multifaceted Selves
Chapter 10 Intercultural Communication Across Contexts
Print
$125.01
ISBN 9781524968410
Details Print Product