RETURN TO SEARCH RESULTS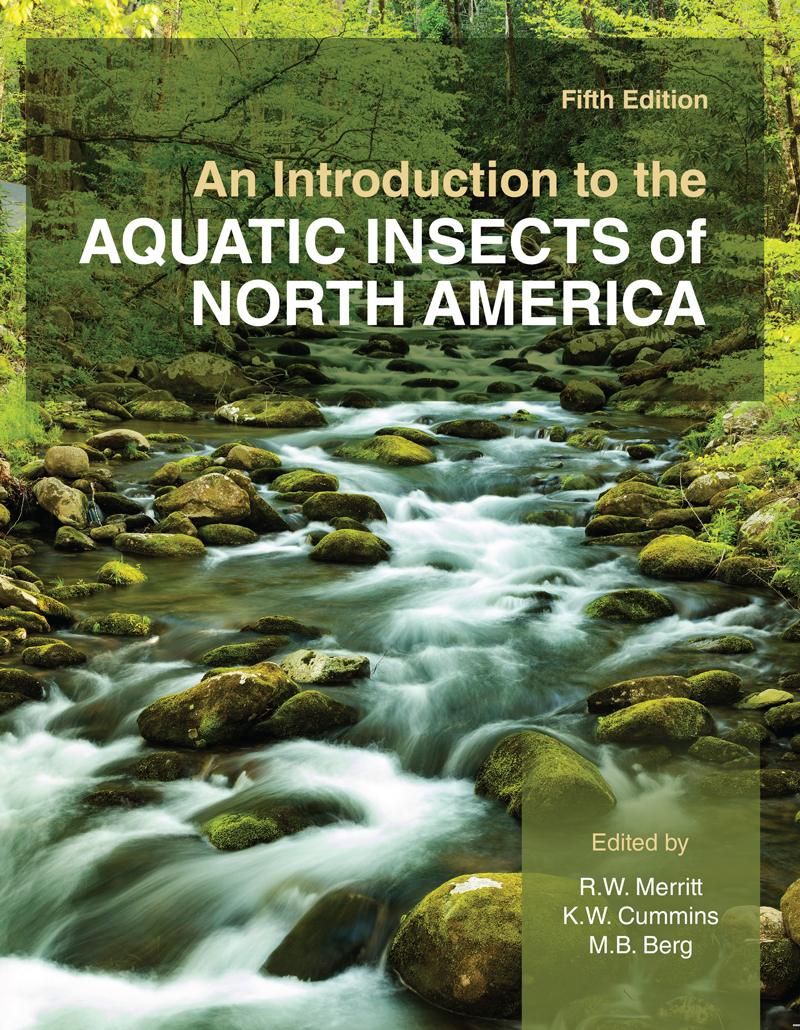 Details: Print Product |
New 5th Edition Now Available!
An Introduction to the Aquatic Insects of North America serves as a standard guide on the immature and adult stages of aquatic and semiaquatic insects of North America. It offers information on the distribution, tolerance values, trophic relationships, and functional adaptations of aquatic insects that allows an additional tool for categorizing them.
This text is intended to serve as a standard reference on the taxonomy, biology and ecology of aquatic insects with updated keys to separate life stages of all major taxonomic groupings. To this aim, the authors have provided additional excellent color photographs of most all families of immature aquatic insects to assist the student and professional with correct identifications.
New to the 5th edition:
Over 7000 references
A chapter on A Photographic Overview of Aquatic Insects of North America
A revision and expansion of keys, as well as new figures added to the taxonomic chapters
Added figures to the General Classification and Key to Orders chapter
All chapters have been updated with significant changes to chapters on Ephemeroptera, Plecoptera, Trichoptera, Coleoptera, Diptera and Tipuloidea
Single chapters covering each Order of all stages of aquatic insects
Preface
Acknowledgments
List of Contributors
CHAPTER 1 Introduction
R. W. Merritt, K. W. Cummins, and M. B. Berg
CHAPTER 2 General Morphology of Aquatic Insects
M. B. Berg, K. W. Cummins, and R. W. Merritt
CHAPTER 3 Sampling Aquatic Insects: Collection Devices, Statistical Considerations, and Rearing Procedures
J. K. Jackson, V. H. Resh, D. P. Batzer, R. W. Merritt and K. W. Cummins
CHAPTER 4 Aquatic Insect Respiration
D. B. Buchwalter, V. H. Resh, G. A. Lamberti, and W.C.E.P. Verberk
CHAPTER 5 Habitat, Life History, Secondary Production, and Behavioral Adaptations of Aquatic Insects
A. D. Huryn and J. B. Wallace
CHAPTER 6 Ecology and Distribution of Aquatic Insects
K. W. Cummins, R. W. Merritt, and M. B. Berg
CHAPTER 7 Use of Aquatic Insects in Bioassessment
R. D. Mazor, D. M. Rosenberg and V. H. Resh
CHAPTER 8 An Overview of the Aquatic Insect Ecological Tables
M. E. Benbow, J. P. Receveur, and S. Nowak
CHAPTER 9 Adaptations and Phylogeny of Aquatic Insects
K. W. Will and V. H. Resh
CHAPTER 10 Aquatic Insects of North America: A Photographic Overview
G. W. Courtney and S. A. Marshall
CHAPTER 11 General Classification and Key to the Orders of Aquatic and Semiaquatic Insects
G. L. Parsons
CHAPTER 12 Aquatic Collembola
R. J. Snider
CHAPTER 13 Ephemeroptera
S. K. Burian
CHAPTER 14 Odonata
K. J. Tennessen
CHAPTER 15 Semiaquatic Orthoptera
H. Song
CHAPTER 16 Plecoptera
R. E. DeWalt and B. C. Kondratieff
CHAPTER 17 Aquatic and Semiaquatic Hemiptera
D. A. Polhemus
CHAPTER 18 Megaloptera and Aquatic Neuroptera
D. E. Bowles and A. Contreras-Ramos
CHAPTER 19 Trichoptera
J. C. Morse, R. W. Holzenthal, D. R. Robertson, A. K. Rasmussen, and D. C. Currie
CHAPTER 20 Aquatic and Semiaquatic Lepidoptera
M. A. Solis
CHAPTER 21 Aquatic Coleoptera
A. E. Z. Short and D. S. White
CHAPTER 22 Aquatic Hymenoptera
A. M. R. Bennett
CHAPTER 23 Aquatic Diptera
G. W. Courtney
CHAPTER 24 Tipuloidea
J. K. Gelhaus and V. Podeniene
CHAPTER 25 Culicidae
J. R. Wallace
CHAPTER 26 Simuliidae
P. H. Adler and D. C. Currie
CHAPTER 27 Chironomidae
L. C. Ferrington, Jr. and M. B. Berg
Glossary
B. W. Merritt Bibliography
Index
Reviewed in Wetland Science & Practice January 2020 Issue - View Here
"A MUST have for those with a serious interest in aquatic insects!" - The Birdbooker Report
David Allan's Review from In the Drift: Issue 35, Fall 2019
"...extremely informative and nicely done. It was a monumental effort by all those involved and the results speak [for] themselves. Rather than "An Introduction to the Aquatic Insects of North America," my view would be that this work has rather easily become the "Gold Standard" for all those interested in the study of Aquatic Insects for years to come I enjoyed and appreciated all the extremely valuable information that's included in the book."
- James C. Hodges, Master's Degree in Applied Ecology
Print
$175.00
ISBN 9781524968540
Details Print Product