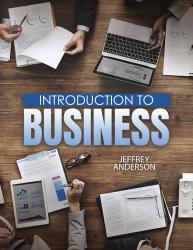 Introduction to Business
Edition: 1
Copyright: 2022
Chapter 1 Understanding the Business Environment
Chapter 2 Corporate Social Responsibility and Ethics 
Chapter 3 Entrepreneurship 
Chapter 4 Managing Across Borders 
Chapter 5 Management 
Chapter 6 Managing Human Resources 
Chapter 7 Marketing 
Chapter 8 Production and Operations Management 
Chapter 9 Planning for Career Success 
Chapter 10 Information, Communication, and Technology 
Appendix A Future and Present Value 
Appendix B Creating a Business Plan 
Appendix C Supplemental Case Studies 
Endnotes
Glossary 
Chapter 1 Understanding the Business Environment
Chapter 2 Corporate Social Responsibility and Ethics 
Chapter 3 Entrepreneurship 
Chapter 4 Managing Across Borders 
Chapter 5 Management 
Chapter 6 Managing Human Resources 
Chapter 7 Marketing 
Chapter 8 Production and Operations Management 
Chapter 9 Planning for Career Success 
Chapter 10 Information, Communication, and Technology 
Appendix A Future and Present Value 
Appendix B Creating a Business Plan 
Appendix C Supplemental Case Studies 
Endnotes
Glossary 
Jeffrey Anderson is a Professor of Instruction at Ohio University's College of Business where he has taught management and other business classes since 1988.
Professor Anderson is the founder of the Ohio International Consulting Program where students consult with industry leaders about current business problems. He has led students on consulting projects in Germany, Italy and Hungary through Ohio University's Global Consulting Program.
Professor Anderson is an advocate of the "Flipped Classroom" model of teaching. He has led workshops on flipped teaching at multiple universities in the US and Hungary.