RETURN TO SEARCH RESULTS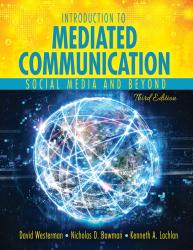 Details: Print Prod w/GRL Learn + KHQ | 180 days |
Computers allow us to do things today that were barely dreamed of 60 years ago. Today, computers and networks provide us a personal space in which we can share our innermost thoughts and feelings on a large network with others.
Introduction to Mediated Communication explains and discusses mediated communication through a functional approach - focusing attention on how people use computer technology to accomplish their communication functions.
Rather than focus on the nature of the medium itself and what sets it apart from more "traditional" media, Introduction to Computer Mediated Communication focuses on what functions people use technology for, and how people use technology to accomplish their multiple communication goals. By focusing on functions rather than channels, the publication provides instruction into the reason people use media, rather than simply discussing various technological products that will soon be outdated.
Introduction to Computer Mediated Communication by David Westerman, Nicholas David Bowman, and Ken Lachlan:
Focuses on the degree to which new media technologies now permeate all aspects of human communication, blurring traditional distinctions between mass, interpersonal, organizational, and health communication realms.
Analyzes how technology is used to satisfy four major reasons for communication in general: informational goals, relational goals, persuasive goals, and entertainment goals.
Includes a regularly updated website to discuss the evolving technology. The website includes links to growing social media applications, discussions, videos, and more. And in true Web 2.0 fashion, the authors will even encourage students to participate early and often.
Features Computer Mediated Communication in Action vignettes that apply concepts to real life scenarios and cases.
Introduction 
About the Authors 
Chapter 1 What Is (Mediated) Communication? 
What Is Communication? 
Components of Communication 
Mass Mediated Communication 
Interpersonal Communication 
Changes in Technology Highlight Changes in Lines of Delineation 
Changes in Mediated Communication 
Moving toward MC 
So What Is MC? 
Key Terms 
References 
Chapter 2 What Is the Internet? 
What Is the Internet?
Who Runs the Internet? 
The Internet as a Social Space 
Web 2.0 
Key Terms 
References 
Chapter 3 Media as Tools 
Natural-Born Cyborgs 
Using Our Tools 
Face to Face: Standard? 
Key Terms 
References 
Chapter 4 Information Literacy in the Digital Age 
Information Literacy 
Centrality of Information Literacy in the Workplace 
Digital Divides and Knowledge Gaps 
The Power of Numbers 
The Lesson of Wikipedia 
Critical Thinking Basics 
Conclusion 
Key Terms 
References 
Chapter 5 News 
What Is News? 
Timeliness 
Prominence 
Proximity 
Consequence 
Human Interest 
Earliest Sources of News 
Jacksonian Democracy and the Birth of Objectivity 
News and the Electronic Age 
Broadcast versus Narrowcast versus Tailoring 
Narrowcasting and Editorializing
Social Media—Are We All Media? 
Citizen Journalism 
Theories of Information Effects 
Agenda Setting Theory 
Exemplification Theory 
Framing Theory 
Key Terms 
References 
Chapter 6 Media as Educators 
Mr. Rogers and the Big Bird: Learning through Television 
Cognitive Learning 
Affective Learning 
Social Learning Theory 
Video Games and Learning 
Distributed Learning
Social Media and Learning 
Facebook in the Classroom 
Massive Open Online Courses 
Key Terms 
References 
Chapter 7 Relationships in a Digital Age 
We Are a Social Species 
Online Interaction: Boon or Bane? 
Social Network(ing) Sites 
Deceiving Others Online 
Presence: At the Heart of MC? 
Why So Much Interaction? 
Key Terms 
References 
Chapter 8 Falling in Love (or Like) Through Technology 
Do We Want to Touch Everyone We See? 
Building Bridges and Creating Bonds 
What Is Social Networking? 
Social Network Structures 
Rules of Social Networks 
Connection versus Influence 
Networked Individualism
Building Closeness Online 
Social Information Processing Theory 
Key Terms 
References 
Chapter 9 Persuasion 
Dual Process Models 
Behavioral Intention Approaches 
Modeling Approaches 
Exemplification 
Conclusions 
Key Terms 
References 
Chapter 10 Advertising 
Traditional Advertising Conventions 
Facebook and Social Media Advertising 
Social Media and Big Data 
Multimedia Campaigning 
Conclusions 
Key Terms
References 
Chapter 11 Campaigning 
Campaigns 
Public Health and Social Marketing
Relative Effectiveness 
Social Marketing Works When You Are (Kind of) Scared 
Narrowcasting for Those Interested 
Introducing Fear, But Controlling Danger 
Future of Campaigns 
Conclusion 
Key Terms 
References 
Chapter 12 Entertainment in the Digital Age 
What Is Entertainment? 
A History of (Mediated) Entertainment 
Digitization and New Media 
Compression 
Conversion 
Convergence 
Digital Entertainment and Interactivity 
Interactivity and Entertainment 
Copyright Law in the Digital Age 
Mobile Entertainment—Entertainment on Demand 
Key Terms
References 
Chapter 13 Uses and Effects of Digital Entertainment 
History of Media Effects Research 
The "Magic Bullet" Paradigm: 1900s to 1940s 
The "Paper Tiger" Paradigm: 1940s to 1960s 
Powerful, But Limited: 1960s to Today 
Antisocial Effects 
Violence 
Violence and Interactivity 
Sex, Offline and Online 
Sex and New Media 
Other Antisocial Media Effects 
Pro-Social Effects 
Health Influences 
Meaningful Media Experiences 
Key Terms 
References 
Epilogue: The Future of MC 
Glossary 
Index
Print Package
$100.00
ISBN 9781792482977
Details Print Prod w/GRL Learn + KHQ 180 days