RETURN TO SEARCH RESULTS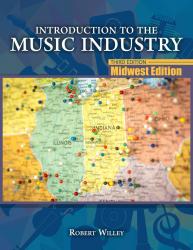 Introduction to the Music Industry: Midwest Edition
Author(s): Robert Willey
Edition: 3
Copyright: 2020
Pages: 178


Details: Electronic Delivery EBOOK | 180 days |
Introduction to the Music Industry: Midwest Edition is an introduction to the music industry, and can be considered a primer for two reasons.
It covers the primary, most important information about the present state of the music and entertainment industry and how we got here. You will also learn how music is recorded, marketed, licensed, and performed.
It is meant to help prime the pump and contribute to the development of the music and entertainment industry in the Midwest, by identifying and reporting on special opportunities in the region.
The foundation in music industry practices and pointers toward new opportunities are designed to help you understand the business and where you might fit in. The suggestions for practical activities will help you begin.
View teacher's Guide Here.
Table of Contents
What You Will Learn
Acknowledgments
Credits
Introduction
Chapter 1: A Short History of the Music Business
Topics
Main Ideas
Classical Music
Player Pianos
Sheet Music
Radio
Vinyl Records
Portable Players
Compacts Disks
Music Television (MTV)
Consolidation of Radio Stations
Consolidation of Record Labels
Factors Causing a Drop in Live Music
Digitization
Napster
Apple to the Rescue
Review and Preview
For Investigation
Do It Yourself
Vocabulary Review
Chapter 2: The Artist's Team
Topics
Main Ideas
Introduction
The Artist, with a capital "A"
Manager
Lawyer
Agent
Business Manager
Tour Manager
Social Media Manager
Marketing
Promotions Manager
Sales Manager
Public Relations Manager
Webmaster
Producer
Review and Preview
For Further Investigation
Do It Yourself
Vocabulary Review
Chapter 3: Traditional Marketing
Topics
Main Ideas
Introduction
Brand
Elevator Pitch
Slogan
Tagline
Logo
Press Release
Flier
SWOT Analysis
Review and Preview
For Further Investigation
Do It Yourself
Vocabulary Review
Chapter 4: Digital Marketing
Topics
Main Ideas
Introduction
Touchpoints
Website
Email
Blogs
Social Media
Analytics
Electronic Press Kit
Review and Preview
For Further Investigation
Do It Yourself
Vocabulary Review
Chapter 5: Songwriting and Copyright
Topics
Main Ideas
Introduction
Songwriting
Intellectual Property
Copyright
Three Ways to Copyright a Work
Six Things That Copyright Covers
Works Made For Hire
Recapture Of Copyright
How Long Copyright Lasts
Public Domain
Fair Use
Creative Commons
Sampling
Compulsory License
Safe Harbor
The Berne Convention
The Music Modernization Act
Title I — The Music Licensing Modernization Act
Title II — Classics Protection And Access Act
Title III — Allocation For Music Producers Act
Review and Preview
For Further Investigation
Do It Yourself
Vocabulary Review
Chapter 6: The Recording Industry
Topics
Main Ideas
Introduction
Studio Roles
The Three Phases of the Recording Process
Types of Studios
Major Labels
Independent Labels
Record Label Roles
Talent Acquisition
Administration
Manufacturing and Distribution
Marketing and Sales
Public Relations
Record Label Income and Artist Royalties
Streaming
Review and Preview
For Further Investigation
Do It Yourself
Vocabulary Review
Chapter 7: Publishing
Topics
Main Ideas
Introduction
Songwriting Contracts
Mechanical Licenses
Performance Royalties
Master Use License
Permission to Sample
Synchronization License
Review and Preview
For Further Investigation
Do It Yourself
Vocabulary Review
Chapter 8: Live Performance
Topics
Main Ideas
Introduction
Playing at Home
Venues and Deals
Touring
Contracts
Live Performance Roles
Collected Wisdom
Booking
Media
Merchandise
Record Keeping
Review and Preview
For Further Investigation
Do It Yourself
Vocabulary Review
Chapter 9: The Music Business Today
Topics
Main Ideas
Introduction
The Perfect Storm
Local, Regional, National, International
The Importance of Being Remarkable
The Experience Economy
Being an Entrepreneur
Review and Preview
For Further Investigation
Do It Yourself
Vocabulary Review
Chapter 10: Music and Entertainment in the Midwest
Topics
Main Ideas
Introduction
Americana and the Heartland
The Canary in the Rusted Cage
The Midwest Music Scene
Festivals
Opportunities in Indiana
Review and Preview
For Further Investigation
Do It Yourself
Vocabulary Review
About the Author
Bibliography
Companion Website
Index
Introduction to the Music Industry: Midwest Edition by Robert Willey is an excellent publication, which could be used for both an introductory "Music Business I" course as well as the second semester course. I especially like the resources shared and the sections called "For Further Investigation" and "Do It Yourself" which appear at the end of the chapters. These sections offer ideas for projects and further research!
Denise Grupp-Verbon | Adjunct Instructor of Music
Owens State Community College
Ebook
$44.10
ISBN 9781792436345
Details Electronic Delivery EBOOK 180 days