RETURN TO SEARCH RESULTS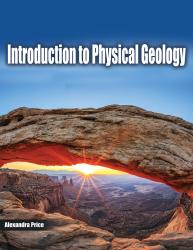 Introduction to Physical Geology Laboratory Course and Kit
Author(s): ALEXANDRA PRICE
Edition: 1
Copyright: 2022
This engaging physical geology laboratory course, e-text, and specimen identification kit will challenge and excite your students while they explore the globe, study national parks, identify rocks and minerals, analyze data, hypothesize, and extrapolate, all while learning and applying scientific methodologies!
Introduction to Physical Geology contains 13 modules with engaging laboratories, quizzes, projects, and scientific writing assignments that can uniquely be delivered in any modality. This course is applicable in full as well as accelerated semesters. User-friendly, this robust and engaging laboratory course and kit is technologically relevant for the hands-on geoscience lessons, including the identification of forty rock and minerals specimens that are shipped directly to students!
Upon successful completion of this course, students will be able to:
explain aspects of geology and geoscience.
be able to understand tectonic processes, geologic time, metamorphism, deposition, weathering, erosion, volcanism, natural hazards, natural resources, and many other processes and mechanisms related to geology.
recognize fifteen minerals by distinguishing their unique physical properties.
identify different types of igneous, sedimentary, and metamorphic rocks based on their textures and compositions, and explain the nature of their formations.
apply critical thinking and scientific communication skills.
Introduction
Module 1: Geoscience and Quantitative Reasoning
Module 2: Earth's Layers and Plate Tectonics
Module 3: Geologic Time
Module 4: Geologic Structures and Seismology
Module 5: Minerals
Module 6: Igneous Rocks and Volcanism
Module 7: Geologic Investigation of the Hawaiian Islands
Module 8: Sedimentary Rocks and Processes
Module 9: Metamorphic Rocks and Metamorphism
Module 10: Maps and Geographic Information Systems
Chapter 11: Energy, Resources and Global Climate
Chapter 12: Wind, Water, and Ice
Chapter 13: Final Project – National Park Exploration
Access card
$105.00
ISBN 9781792496677
Details Card w/Access Code for KHPContent, Other Material