RETURN TO SEARCH RESULTS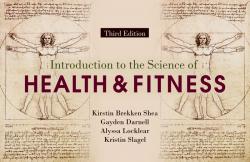 New Turn-Key Course Package Now Available!
During this time of social distancing, the interconnectedness of the dimensions of wellness has never been more evident...
Introduction to the Science of Health and Fitness is a turn-key course package that provides an overview of the human body systems with an interdisciplinary focus on wellness, fitness, disease, technology, sexual health, and more.
The customizable turn-key package features thirteen chapters of textual content that includes objectives, embedded videos, weblinks, references, and end of chapter quizzes. Also, Expanding Your Knowledge and Studying YOU vignettes / activities provide students with an opportunity to learn more about their personal health.
Chapter One: Wellness and Disease Prevention
Chapter Two: Scientific Literacy and Experimental Design
Chapter Three: Body Systems
Chapter Four: Stress and Mental Health
Chapter Five: Hypokinetic Conditions and Influences on Obesity
Chapter Six: Aging and Longevity
Chapter Seven: Exercise Science
Chapter Eight: Nutrition Fundamentals
Chapter Nine: Metabolism and Bioenergetics
Chapter Ten: Scientific Principles of Weight Management
Chapter Eleven: Complementary Health Approaches
Chapter Twelve: Drug Misuse and Abuse
Chapter Thirteen: Sexual Health
Website
$50.00
ISBN 9781792472084
Details KHPContent 180 days