RETURN TO SEARCH RESULTS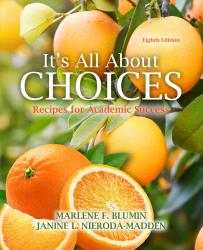 Details: Print Product |
In writing It's All About Choices, Marlene Blumin's goals were simple:
To prepare students for a successful transition to the academic workload in college.
To help students understand their learning preferences and how to apply them within their courses in order to develop a personalized repertoire of effective learning strategies.
To create efficient and effective learners who master the necessary balance needed for success in college.
This textbook is suitable for courses such as: Freshmen Orientation, Study Skills, College Readiness or Student Success courses
This textbook is suitable for high school and college students.
PEDAGOGICAL FEATURES:
REALISTIC AND PRACTICAL TOOLS:
The text is based on the experiences of college students that yielded practical and proven tools. Students develop insight concerning their behaviors and understand how to become more efficient and effective learners.
The style is direct and to the point. The strategies are presented concisely and as simply as possible. This is a manual for understanding and applying strategies to course-specific contexts.
In every chapter, students have the opportunity to understand the strategy(s), choose one(s) to try in a course, evaluate the effectiveness and personalize the adaptation of the strategy(s) to the course-specific context.
FEATURES OF EACH CHAPTER:
Each of the case studies are based on actual college students issues. Also, student quotes are included as introductory material.
NUMEROUS LEARNING STRATEGIES/STUDY SKILLS
The strategies that are included have been developed in collaboration with college students and applied to college courses.
Each of the exercises is intended to reinforce the application of strategies in the students' courses. In addition, the final chapter has additional application assignments.
Introduction
about the author
1 navigating the transition to college
First a note about mindset and difference
Transition to digital, hybrid, and on-campus courses
Putting It All Together
Case Study: YOU
2 a starting point: assessment
Learning Assessment
Online Assessments
Beginning To Put It All Together … How Do I Think About Which Strategies To Use?
Case Study: Sol
3 syllabus and text assessment
Materials Assessment
Syllabus: Overview
Course Structure: Course Compass
Primary Source Of Information
Organization Of Texts
Text Aids
Text Assessment
Putting It All Together … How Do I Think About Which Strategies To Use?
4 management: time, task, and study environment
Management
Time Strategies
Task Strategies
Study Environment Management
Case Study: Jane
Case Study: Laura
Case Study: Mildred
5 procrastination
Procrastination
Anti-Procrastination Strategies
Case Study: Fern
Case Study: Steve
6 note-taking
Note-Taking
Note-Taking Strategies
Case Study: Gail
Case Study: Michael
7 reading
Reading
Reading as a Strategic Process
Study Aids
Reading Purpose: Where Do I Find It?
Creating A Study Aid During And/Or After Reading
Reading Strategy As A Process
Personalizing Your Reading Strategies
Case Study: Scott
Case Study: Laurence
8 memory
Memory
Memory Aids
Memory Strategies
Case Study: Leonard
9 exam preparation
Test Preparation
Exam Preparation Strategies
Preparation For The Next Test
Case Study: Willie
Case Study: Wendie
Case Study: Willie
Case Study: Wendie
10 exam taking
Exam Taking
Exam-Taking Strategies
Case Study: Larry
Case Study: Mara
11 collaborative learning
Collaborative Learning
Collaborative Learning Strategies
Faculty As Collaborators
Case Study: Frances
12 problem-solving
Problem-Solving
Problem-Solving Strategies
Case Study: Joe
Case Study: Shana
Case Study: Joanne
Case Study: Nicole
Case Study: Melissa
13 academic integrity and dishonesty
Academic Dishonesty
Academic Integrity Policy Statement
Case Study: Mickey
Case Study: Jeffrey
14 stress management
Stress Management
Stress Reduction Strategies
Case Study: Leon
Case Study: Katherine
15 motivation
Motivation
Motivation Strategies
Case Study: Kyle
Case Study: Millie
16 applications
Academic Diary
Course Experiment
Course Experiment Proposal Chart
Create a Course Project
Custom-Made Experiment
Custom-Made Experiment Proposal Chart
Exam Preparation Experiment
Exam Preparation Experiment Profile
Faculty Interview Project
How-to Pamphlets
Journal
Major/Career Exploration
My Designed Project
Paper Writing Experiment
Paper Writing Experiment Profile
Portfolio
Project Development Experiment
Project Development Experiment Profile
Social Media—Structured Assignment
Social Media—Unstructured Assignment
Speech Writing Experiment
Speech Writing Experiment Profile
Strategy Experiment
Strategy Experiment Proposal Chart
Syllabus Analysis
Syllabus: Writing Your Own
list of resources
index
Print
$75.00
ISBN 9781792423802
Details Print Product