RETURN TO SEARCH RESULTS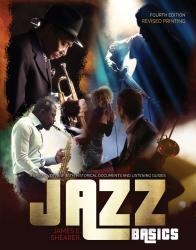 Jazz Basics: A Brief Overview with Historical Documents and Listening Guides
Author(s): James E Shearer
Edition: 4
Copyright: 2017
Details: KHPContent | 180 days |
Jazz Basics: A Brief Overview with Historical Documents and Listening Guides provides an enjoyable and informative introduction to the world of jazz music.
Jazz Basics:
Includes access to extensive Spotify playlists and web-only extras found on the publisher's website. Together, they help readers to explore over six hours of the greatest jazz ever recorded.
Includes the textbook and access to an accompanying website with extensive time-coded listening guides for each selection. Also, the website features active links to various websites and corresponding music selections on Napster - an Internet streaming-on-demand website.
Embeds extended reading passages drawn from historical documents, letters, and other famous publications into each chapter.
Features over 100 important historic photos, including several that are being published for the first time.
Utilizes "Dig Deeper" sections to offer research sources.
Highlights important terms and concepts in boldface as well as in the margins.
Includes easily extracted study guides in each chapter.
Foreword
Preface
Acknowledgments
A Note about the Listening Guides, Spotify Access, and other Online Materials
Chapter 1 Basic Elements of Jazz
Some Basic Jazz Terminology
How a Jazz Band Works
A Few Thoughts on the Art of Active Listening
"Jazz: America's Classical Music" by Dr. Billy Taylor
Study Guide
Chapter 2 Precursors of Jazz
Some Precursors of Jazz
Work Songs
Signifying Songs
Religious Music
The Blues 18 Minstrel Shows
The Development of Ragtime
"Scott Joplin: The King of Ragtime Composers" by Terry Waldo
The Piano Professors
"Jazz Life in New Orleans" by Jelly Roll Morton
Band Traditions in America
Study Guide
Chapter 3 Traditional Jazz
"The Development of Early Jazz" by Jelly Roll Morton
Traditional Jazz Band Techniques
The People Who Made It Happen
Buddy Bolden
Joe "King" Oliver
Original Dixieland Jazz Band
"The Original Dixieland Jazz Band" by Allen Lowe
Louis Armstrong
Jelly Roll Morton
Sidney Bechet​
Bix Beiderbecke
"Bix Beiderbecke, Liner Notes from Singin' the Blues" by Michael Brooks
Traditional Jazz Today
Study Guide
Chapter 4 The Swing Era
Swing and Big Band Techniques
"Music is 'Tops' to You and Me . . . And Swing is a Part of It" by Duke Ellington
The People Who Made It Happen
Fletcher Henderson
Duke Ellington
Benny Goodman
"Goodman Is Heard in 'Swing' Concert" by Olin Downes​
"Benny Goodman Live at Carnegie Hall" by Irving Kolodin​
Count Basie
Jimmie Lunceford​
Glenn Miller
Thomas "Fats" Waller
Coleman Hawkins
Django Reinhardt
Chick Webb and Ella Fitzgerald
"Personal Memories of Ella Fitzgerald"
Tommy Dorsey and Frank Sinatra
"Personal Memories of Jo Stafford"
Cab Calloway
Billie Holiday
Swing Today
Study Guide
Chapter 5 Bebop
Bebop Techniques
"Bop is Nowhere" by Leon Wolff
"The Cult of Bebop" by Dizzy Gillespie
The People Who Made It Happen
Art Tatum
Charlie Parker
Dizzy Gillespie
Thelonious Monk
Bud Powell
Other Instrumentalists
Bebop Singers
Bebop Today
Study Guide
Chapter 6 Cool School
The People Who Made It Happen
Miles Davis
"The Birth of the Cool" by Miles Davis
Modern Jazz Quartet
Dave Brubeck
Gerry Mulligan and Chet Baker
Stan Getz​
The Cool School Today
Study Guide
Chapter 7 Hard Bop
The People Who Made It Happen
Clifford Brown
Art Blakey and the Jazz Messengers
Horace Silver
Charles Mingus
"Charles Mingus" by Leonard Feather
Wes Montgomery
Jimmy Smith
Miles Davis, Again
John Coltrane
Sonny Rollins
Hard Bop Today
Study Guide
Chapter 8 Free Jazz and the Avant-Garde​
The People Who Made It Happen
Ornette Coleman
"Double View of a Double Quartet" by Pete Welding and John A. Tynan​
John Coltrane, Again
Cecil Taylor
Sun Ra
Art Ensemble of Chicago
Free Jazz and the Avant-Garde Today
Study Guide
Chapter 9 Fusion: The 70s and 80s
One More Time, Miles Davis
"Jimi Hendrix, In A Silent Way and Bitches Brew" by Miles Davis
Miles Davis Alumni
John McLaughlin and Mahavishnu Orchestra
Weather Report
Herbie Hancock
Chick Corea​
Some Other Representative Examples of Fusion
Chuck Mangione
Spyro Gyra​
Grover Washington, Jr.
The Brecker Brothers
Tower of Power
Pat Metheny​
Study Guide
Chapter 10 Mainstream Jazz: 1950-Present
(A Few of) the People Who Made (and Make) It Happen
Tony Bennett
Sarah Vaughan
Nat "King" Cole
Ray Charles
Erroll Garner
Oscar Peterson
Bill Evans
George Shearing
Stan Kenton
Maynard Ferguson
Clark Terry
J.J. Johnson and Kai Winding
Joe Pass
Latin Jazz
Not So Mainstream but Very Cool: The Cult Vocalists
Study Guide
Chapter 11 Recent Trends
A Return to Older Traditions
"Wynton vs. Herbie: The Purist and the Crossbreeder Duke It Out" by Rafi Zabor and Vic Garbarini​
Smooth Jazz
Kenny G
"Jazz Can Take Itself Too Seriously" by Ben Ratliff
Some Other Smooth Jazz Artists
Hip-Hop Influences On Jazz
The Country Connection
A Few Artists Who Just Defy Category
John Zorn
Django Bates
Don Byron
Sex Mob
Patricia Barber
Jane Ira Bloom
Snarky Puppy
Brad Mehldau​
Some Final Thoughts on the Future of Jazz
Study Guide
Appendices
A. Jazz Clubs
B. Jazz Festivals
C. Jazz Websites
D. Some Thoughts on Shopping for Jazz CDs
Glossary Towards Building a Technical Jazz Vocabulary
Bibliography
Index
Website
$80.00
ISBN 9781524996659
Details KHPContent 180 days