RETURN TO SEARCH RESULTS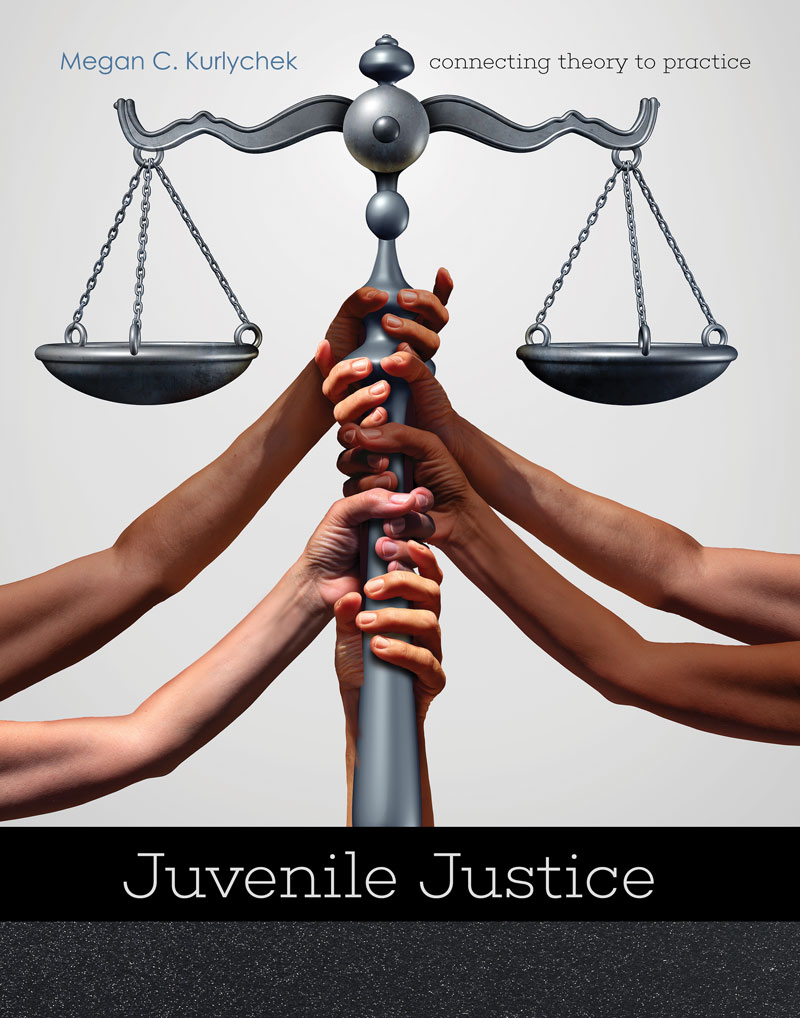 Juvenile Justice: Connecting Theory to Practice
Author(s): Megan Kurlychek
Edition: 1
Copyright: 2018
Pages: 376




Details: Print Product |
Studying and understanding human behavior in society and societal reaction to human behavior is not enough.
Juvenile Justice: Connecting Theory to Practice looks closely at some of society's most vulnerable members – troubled youth. This text draws concrete connections between theory and practice, two sometime disjunct realms. It discusses classic and prominent theories that directly relate to the practice of juvenile justice.
Juvenile Justice is divided into four sections:
Defining and Measuring Delinquency – this section provides an in-depth definition of this phenomenon.
Understanding Delinquency – gives a presentation of several key perspectives and theories to help unravel the mystery of the etiology of juvenile delinquency in American society.
Practicing Juvenile Justice – takes readers from initial system contact with police, through the juvenile justice system's intake, diversion, adjudication and placement processes.
Challenges and Directions for the Future – explores the most critical challenges facing juvenile courts such as the victimization of youth and gang violence.
About the Author
Introduction
Section 1: Defining and Measuring
Delinquency
CHAPTER 1: Defining Delinquency and the Juvenile Delinquent
Introduction to Delinquency
Early Definitions of Childhood
Defining the Delinquent
Defining the Delinquent Act
Key Words
Chapter Summary
Discussion Questions
References
CHAPTER 2: Responding to Juvenile Delinquency: The Creation of Juvenile Justice in America
The First Institutions for Juveniles: The House of Refuge
The First Juvenile Court
The Court Today
Key Words
Chapter Summary
Discussion Questions
References
CHAPTER 3: Measuring and Studying Delinquency
Studying Juvenile Delinquency and Juvenile Justice: Sources of Information and Their Uses
Administrative Data
Limitations of the UCR
Victimization Surveys
Limitations of the NCVS
Self-Report Surveys
Answering Questions with Imperfect Data
Juvenile Delinquency Patterns and Trends
Time and Crime
Key Words
Chapter Summary
Discussion Questions
References
Section 2: Understanding Delinquency
CHAPTER 4: Birth of the Classical School and Deterrence Theories
The Spiritual Approach
From Spiritualism to Individualism
Key Words
Chapter Summary
Discussion Questions
Activities
References
CHAPTER 5: Biological and Psychological Theories
Early Biological Theories of Crime
Genetics and Crime
Neurophysiological Theories of Crime
Psychodynamic Theory
Developmental Theories
Personality Theories
Key Words
Chapter Summary
Discussion Questions
References
CHAPTER 6: Social Structure and Strain Theories
The Chicago School
Concentrated Poverty: From Social Disorganization to Social Isolation
Policy Applications for Juvenile Delinquency
Cultural Transmission and (Sub)Cultural Theories of Crime
Miller's Focal Concerns Theory
Strain Theories
Albert Cohen's Delinquent Boys
Opportunity Theory
General Strain Theory
Key Words
Chapter Summary
Discussion Questions
References
CHAPTER 7: Social Learning and Social Process Theories
Social Learning Theories
Policy Implications for Juvenile Justice
Social Control Theory
Policy Implications for Juvenile Justice
Labeling Theory and Stigma
Policy Applications for Juvenile Justice
Key Words
Chapter Summary
Discussion Questions
References
CHAPTER 8: Developmental and Integrated Theory
Integrated Theory
Developmental Theories
Risk and Protective Factor Approach
Key Words
Chapter Summary
Discussion Questions
References
Section 3: Practicing Juvenile Justice
CHAPTER 9: Entering the Juvenile Justice System: Police, Diversion and Detention
The Initial Encounter: Policing Juveniles
The Arrest and Interrogation Process: Rules for Policing Juveniles
Police Styles
Police in Schools
From Arrest to Intake
Pre-Adjudicatory Diversion
Pre-Adjudicatory Detention
Key Words
Chapter Summary
Discussion Questions
References
CHAPTER 10: Juvenile Court Processing: After the Petition
After the Petition
The Office of Juvenile Justice and Delinquency Prevention
Juveniles in Adult Court
Blended Sentencing
Key Words
Chapter Summary
Discussion Questions
References
CHAPTER 11: After the Disposition: Treatment, Placement and Aftercare
Disposition versus Sentencing
Residential Placement
The Cottage System
Private Placements
End of the Line: Juveniles in Adult Jails and Prisons
Aftercare
Key Words
Chapter Summary
Discussion Questions
References
Section 4: Challenges and Directions for the Future
CHAPTER 12: Challenges Facing the Juvenile Justice System: Vulnerable Populations
Challenge 1: The Victim/Offender Overlap
Trends in Victimization
Challenge 2: The Forgotten Female
Key Words
Chapter Summary
Discussion Questions
References
CHAPTER 13: Challenges Facing the Juvenile Justice System: Schools, Peer Groups and Gangs
Challenge 3: Schools and Delinquency
Delinquency in the School
Causes of School Problems
School Context and Delinquency
Delinquency and Dropout
Responses to Delinquency in Schools
Challenge 4: From Playgroup to Gang: Peers and Delinquency
The Gang Problem
Research on Gangs
Girls in Gangs
Preventing and Responding to Gang Delinquency
Key Words
Chapter Summary
Discussion Questions
References
CHAPTER 14: The Future of Juvenile Justice
References
GLOSSARY
INDEX
Print
$127.34
ISBN 9781524921958
Details Print Product