RETURN TO SEARCH RESULTS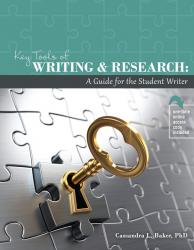 Key Tools of Writing and Research: A Guide for the Student Writer
Author(s): CASSANDRA BAKER
Edition: 1
Copyright: 2020
Pages: 194
Details: Print Prod w/Ancillary Site |
New Publication Now Available!
Key Tools of Writing and Research is a guide for the student on writing effective academic papers. Written in easy-to-understand language, this text takes a practical view to writing and research. This book can be used by students and professionals or by those who would like to improve their writing and research skills.
This book takes a quality-management approach to writing, using proven tools and applying these tools to the writing process. Throughout the book, the author uses tools such as SWOTT analysis, fishbone diagrams, and force-field analysis to enhance the writing process. Within this book, a writer will learn:
significance of academies assets.
importance of contingency planning.
synthesis of rhetorical modes with quality-management tools.
analysis of an outline.
internet searching using special syntaxes.
differences between aggregators, databases, portals, and more!
A companion website provides presentations, discussion questions, a glossary, a checklist, and web links that are featured in the text.
List of Figures
Preface
Chapter Overview
Teaching The Text
Companion Website
Acknowledgments
Chapter 1: Getting Writing Ready
Assessing the Assignment
Student Knowledge Assets
Contingency Plan
Microsoft Word Readiness
Formatting Font
Formatting Margins
Formatting Line Spacing
Paragraphs and Indentation
Ruler
Formatting Page Number
Headings
Spelling and Grammar Checking
Internet Browsers
Additional Necessary Software
Adobe Reader
Adobe Flash Player
Java
Microsoft Office Compatibility Pack
Summary
Key Terms
Review Questions
References
Chapter 2: Prewriting Strategies
Begin Prewriting with Research
Choosing a Topic
Brainstorming
Individual Brainstorming
Team or Group Brainstorming
Mind Mapping
What is a Mind Map?
Advantages and Disadvantages of Mind Mapping
How to Make and Read a Mind Map
Mind-Mapping Software
Freewriting
How to Freewrite
Thesis Statement
Rhetorical Modes
Narration
Description
Exemplification or Illustration
Classification and Division
Process Analysis
Process Mapping
Definition
Cause and Effect
Compare and Contrast
Persuasion or Argumentation
Summary
Key Terms
Review Questions
References
Chapter 3: Outlining
The Real Purpose of an Outline
Two Types of Outlines
Informal Outline
Formal Outline
Advantages of an Outline
Supports Thesis Statement
Identifies Main Ideas
Supports Logical and Orderly Thinking
Organizes Paper through Headings
Create Template for Paper
Builds Table of Contents
Adding the Table of Contents
Updating the Table of Contents
Identifies Minimum Number of References
Identifies Keywords for Research
Encourages Effective Time Management and Team Collaboration
Converts to PowerPoint Presentation
Summaries
Key Terms
Review Questions
References
Chapter 4: Researching Your Outline
Annotation
What Is Annotation?
Types of Annotations
Advantages of Annotating
When to Annotate
How to Annotate
Annotated Outline
Annotated Bibliography
Annotated Bibliography Process
Categories of Annotations
Descriptive Annotated Bibliography
Summative Annotated Bibliography
Evaluative Annotated Bibliography
Modified Annotated Outline/Bibliography
Tools for Annotation
Microsoft Word
Microsoft PowerPoint
Other Notable Mentions
Summary
Key Terms
Review Questions
References
Chapter 5: Internet Research
Temporal Citations
Following the Bibliographic Trail: Retrospective
Citation Indexing: Prospective
The Wikipedia Trail
Internet Searching
Boolean Operators
Flexible Inclusion
OR
Nesting
Addition and Inclusion
AND
+ 77
Negation and Exclusion
NOT
Phrase Searching
Wild Cards
Google Search Syntax
intitle
intext
inurl
site
inanchor
link
daterange
filetype
related
define
calculator
unit converter
Social Versus Antisocial Syntax
Google News
Keyword Search
Publication Search
Location Search
Bing Query Language
Summary
Key Terms
Review Questions
References
Chapter 6: Finding the Tools for Research
Search Systems in College Libraries
Aggregators
Databases
Information Discovery
Federated Searching
EBSCOhost
ProQuest
Discovery Searching
ProQuest Summon
EBSCO Discovery
Portals and Open-Source Discovery Tools
Directory of Open-Access Journals (DOAJ)
Google Scholar
Microsoft Academic
Academic Blogs
ProQuest: ACI Scholarly Blog Index
Summary
Key Terms
Review Questions
References
Chapter 7: Reference Managers: Saving and Storing Your Research
What is a Reference Manager?
The Importance of Reference Managers
Reference-Management Life Cycle
Features of a Reference Manager
The Big Four
ProQuest RefWorks
EndNote
Mendeley
Zotero
Mini Managers
ProQuest
Microsoft Word
Summary
Key Terms
Review Questions
References
Chapter 8: Revising, Editing, and Proofreading
Achieving Clarity in Writing
Revising
Editing
Content, Developmental, and Mechanical Editing
How Long Does Editing Take?
Proofreading
Summary
Key Terms
Review Questions
References
Chapter 9: Plagiarism
What Is Plagiarism?
Types of Plagiarism
Unintentional Plagiarism
Intentional Plagiarism
Examples of Plagiarism
Causes of Plagiarism
Punishment for Plagiarism
Prevention of Plagiarism
Tools to Prevent Plagiarism
Student Responsibility
Summary
Key Terms
Review Questions
References
Chapter 10: Bringing It All Together
Drafting
Outline
Meal
Transition Words
Rubrics
Instructions for Drafting an Essay or Research Paper
Summaries
Key Terms
Review Questions
References
Glossary
Index
Print Package
$60.00
ISBN 9781792400995
Details Print Prod w/Ancillary Site