RETURN TO SEARCH RESULTS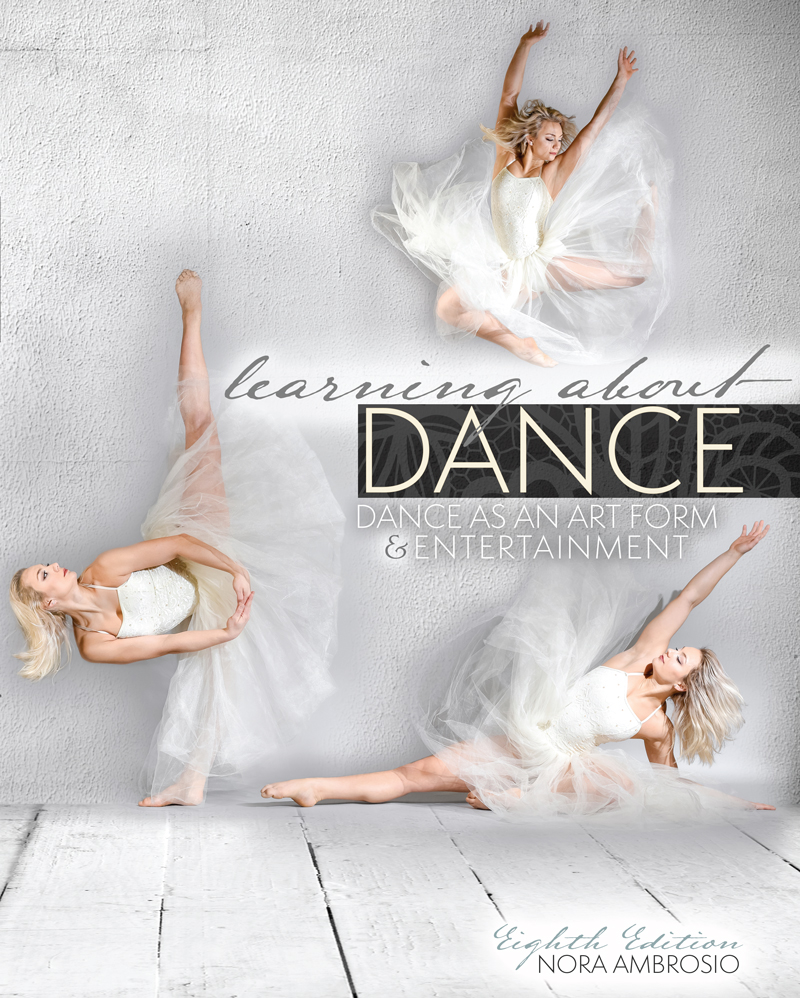 Learning About Dance: Dance as an Art Form and Entertainment
Author(s): Nora Ambrosio
Edition: 8
Copyright: 2018
Pages: 260




Details: Print Product |
Learning about Dance: Dance as an Art Form and Entertainment introduces students to the exciting, daring, ever-changing, and dynamic world of dance.
Learning about Dance invites readers to experience the artistry and excitement of the dance world. The publication presents all aspects of dance as an art form, including chapters on: the choreographer; the dancer; the audience; different dance genres, including ballet, modern and contemporary dance and dance/theatre, jazz, musical theatre dance, tap, world dance, social dance, improvisation, creative movement; dance in education, and careers in dance.
Available in print and eBook formats, Learning about Dance: Dance as an Art Form and Entertainment:
Features an expanded section on dance and technology and information on dance DVD and digital video distributors.
Incorporates dramatic photos and helpful charts that illustrate text information, including photos of some of the world's leading dance artists.
Presents an expanded chapter on Modern and Contemporary Dance.
Promotes hands-on, experiential learning through the use of integrated creative projects. Discussion question are also provided that require the student to synthesize information and use critical and creative thinking skills.
To view Teaching Students To Interpret and Critique Dance Webinar click here.
Preface
Features of this Book
Acknowledgments
About the Author

Part 1 The Art of Dance
Chapter 1 Dance as an Art Form
Dance and Society
Upper Paleolithic (30,000–10,000 B.C.E.) — Neolithic (7000–3000 B.C.E.) Periods
The Ancient Period: About 3000 B.C.E. to 400 C.E.
The Medieval Period: About 400 C.E. to 1400 C.E.
The Renaissance Period: About 1400 C.E. to 1700 C.E.
The Contemporary Period: 1700 to the Present
Art and the Aesthetic Experience
Summary
Table 1.1. Dance through the Ages
Discussion Questions

Part 2 The Participants
Chapter 2 The Choreographer
The Choreographer as Artist
The Creative Process
Choreographic Elements of Dance
Space
Time
Energy
Summary
Discussion Questions

Chapter 3 The Dancer
The Dancer as Artist
The Dancer's Training
Summary
Discussion Questions

Chapter 4 The Audience
The Audience as Participant
Understanding Dance
Summary
Discussion Questions

Part 3 Dance Genres
Chapter 5 Ballet
Early Ballet
Classical Ballet
Contemporary Ballet
Summary
Table 5.1. The Similarities and Differences between Classical and Contemporary Ballet
Table 5.2. Outline of Ballet Events
Discussion Questions
Major Figures in Ballet
The Beginnings: Sixteenth through the Eighteenth Century
The Romantics of the Nineteenth Century
The Russian Influence (1910–1930s)
Beyond the Russian Borders: Britain, France and the United States (1930s–1940s)
Into the Present

Chapter 6 Modern and Contemporary Dance
Modern Dance: The Beginning
Post-Modern Dance
Dance-Theatre
Modern and Contemporary Dance: Today
Summary
Table 6.1. Similarities and Differences between Traditional Modern Dance and Post-Modern Dance
Table 6.2. Outline of Modern Dance Events
Discussion Questions
Major Figures in Modern, Post-Modern and Contemporary Dance
The Forerunners
The Pioneers
The Second Generation
The Post-Moderners
The Post-Moderners: Second Generation
The Next Wave

Chapter 7 Improvisation and Creative Movement
Improvisation
Creative Movement
Summary
Discussion Questions

Chapter 8 Dance in World Cultures
Defining World Concert/Ritual Dance and Folk Dance
World Concert and Ritual Dance
Japan
Nigeria
Contemporary Influences on World Dance
Folk Dance
Summary
Table 8.1. The Characteristics of World Concert/Ritual Dance and Folk Dance
Discussion Questions

Chapter 9 Jazz Dance, Musical Theatre, and Tap Dance
Jazz Dance
Musical Theatre
Tap Dance
Summary
Table 9.1. Characteristics of Jazz Dance, Musical Theatre, and Tap Dance
Table 9.2. Outline of Jazz Dance, Musical Theatre, and Tap Dance Events
Discussion Questions
Major Figures in Jazz Dance, Musical Theatre, and Tap Dance
Leading to the Minstrels and Beyond
The Vaudeville Era
Broadway and the Movie Musical
The Masters of Yesterday and Today

Chapter 10 Social Dance
Ballroom and Popular Dance
Summary
Table 10.1. Outline of Social Dance Events
Discussion Questions

Part 4 Related Topics
Chapter 11 Dance Production: Behind the Scenes of a Dance Concert
The Artistic Director
Steps in the Production Process
People Behind the Production: The Support Staff
The Artistic Collaborators
The Lighting Designer
The Costume Designer
The Set and Scenic Designer
Composers and Musicians
Other Collaborations
Summary
Discussion Questions

Chapter 12 Dance in Education and Careers in Dance
Dance in Education
Careers in Dance
The Final Word
Discussion Question

Part 5 Additional Resources
Suggested Readings
Ballet: History and Criticism
Ballroom and Social Dance
Biographies and Autobiographies
Choreography
Dance Education/Dance Pedagogy
Dance in World Cultures
Jazz Dance, Musical Theatre and Tap Dance
Modern and Contemporary Dance: History and Criticism
Philosophy and Aesthetics
Related Topics

Magazines, Periodicals and Newspapers
Dance Video and DVD Distributors
Dance on the Internet
Suggested Videos and DVDs
Endnotes
Bibliography

Index

Composers and Compositions
Terms
Lindsay Guarino's Review in Journal of Dance Education - August 27, 2019
Learning about Dance: Dance as an Art Form and Entertainment is a wonderful text for my dance appreciation students. It is clear, concise and includes a breadth of knowledge accessible to students who have no previous experience to the dance art form.
Meredith Lyons, Assistant Professor of Dance, Colorado Mesa University
Print
$85.00
ISBN 9781524922122
Details Print Product