RETURN TO SEARCH RESULTS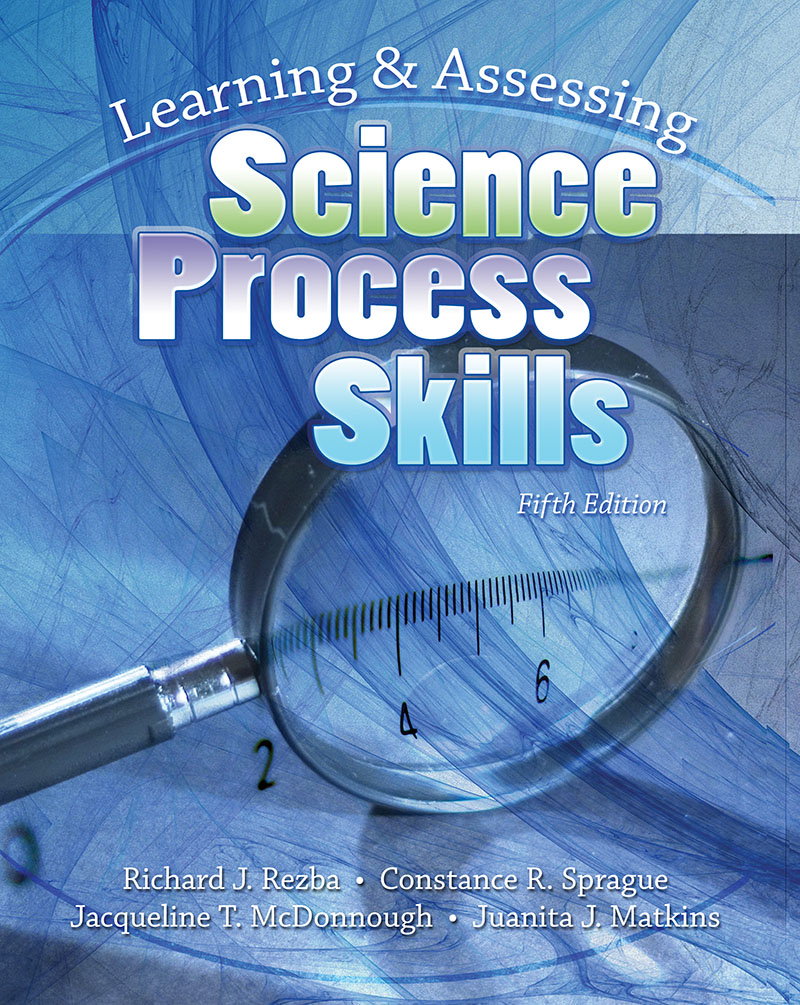 Details: Electronic Delivery EBOOK | 180 days |
---
 Teaching science is an awesome responsibility. The children you teach are depending on you to model good science and to teach them the skills needed to learn about our increasingly scientific and technological world. Learning and Assessing Science Process Skills is all you need to develop the knowledge and skills necessary to bring the science process skills to your students. 
Features:  
Big Science Ideas - in each chapter major science concepts, themes, and topics used for the process skills activities are identified. Big Science Ideas can be used to adapt the process skills activity for classroom use and to see how the activity connects to state and national science standards. 
Alignment to State and National Standards - related science standards from states across the country are identified, along with National Science Education Standards and National Council of Teachers of Mathematics standards met in each chapter. 
Technology Spotlight - these sections in each chapter reflect current technologies. 
Web sites and Search Terms - appear in every chapter. These special boxes provide suggested words and phrases that can be used to search the Internet for additional information. 
High-Stakes Testing - actual questions students were given to measure their knowledge of the related science process skill. This puts you a step ahead in planning classroom evaluation.
 The Nature of Science - additional activities and information for using the process skill to teach the nature of science.

Of course the Self-Assessment Questions and Answers,Classroom Scenarios, Ideas for Your Classroomand Models for Assessing Student Learning are still included in the fifth edition, along with the engaging and meaningful activities from which you and your students will learn so much! 
Learning and Assessing Science Process Skills
is truly the only tool needed to competently and confidently provide exemplary science instruction.
 Introduction

PART 1: BASIC PROCESS SKILLS

Chapter 1: Building a Foundation for Teaching Process Skills

National and State Standards Connections
Materials Needed
Purpose
Objectives
Opportunity, High Standards, and Accountability
The Basic and Integrated Science Process Skills
    The Basic Process Skills
    The Integrated Process Skills
The Nature of Science
    Science Relies on Empirical Evidence
    Activity 1.1 Observing and Experimenting with Water Drops
Differentiating Between Observations and Inferences
    Activity 1.2 Making Multiple Inferences to Explain Observations
    Activity 1.3 Observing and Explaining a Unique Drawing
    Activity 1.4 Differentiating Between Observations and Inferences
    Doing Science Is a Creative Enterprise
    Activity 1.5 Doing Science Is a Creative Enterprise
    Scientific Knowledge Is Never Proven. It Is Tentative, but Durable
    Activity 1.6 Observing a Falling Object
     Laws and Theories Are Different Types of Scientific Knowledge
    Activity 1.7 Laws and Theories Are Different Types of Scientific Knowledge
    Science Is Influenced and Affected by What Is Going on in the World. Scientists Cannot Be Completely Objective
    Activity 1.8 Outside Influences
    Science Cannot Answer All Questions
    Activity 1.9 Questions That Can Be Answered Through Science
Habits of Mind
    Activity 1.10 Scientific Habits of Mind
Using Cooperative Groups to Enhance Process Skills Teaching
Becoming a Reflective Teacher
    Reflections on Science Teaching
    Your Vision for Science Teaching
Searching the Web
References
Self-Check

Chapter 2: Observing

National and State Standards Connections
Materials Needed
Classroom Scenario
Purpose
Objectives
    Activity 2.1 Using All Your Senses
Qualitative and Quantitative Observations
    Activity 2.2 Making Qualitative and Quantitative Observations
Observing Changes
    Activity 2.3 Observing the Production of a Gas
Self-Assessment
Ideas for Your Classroom
Start Kids Thinking
High Stakes Testing
Websites and Search Terms
Technology Spotlight
A Model for Assessing Student Learning
Becoming a Reflective Teacher
Self-Check

Chapter 3: Communicating

National and State Standards Connections
Materials Needed
Classroom Scenario
Purpose
Objectives
    Activity 3.1 Using Good Descriptors
Communicating Descriptions
    Activity 3.2 Describing Objects to Others
Practicing Using Communication Tools
    Activity 3.3 Using a Rubric to Evaluate a Communication
    Activity 3.4 Giving and Following Directions
Communicating with Maps
    Activity 3.5 Working with Maps
    Activity 3.6 Practice Making and Following Maps
Self-Assessment
Ideas for Your Classroom
Start Kids Thinking
High Stakes Testing
Websites and Search Terms
Technology Spotlight
A Model for Assessing Student Learning
Becoming a Reflective Teacher
Self-Check

Chapter 4: Classifying

National and State Standards Connections
Materials Needed
Purpose
Objectives
Binary Classification
    Activity 4.1 Constructing a Binary Classification System Based on Observable Properties
Mapping an Organization Scheme
    Activity 4.2 Using Several Properties at Once
    Activity 4.3 Constructing a Multi-Stage Classification System
    Activity 4.4 Multi-Stage Classification: Additional Practice
    Serial Ordering
    Activity 4.5 Serial Ordering: Properties of Cereals
Self-Assessment
Ideas for Your Classroom
Start Kids Thinking
High Stakes Testing
Websites and Search Terms
Technology Spotlight
A Model for Assessing Student Learning
Becoming a Reflective Teacher
Self-Check

Chapter 5: Measuring Metrically

National and State Standards Connections
Materials Needed
Purpose
Objectives
    Activity 5.1 A Metric Treasure Hunt
Measuring Metrically
    Activity 5.2 Matching Measurements
Metric Prefixes
    Activity 5.3 Understanding Metric Prefixes
    Activity 5.4 Measuring Lengths Metrically
Measuring Mass Metrically
    Activity 5.5 Finding the Mass
    Activity 5.6 Measuring Volumes Metrically
    Optional Activity 5.7 Making an Overflow Container
Measuring Temperature Metrically
    Activity 5.8 Changing Temperatures
Measuring Forces Metrically
    Activity 5.9 Measuring Forces
Self-Assessment
Ideas for Your Classroom
Start Kids Thinking
High Stakes Testing
Websites and Search Terms
Technology Spotlight
A Model for Assessing Student Learning
Becoming a Reflective Teacher
Self-Check

Chapter 6: Inferring

National and State Standards Connections
Materials Needed
Purpose
Objectives
Constructing Inferences from Observations
    Activity 6.1 Constructing Inferences from Observations
    Activity 6.2 More Practice Making Inferences from Observations
    Activity 6.3 Formulating Inferences from Observations about Events
    Activity 6.4 Making Inferences from a Slice of Life
Learning Is an Inference
Thinking Is All about Asking Questions
Confidence in Inferences
Accepting, Rejecting, and Modifying Inferences
    Activity 6.5 Compass Direction and Magnetism
Drawing Conclusions
Self-Assessment
Ideas for Your Classroom
Start Kids Thinking
High Stakes Testing
Websites and Search Terms
Technology Spotlight
A Model for Assessing Student Learning
Becoming a Reflective Teacher
Self-Check
 
Chapter 7: Predicting

National and State Standards Connections
Materials Needed
Purpose
Objectives
Predicting Is a Powerful Teaching and Learning Tool
    Activity 7.1 Distinguishing among Observation, Inference, and Prediction
Testing Our Mental Models
Constructing Predictions Based on Observed Patterns
    Activity 7.2 Finding a Pattern in Sunrises
Practice in Making Predictions
    Activity 7.3 Pendulum Motion
    Activity 7.4 Making Dependable Predictions
    Activity 7.5 Prediction and Chance
    Optional Activity 7.6 Estimating Large Quantities
Self-Assessment
Ideas for Your Classroom
Start Kids Thinking
High Stakes Testing
Websites and Search Terms
Technology Spotlight
A Model for Assessing Student Learning
Becoming a Reflective Teacher
Self-Check

Decision Making 1: Applying Your Skills

Textbook Example A
    Typical Activity
    Modified Activity
Textbook Example B
    Typical Activity
    Modified Activity
Additional Practice
 

PART 2: INTEGRATED SCIENCE PROCESS SKILLS

Chapter 8: Identifying Variables

National and State Standards Connections
Materials Needed
Purpose
Objectives
Changing Variables to Affect Results
    Activity 8.1 Getting Involved in Experimenting
Identifying Variables in a Variety of Contexts
    Activity 8.2 Learning to Identify Variables
    Activity 8.3 Distinguishing Between Independent and Dependent Variables
Self-Assessment
High Stakes Testing
Websites and Search Terms
A Model for Assessing Student Learning
Self-Check

Chapter 9:Constructing a Table of Data

National and State Standards Connections
Purpose
Objectives
Working with Data
    Activity 9.1 Labeling Columns and Entering Data
    Activity 9.2 Modifying a Table of Data to Record Repeated Trials
    Activity 9.3 Transferring Data from a Table to a Graph
Self-Assessment
High Stakes Testing
Websites and Search Terms
A Model for Assessing Student Learning
Self-Check

Chapter 10:Constructing a Graph

National and State Standards Connections
Purpose
Objective
Three Skills to Construct a Graph from Data
    Activity 10.1 Skill 1: Labeling the X and Y Axes
    Activity 10.2 Skill 2: Determining Interval Scales for Each Axis
    Activity 10.3 Skill 3: Plotting Data Pairs as Points on a Graph
Graph Titles
Critiquing Graphs
    Activity 10.4 Is the Graph Correct?
Self-Assessment
High Stakes Testing
Websites and Search Terms
A Model for Assessing Student Learning
Self-Check

Chapter 11: Describing Relationships between Variables

National and State Standards Connections
Purpose
Objectives
Interpreting a Graph
    Activity 11.1 Drawing a Best-Fit Line
Writing a Statement of Relationship
    Activity 11.2 Writing a Statement of Relationship for Straight Lines
    Activity 11.3 Writing a Statement of Relationship for Lines That Curve
Analyzing Graphs and Statements That Summarize Trends in Data
    Activity 11.4 Analyzing Graphs and Statements
    Activity 11.5 Applying All Your Graphing Skills
Self-Assessment
High Stakes Testing
Websites and Search Terms
A Model for Assessing Student Learning
Self-Check

Chapter 12: Acquiring and Processing Your Own Data

National and State Standards Connections
Materials Needed
Purpose
Objectives
Initiating Investigations
Measurement Skills
    Activity 12.1 Initiating an Investigation with a "Why" Question
    Activity 12.2 Initiating an Investigation with an Activity and a Question
    Activity 12.3 Another Question and an Activity to Answer It
Self-Assessment
High Stakes Testing
Websites and Search Terms
A Model for Assessing Student Learning
Self-Check
 
Chapter 13: Analyzing Investigations

National and State Standards Connections
Purpose
Objectives
Controlled Experiments
    Activity 13.1 Holding Factors Constant
Hypotheses
    Activity 13.2 Constructing Well-Stated Hypotheses
Self-Assessment
High Stakes Testing
Websites and Search Terms
A Model for Assessing Student Learning
Self-Check

Chapter 14:Constructing Hypotheses

National and State Standards Connections
Purpose
Objectives
Variables
    Activity 14.1 Identifying Variables to Test
Constructing Testable Hypotheses
    Activity 14.2 Stating a Hypothesis
    Activity 14.3 Putting It All Together
Self-Assessment
High Stakes Testing
Websites and Search Terms
A Model for Assessing Student Learning
Self-Check

Chapter 15: Defining Variables Operationally

National and State Standards Connections
Purpose
Objectives
Operational Definitions
    Activity 15.1 Deciding How Variables Can Be Measured
    Activity 15.2 More Practice Writing Operational Definitions
Self-Assessment
High Stakes Testing
Websites and Search Terms
A Model for Assessing Student Learning
Self-Check

Chapter 16: Designing Experiments

National and State Standards Connections
Purpose
Objectives
Experiments
    Activity 16.1 Identifying Essential Experimental Design Components
    Activity 16.2 Writing Procedures
    Activity 16.3 Analyzing Investigations: Grass Clippings
    Activity 16.4 Analyzing Investigations: Soap Bubbles
Designing Experiments
    Activity 16.5 Designing Your Own Experiment about Image Sizes 
Great text! Informative and full of great examples.
-- Juan Otal, George Mason University  
Ebook
$58.65
ISBN 9781465262295
Details Electronic Delivery EBOOK 180 days