RETURN TO SEARCH RESULTS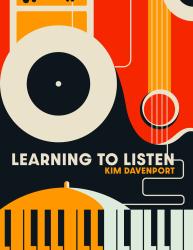 Details: Electronic Delivery EBOOK | 180 days |
Music listening skills are vital for success in any music course and are also profoundly transferable skills for life and work. Particularly for non-majors with minimal background or training, coming into perhaps the only music class they will ever take, the prospect of listening, analyzing, and writing about music which is new to them can be intimidating.
Learning to Listen is the result of many years of teaching a broad range of non-major music classes. Designed as a concise, affordable add-on to the curriculum for any existing music course, the book shares strategies which have proved most valuable in helping a diverse range of students build their confidence as music listeners.
The book takes a student-centered, anti-racist approach, validating the reader's lived experiences as a music listener and analyzing the challenges all listeners face in the 21st century, before delving into tangible, specific strategies that can be employed to build confidence and practice listening skills. Musical examples featured in the book are drawn from an array of musical genres and time periods, with an emphasis on musical creators typically underrepresented in music curricula.
Chapter 1 Musical Umwelt
Chapter 2 Listening Challenges
Chapter 3 Listening Strategies
Chapter 4 Writing for Music Classes
Chapter 5 Listening Exploration: Melanated Moments in Classical Music
Chapter 6 Listening Exploration: Music of Trinidad and Tobago
Chapter 7 Listening Exploration: Terra Nostra
During the many years I have taught courses for first-time music students, I have wished for a book like Learning to Listen. Kim Davenport's abundant experience as an educator, her insightful musicianship, and her commitment to inclusiveness shines on every page of this accessible, thought-provoking book. Learning to Listen offers instructors a courageous and inspiring invitation to rethink how we engage students in "music appreciation" classes.
Gwynne Kuhner Brown
Professor of Music, University of Puget Sound
Learning to Listen is a refreshingly original book that begins by honoring the reader's own Umwelt- their musical world of lived experience. It guides the student from that personal place to a wider, more cosmopolitan appreciation of musical possibility by identifying challenges and strategies for deeper listening. "Classical" music is introduced through the voices of BIPOC and women composers, and then a very different tradition of Carnival music from Trinidad and Tobago introduces how music can be a force in social movements of identity and liberation. Finally, a contemporary composer discusses how they create and use music to move listeners to action in the fight against climate change.
Learning to Listen is replete with hundreds of hyperlinks and thus is a goldmine of leads to online performances, resources and information. Beautifully written, with many personal anecdotes, this book will engage, delight and motivate students and readers of all backgrounds and ages.
Gregory Youtz
Professor of Music, Pacific Lutheran University
Ebook
$30.00
ISBN 9798765714287
Details Electronic Delivery EBOOK 180 days