RETURN TO SEARCH RESULTS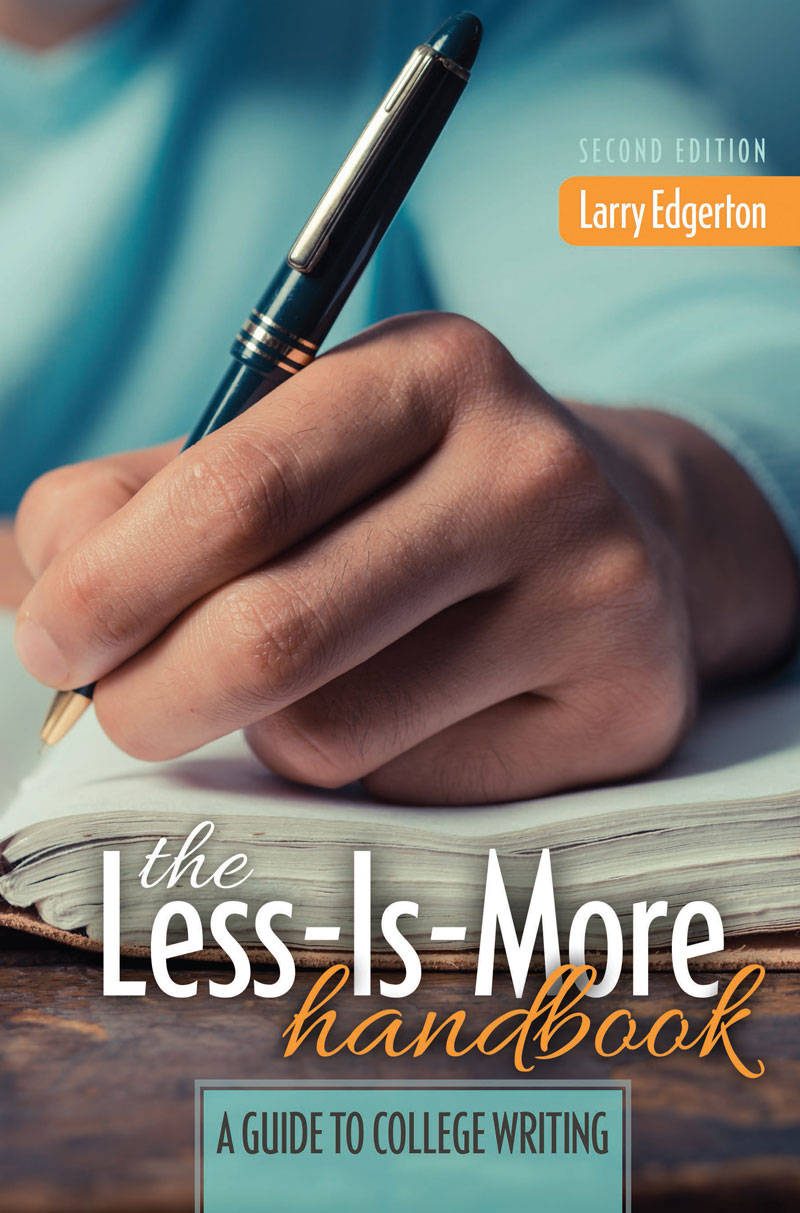 The Less-Is-More Handbook: A Guide to College Writing
Author(s): Larry G Edgerton
Edition: 2
Copyright: 2017
Pages: 508




Details: Electronic Delivery EBOOK | 180 days |
The Less-Is-More Handbook: A Guide to College Writing guides the reader through the basics of college writing. This handbook clearly and efficiently discusses a wide variety of topics, including thesis statements, essays, research papers, and editing. For this handbook of the basics, less is more.
Focusing on accuracy and efficacy, The Less-Is-More Handbook provides readers with the "insider rules" needed to become a better college writer.
The second edition of The Less-Is-More Handbook includes:
Easy Navigation! Content can be quickly accessed and utilized via the handbook's tabbed sections and plastic comb binding.
Detailed and user-friendly Step-by-Step Tutorials that demystify college writing.
Tools to Avoid Plagiarism, 45 Reminders of common errors, Tip Boxes, and a listing of Editing Symbols.
Detailed lists to check the writer's punctuation, spelling, mechanics and word usage.
How to Use the Less-Is-More Handbook: A Guide to College Writing
PART I BIG PICTURE AND LITTLE PICTURE ESSENTIALS
Chapter 1 Seven Ways to Become a Better College Writer
PART II BIG PICTURE ESSENTIALS: The Thirteen Rules of College Writing
Chapter 2 The Thesis
Chapter 3 The Essay
Chapter 4 The Paragraph and the Topic Sentence
Chapter 5 The Transition
Chapter 6 The Audience and the Title
Chapter 7 Format
Chapter 8 Revision
Part III BIG PICTURE ESSENTIALS: Editing Made Easy
Chapter 9 Easy Punctuation
Chapter 10 Easy Grammar
Chapter 11 Easy Style
Part IV BIG PICTURE ESSENTIALS: The Research Paper
Chapter 12 Introduction to the Research Paper
Chapter 13 Finding a Good Thesis
Chapter 14 Putting the Research Paper Together
Chapter 15 MLA and APA Citations
Part V LITTLE PICTURE ESSENTIALS: The Rules
Chapter 16 Punctuation Rules
Chapter 17 Spelling and Mechanics Rules
Chapter 18 Word Confusions
Part VI The Generic College Résumé
Chapter 19 The Generic College Résumé
Part VII GLOSSARY/INDEX
Glossary of Terms
Index
The scores of the students in my upper level, semester-long Anatomy and Physiology course has increased by 8.8% since I've started requiring Edgerton's The Less-Is-More Handbook: A Guide to College Writing in conjunction with my A&P eText. Thank you Kendall Hunt and Mr. Edgerton for allowing me to improve my students' learning experiences, outcomes and successes.
Michael R. Cryder, M. S.
Assoc. Professor of A&P/Biological Sciences Life Science Department Riverside City College
Ebook
$40.52
ISBN 9781524916039
Details Electronic Delivery EBOOK 180 days