RETURN TO SEARCH RESULTS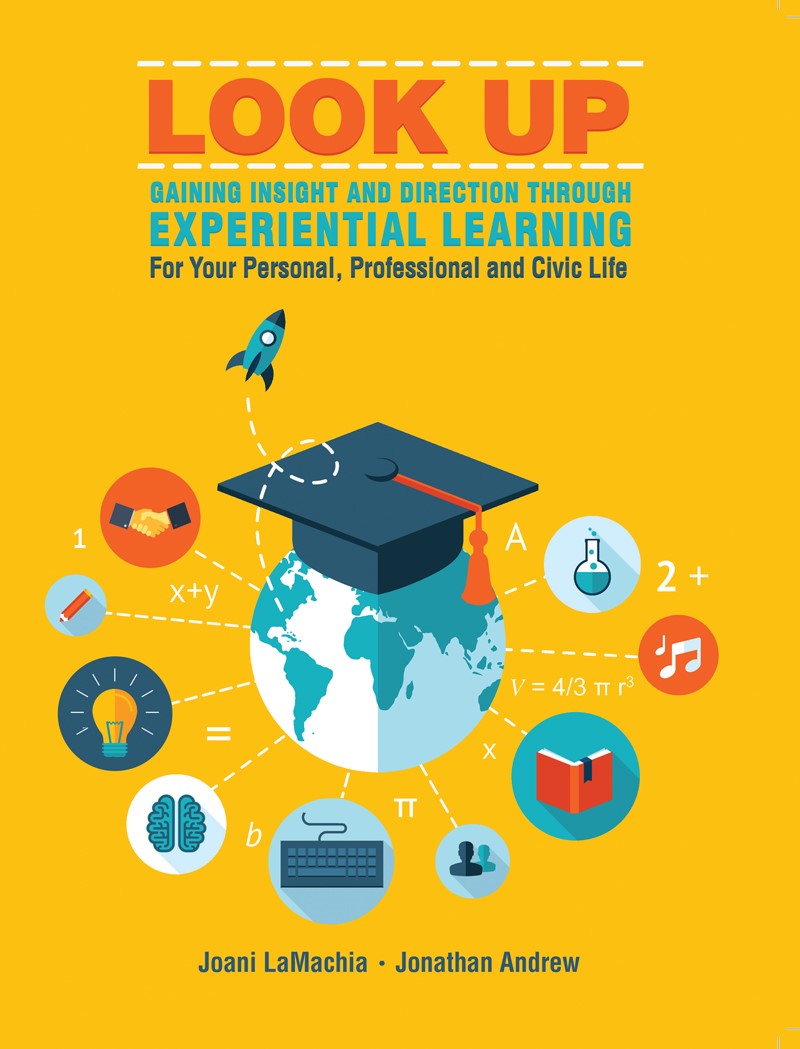 LOOK UP--Gaining Insight and Direction Through Experiential Learning For Your Personal, Professional and Civic Life
Author(s): Joani LaMachia, Jonathan Andrew
Edition: 2
Copyright: 2022
In their exciting, interactive new book–LOOK UP--Gaining Insight and Direction Through Experiential Learning--For Your Personal, Professional and Civic Life, Dr. Joani LaMachia and Jon Andrew identify and examine the choices that students face when navigating through their institutions of higher learning, workplaces and global society.
Through the course of the book, the authors unpack with students how to creatively integrate and act on what you study both in and out of the classroom. This book will enable students to adopt a new lens through which to view education as being not a process of knowledge acquisition through exposure and absorption, but of knowledge, skills and competency development through engagement, experimentation, collaboration, application, reflection and ethical action.
The goal is to help prepare students to be lifelong learners who are capable of learning anywhere. Through this mindset, they will be able to meet the present age of accelerations prepared with an intellectual, emotional and cultural pliability, allowing them to fulfill their potential personally, professionally, and civically.
LOOK UP--Gaining Insight and Direction Through Experiential Learning--For Your Personal, Professional and Civic Life:
Is interactive in format
Engages student in reflexive practice
Considers current workplace and global trends and issues
Provides 'reality checks' from real world situations and considerations
Assists student's deconstruction of learning through advising sessions
Contains tools, resources, case studies, classroom simulations, student/faculty/employer narratives and perspectives
Addresses issues of leadership, agency and ethics related to student learning experiences
Integrates personal, professional and civic learning and development
FOREWORD
ACKNOWLEDGMENTS
BOOK CONTRIBUTORS
INTRODUCTION
CHAPTER 1 - FOSTERING SELF-AWARENESS
CHAPTER 2 - ENGAGING IN ADAPTIVE DECISION MAKING
CHAPTER 3 - CREATING AND BELONGING TO A MENTORING COMMUNITY
CHAPTER 4 - NAVIGATING DIVERSE LEARNING ENVIRONMENTS
CHAPTER 5 - LET'S TALK! - BOUNDARYLESS COMMUNICATION
CHAPTER 6 - DEVELOPING AGENCY FOR ETHICAL AND IMPACTFUL PROFESSIONAL AND CIVIC ENGAGEMENT
APPENDIX -TOOLKIT - EXPERIENTIAL LEARNING RESOURCES AND ACTIVITIES
Look Up is a landmark discussion and how-to manual about experiential learning, written by two of its pioneers. Drawing on their hard-won experience with the Cooperative Education Program at Northeastern University and comments from the students themselves, LaMachia and Andrew vividly convey the importance of off-campus, real-world experience for college students—in developing their knowledge of the world, their commitment to making that world a better place, and their understanding of themselves.
Alan Lightman, Professor of the Practice of Humanities, MIT and Founder and Chairman, the Harpswell Foundation, Phnom Penh, Cambodia
Experiential learning is an important bridge between academic learning and the demands and challenges that students will encounter in the workplace and global society. In our experience, students learn not only new skills but also the mechanisms needed to cope with, and manage, fast-changing workplace environments. We have worked with the authors and Northeastern University's Cooperative Education Program for a number of years to great effect. Look Up is a timely and useful guide that will help practitioners and students alike to approach this increasingly important and relevant topic in a thoughtful and comprehensive way.
Gerhard Botha, Director of Programs, International Law Institute, Washington, DC
Experiential learning is quickly on the rise within education. Colleges and universities are seeking to develop, implement, and expand student programs and learning "beyond the classroom." Having worked with Northeastern students as co-ops at Foreign Policy Interrupted, I highly endorse experiential learning and have seen the benefits firsthand. With this book, LaMachia and Andrew have given us an indispensable guide for both professionals and students alike. As a professional, I'm excited to use it as a resource for students and young professionals.
Elmira Bayrasli, Author and Cofounder of Foreign Policy Interrupted, New York, NY
Experiential learning is more widely being incorporated into higher education as colleges and universities recognize its value. The authors of Look Up have developed a ground-breaking, comprehensive guide for both students and educators. They have captured the essence of how best to harness the power of experiential learning and apply and integrate its lessons in the personal, professional, and civic lives of learners. It is an exceptional resource for educators that includes an impressive array of information and materials to assist them with developing quality programs and advising for their students. Look Up is an innovative and significant publication that will greatly benefit the experiential education community.
Veronica Porter, President, Cooperative Education and Internship Association, Associate Professor of Cooperative Education, College of Science, Northeastern University, Boston, MA
Our experience with Northeastern's Cooperative Education Program has been overwhelmingly positive. We found the program to be a great initiative to provide students with on-the-job learning while offering organizations such as ours with high-caliber and dynamic support on specific projects. This book is an important reference for a process that is underresearched and underrated, and it will be of great value to organizations such as ours in maximizing the benefits of experiential learning to all concerned. ​
Volker Schimmel, Senior Regional Cash-Based Interventions Coordinator, Middle East and North Africa Director's Office in Amman, United Nations High Commissioner for Refugees
TS Eliot once said, "we had the experience but we missed the meaning. And approach to the meaning restores the experience in a different form." This could apply to many students as they participate in experiential education activities, both long and short. Look Up addresses ALL the issues that make an experience meaningful for students and guides them in framing the experience to gain the transformation that experiential learning promises. While ostensibly written for students, this should be read by every administrator, faculty member, or industry partner and parent who are involved in helping students navigate experiential education during their college career. LaMachia and Andrew get to the heart of what it means to truly learn from an experience by providing students with information, meaningful and reflective activities, and multiple resources to ensure that students gain the most from their learning outside the classroom.
Donna Qualters, Tufts University, Author of Experiential Education: Making the Most of Learning Outside the Classroom
As an alum, I truly wish Look Up was an available tool during my experiential learning process. The insight it provides is critical and will definitely better equip students to become stronger job applicants and leaders. Now as a co-op employer, I value the experiential learning process in a new light and have witnessed firsthand students' transformational growth throughout the program. Experiential learning is truly a win-win for students and employers alike, and I applaud LaMachia and Andrew for creating such a powerful resource on this imperative subject.
Samantha Sheridan, NU Class of 2014, Campaigns Coordinator, Oxfam America
I love teaching public policy to my Northeastern coop students. Why? Because for them it is not some theoretical exercise. They have typically come back from 6 months working in Congress or the executive branch or a state legislature or a city government and eager to hone their skills for public service. What could be better than that? Joani LaMachia and Jonathan Andrew give us an impressive explanation of how we can expand experiential learning throughout higher education and help encourage and train some of the nation's best future leaders.
Michael S. Dukakis, Professor of Political Science, Former Governor of Massachusetts
Experience-based learning is on the rise in both educational and professional settings. Having worked with Andrew and LaMachia in Northeastern's Cooperative Education Program, I have witnessed the benefits firsthand, not only for the student as they gain valuable experience navigating an ever-changing and increasingly collaborative workplace but also from the business side as companies can help rising graduates develop and become capable of making a more seamless transition to that work environment. Look Up is an indispensable guide for those looking to tap into this developmental approach and also for the student as they try to gain a deeper understanding of the method and its payoffs.
Curtis Robinson, PwC Germany
Student Testimonials
I enjoyed how Look Up emphasized the importance of reflecting on experiences not only for preparing for job interviews but also helping to refine your goals. The example of the "experience audit" of the student developing empathy from high school to her first interview illustrates this well, and I hope to incorporate this into my interviewing process.
- Student
Look Up has given me a new perspective on how to view my "soft skills," and how much impact these skills have on shaping both my work ethic and my personality.
- Student
Look Up has made me think of co-op as more of an exploratory experience and less of an experience to prove myself in my desired field. I want to continue to keep this mindset to manage expectations and gain as much insight from the process and the actual position as possible.
- Student
I enjoyed how Look Up emphasized the importance of reflecting on experiences not only for preparing for job interviews but also helping to refine your goals. The example of the "experience audit" of the student developing empathy from high school to her first interview illustrates this well, and I hope to incorporate this into my interviewing process.
- Student
Look Up really gives me the sense of how important choices are there to amplify your life, like coop. being able to decide which options are best for you will help you to learn from your work better and to get a great experience.
- Student
Look Up encourages me to put myself out there more and push harder to develop a personal relationship with the people around me. I want to learn more and use that guidance to get ahead and achieve my dreams.
- Student
Look Up made me look at my experiential learning cooperative education in a new light, primarily as an opportunity to begin and grow a professional network for myself. That includes making important and enduring connections, developing valuable relationships for mutual benefit, gaining insight through these connections, and connecting with mentors who could empower & provide me with resources that could potentially work towards facilitating the pursuit of my career aspirations. I will keep this in mind throughout my first co-op and any other jobs, opportunities, etc. that I experience with the intention of enhancing my experiences and learning process.
- Student
Website
$48.30
ISBN 9781792482403
Details KHPContent 180 days