RETURN TO SEARCH RESULTS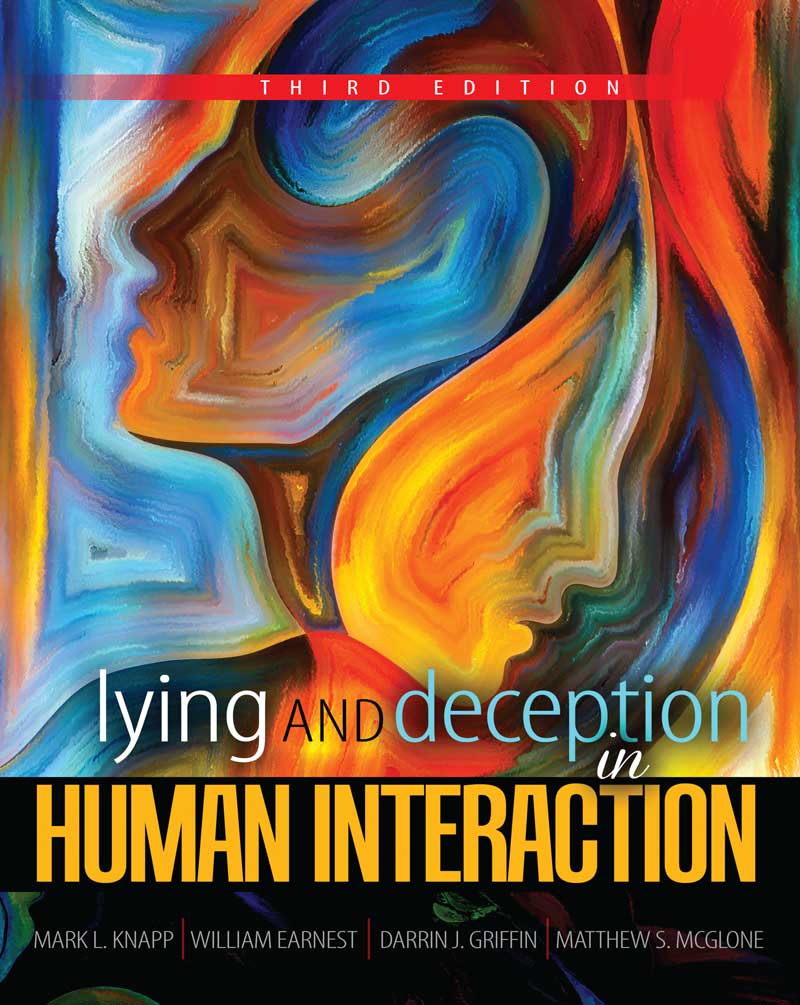 Details: Print Product |
The emergence of social media, the digital revolution, and the today's political climate have all brought renewed attention to deception as a human communication phenomenon.
Lying and Deception in Human Interaction presents deception from a variety of perspectives. The text primarily focuses on the communication process while blending in concepts and references that touch on many important areas of study across the humanities and social sciences.
Classroom tested and proven by thousands of students, the NEW third edition of Lying and Deception in Human Interaction:
Is contemporary! New references, examples, journal article links, and QR codes to real-life examples promote further discovery, learning, and retention.
Analyzes various manifestations of deceptive behavior. It illustrates how human deception is just another manifestation of a process that all living organisms on the planet practice, a chapter on self-deception, and the deception of others.
Features a dedicated section on lie detection. The text examines how human observation, machines, tests, drugs and other aids to improve lie detection accuracy.
Presents how political leadership, journalism, writing history, memories, resumes, and the rapidly-changing world of visual deception can deceive masses.
Is practical! Knowledge of lying and decision provides students with cognitive and perceptual skills to better deal with con artists, internet scams, and hoaxes.
PART I – THE NATURE OF THE PHENOMENON
CHAPTER 1 – Perspectives on Lying and Deception
CHAPTER 2 – Perspectives on Truth
CHAPTER 3 – Ethical Perspectives
PART II – DECEPTIVE BEHAVIOR
CHAPTER 4 – Nonhuman Deception
CHAPTER 5 – Children as Liars and Targets of Lies
CHAPTER 6 – Self-Deception
CHAPTER 7 – Performing Lies and Deceit
CHAPTER 8 – Specialists in Lying and Deception
PART III – LIE DETECTION
CHAPTER 9 – Unassisted Lie Detection
CHAPTER 10 – Assisted Lie Detection
PART IV – LYING AND DECEPTION FOR THE MASSES
CHAPTER 11 – Public Lies and Political Leadership
CHAPTER 12 – Deceptive Writing
CHAPTER 13 – Visual Deception
Knapp and colleagues offer a masterfully comprehensive, organized, and engaging text fitting for anyone interested in the topic of human deception. Students respond positively to the book's writing style, contemporary examples, and application to the real world. Lying and Deception in Human Interaction is an absolute must-have for courses addressing the topic of lying and deception in human behavior.
Tony Docan-Morgan, Professor of Communication Studies at the University of Wisconsin-La Crosse, & Editor of The Palgrave Handbook of Deceptive Communication
Print
$99.23
ISBN 9781524970055
Details Print Product