RETURN TO SEARCH RESULTS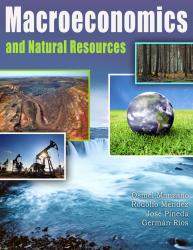 Details: Electronic Delivery EBOOK | 180 days |
Macroeconomics and Natural Resources provides an introduction to contemporary macroeconomics accessible and attractive for students from different levels, countries, and field of studies thanks, on the one hand, to its didactic approach, graphical richness and flexible mix of technical, colloquial and metaphoric language, and, on the other hand, to its global perspective and strong policy orientation.
Macroeconomic concepts can look in general very abstract and the book use of real examples from several countries makes learning them easier. On the other hand, the emphasis of the book on examples from economies with abundant natural resources attends to shed light on some unique characteristics of these economies not considered in the standard macroeconomic textbooks, helping to illustrate in a very clear way how random shocks drive countries' macroeconomic dynamics in general.
Foreword
Introduction
Chapter 1: How to measure macroeconomic variables?
Basic concepts

Nominal variables versus real variables
Flows versus stocks
Variables in different currencies

The Gross Domestic Product (GDP)

Measurement and composition
The demand approach
The income approach

Private, public and external savings
The balance of payments

The current account
The financial account
The international investment position

Unemployment and inflation

Unemployment
Inflation

The macroeconomics of countries endowed with natural resources
Chapter summary
Key concepts
Recommended readings

Chapter 2: Microeconomic foundations
Decisions of households, firms, and governments
General Equilibrium
Chapter summary
Key concepts
Recommended readings
Chapter 3: Basic behavioral macroeconomic relationships
Good markets
Financial markets
The foreign sector
Macroeconomic policies
Chapter summary
Key concepts
Recommended readings
Chapter 4: Business Cycles
Cycle and trend
Source of Business Cycles
Study cases: Norway, Canada, Venezuela, Ecuador
Chapter summary
Key concepts
Recommended readings
Annex

Cycle-T rend filters
Structural vector autoregressive models
Chapter 5. Economic Growth
How does growth compare between resource rich countries and the rest of the world?

Box: Differences in GDP measurements

Which are the sources of growth?

Growth accounting
Capital, population and growth in Resource Rich economies.

What determines factor accumulation in an economy?

Investment and growth
Capital, its composition and the efficiency of its allocation
Box: The difference in capital accumulation between Asia and Latin America
Population growth and human capital
Box: Wat is the "demographic bonus"
Box: The quality of human capital
Factor accumulation and long-term growth: Convergence
Box: Can capital be estimated?

The production function beyond production factors

Technology
Other factors affecting growth
Box: What is economic complexity? Does it matter?
Natural resources and growth
Box: The resource "drag"

Beyond convergence: alternative approaches to growth
Growth or development?
Chapter summary
Key concepts
Recommended readings
Chapter 6: Are natural resources bad for the economy?
Dependency Theory and Resource Curse
The new literature on natural resources and development

The evidence
Box: The challenge of estimating the effect of resources of growth
Box: The US a resource rich economy
From general statements to microeconomic evidence
Box: Is there a "Dutch Disease"? Should we care

Commodity prices, volatility and the economic cycle

Box 6.4 Are local governments more responsible than national governments?

Policy challenges

Institutions for the sector
Box: International standards and institutions in the extractive sector
Macroeconomic policy
Governance
Box: What is "resource fueled authoritarianism"? Is there evidence that it exists?

Chapter summary
Key concepts
Recommended readings
Chapter 7: Labor markets, unemployment and natural resources
Some basic concepts
How the labor market works?
Characteristics of unemployment

Which groups are the most affected?
Long-term unemployment
Costs of unemployment

Imperfections in the labor market and regulation
Demand and supply of labor: a basic model
Alternative models

Segmented markets
Informality and labor markets

Chapter summary
Key concepts
Recommended readings
Chapter 8: Aggregate Private Spending (Consumption and Investment)
Consumption

Consumption and utility
Current consumption versus future consumption
The role of the real interest rate
Credit Restrictions and Uncertainty

Investment

Stock of capital and production
Physical capital and consumption, savings and investment decisions of families
Relationship between consumption and investment at the aggregate level

Chapter summary
Key concepts
Recommended readings
Annex
Chapter 9: Challenges of fiscal policy
What does the government do?

Where is government spending money?
Box: Government? Public Sector? What are the different levels of the Public Sector
The scope of government action: public goods.
Spending financing: the role of taxes.
Box: Taxing income or taxing consumption? The debate on taxation.

Government accounts and their impact on households

The impact of spending
The impact of taxes

Is it better to finance yourself with debt?

Box: The debt crisis: did commodity prices play a role?

Do resource rich societies pay for public services?

Box: Resource GDP and total GDP

Chapter summary
Key concepts
Recommended readings
Chapter 10: Monetary Economy (Money, Financial System and the Central Bank)
Demand for money

Quantitative theory of money
Model of existence of money

Purchase time model

The nominal budget constraint
The optimal demand for money
The money multiplier and money supply

Macroeconomic policy and inflation

Seigniorage and inflationary tax

The "new norm" of Monetary Policy
Chapter summary
Key concepts
Recommended readings
Chapter 11: Relations with the rest of the world
Exchange rate regimes and the real exchange rate

Fixed exchange rate
Flexible exchange rate
Real exchange rate

Balance of payments crisis

Krugman's balance of payments crisis model

The external sector in the real economy
Understanding the global outlook and the policy reaction to assess potential business shocks
Chapter summary
Key concepts
Recommended readings
Annex

Small and open monetary Economy. Intertemporal budget constraint
Chapter 12: The political economy of macroeconomic policy
Instruments and objectives
Macroeconomic policy and institutions
Uncertainty and expectations
Politics and macroeconomic policy
Rules versus discretion
Structural reforms and stabilization
Chapter summary
Key concepts
Recommended readings
Chapter 13: Climate challenges for resource-dependent economies
Chapter 14: Global macroeconomics coordination and the effects of globalization
Ebook
$70.00
ISBN 9781792459139
Details Electronic Delivery EBOOK 180 days