RETURN TO SEARCH RESULTS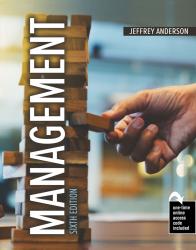 Details: Print Prod w/GRLearn Code | 180 days |
Managing and working with people is important across all disciplines.
The NEW edition of Management is accessible to a wide variety of students. Readers will find the book relevant whether their major is business, communications, engineering, fine arts, or science.
Featuring best practices from the authors 25 plus years of teaching experience, Management provides an up-to-date, practical, interesting, and easy-to-read introduction to management principles.
Management strikes a balance between theory and application. While the book is centered on classic management research, it also provides current and familiar examples of how management theories work in the real world.
In addition, it is interesting and easy to read. Management features a clear and concise narrative style that does not overwhelm the reader with irrelevant information.
Introduction
Chapter 1 Introduction to Management
Chapter 2 The Environments of Management
Chapter 3 The Global Environment of Management
Chapter 4 Planning and Strategy
Chapter 5 Decision Making
Chapter 6 Organizations, Culture, Structure and Design
Chapter 7 Human Resource Management
Chapter 8 Analyzing Individual Behavior
Chapter 9 Motivation
Chapter 10 Effective Groups and Teams
Chapter 11 Leadership
Chapter 12 Information, Communication and Technology
Chapter 13 Controlling
Glossary
Index
Print Package
$137.81
ISBN 9781792467103
Details Print Prod w/GRLearn Code 180 days