RETURN TO SEARCH RESULTS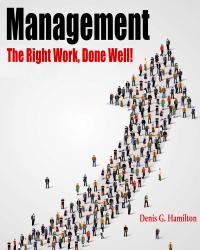 Management: The Right Work, Done Well!
Author(s): DENIS G HAMILTON
Edition: 1
Copyright: 2020
Pages: 197


Details: Electronic Delivery EBOOK | 180 days |
This is the Preliminary Edition. It does not include resources that will be included in the full first edition.
Management: The Right Work, Done Well! contains descriptions of many of the practices routinely performed by managers in various types of organizations. Students will be presented with common management theories based on academic research and the research done by leading consulting firms such as McKinsey and Boston Consulting Group.
This textbook identifies the common activities undertaken by managers as they pursue doing the "Right Work" and to present how managers go about trying to get that work "Done Well!" Lengthy, detailed narrative is avoided. Instead, an outline format is generally used with brief examples and several illustrations to make the learning more readily digestible.
The textbook also features:
Learning goals for each chapter that are clearly indicated.
A list of key terms and concepts to be studied and mastered at the end of each chapter.
A "You Be the Manager" section which provides a list of activities for students to perform either individually or with a team.
An easy to read, large type-font, well-structured and clearly indexed chapters that follow a common format throughout.
Preface Why Study Management?
PART I – INTRODUCTION
Chapter 1 Management: "Right Work, Done Well"
Chapter 2 The Evolution of Management Theory and Practice
PART II – "THE RIGHT WORK"
Overview of Part II
Chapter 3 Identifying the "Right Work"
Mission, Vision, Strategy, Objectives, Business Plans
Chapter 4 Doing What's "Right"
Values, Ethics, Social Responsibility, & Legal Compliance
Chapter 5 Growth through Innovation & Entrepreneurship
Chapter 6 Managing a Global Business
PART III – "DONE WELL"
Overview of Part III
Chapter 7 Designing the Organization
Designing meaningful jobs
Integration of work through Organizational Structure
Organizational Governance
Chapter 8 Creating a Positive and Productive Culture through
Employee Engagement
Ebook
$45.00
ISBN 9781792429286
Details Electronic Delivery EBOOK 180 days