RETURN TO SEARCH RESULTS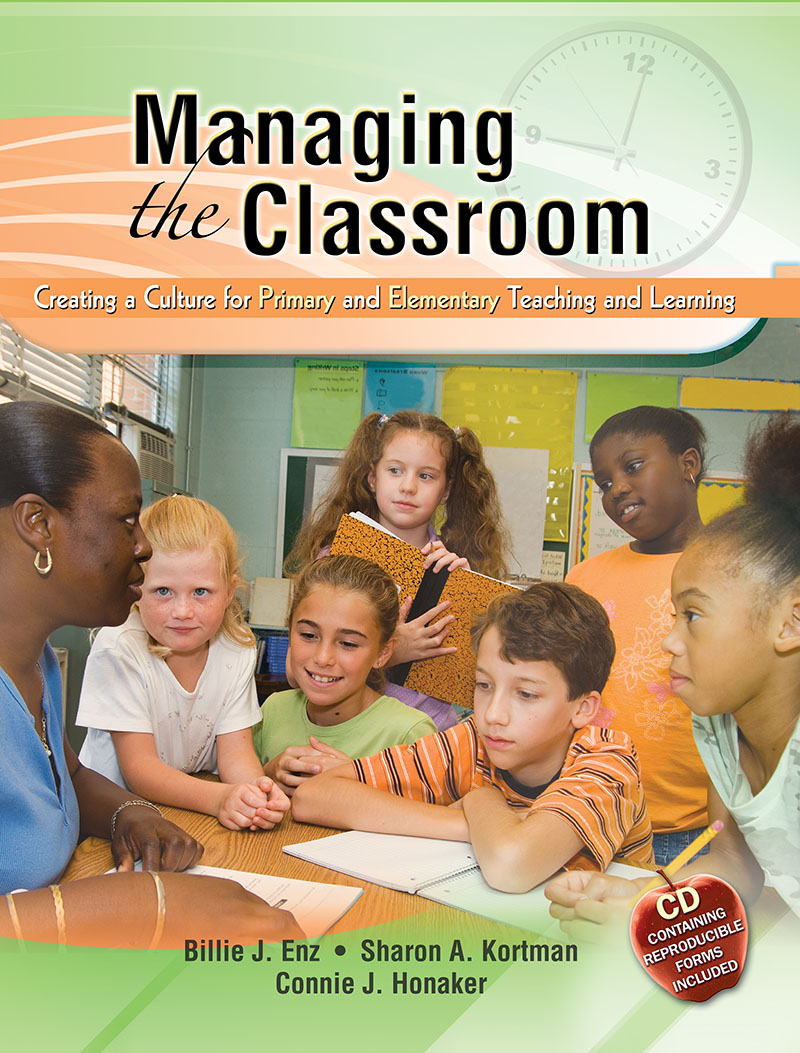 Details: Print Prod w/Audio/Video |
View the Reading Resources Catalog
Planning a classroom is an overwhelming task for a teacher. Managing the Classroom guides teachers through the full school year's tasks and responsibilities. This book provides research-based best practices with useful information, resources and great tips for successful teaching.The topics included in this book parallel the responsibilities of teachers as they progress through the year.
Pre-service and in-service teachers will both benefit from the user-friendly graphs, charts and forms used throughout the book and available in reproducible format with the accompanying CD.
View the table of contents for all of the topics that are covered.
This book is also available in a version for early middle and high school teachers: Managing the Classroom: Creating a Culture for Middle and Secondary Teaching and Learning.
Foreword
Preface
Special Features
Acknowledgements
About the Authors
1. What is Management of Teaching?
The Diverse Role of Teaching
Professionalism
Professionalism with Students
Professionalism with Parents
Professionalism within the School
Teaching Standards in Practice
Common Vocabulary
Collaboration
Communication
Relationships
Questions for Reflection
Readiness
Knowing the Community
Commuting
News
District and School Contacts
School-wide Policies and Procedures
Faculty Handbook
Mentor Assignment
District/School Discipline Code
Calendaring
Organizational and Curriculum Planning
Questions for Reflection
Self-Assessment
2. Management: Managing the Classroom Culture
Organization of the Learning Environment
Classroom Set-up
Classroom Design
Classroom Considerations
Wall Space and Bulletin Boards
Determining Classroom Equipment and Material
Planning System
Scheduling
Record Keeping
Time Management
Student Responsibilities
Substitute Plan
Preparing to be a Substitute
An Effective Start
How Do You Plan to Dress?
How Do You Plan to Welcome Your Students?
How Do You Plan to Assign Seating?
How Do You Plan to Introduce Yourself?
How Do You Plan to Begin to Know Your Students?
What Do You Plan to Teach?
Questions for Reflection
Student Behavior
Management Models
The Discipline and Management Continuum
The Array Management Model
Understanding Student Personality and Interaction Styles
Teaching Styles
Proactive Management
Establishing Procedures and Routines
Positive Reinforcement
Student Motivation
Corrective Management
Replacement Behaviors
Logical and Natural Consequences
Notice the Differences: Negative and Positive Consequences
Redirection to Positive Choices
Analyzing Patterns of Behavior
Applications
Case Studies
Questions to Consider
Comprehensive Plan
Questions for Reflection
Self-Assessment
3. Instructional Design and Instruction: Managing Student Learning
Lesson Planning
Planning for Effective Instruction
Knowledge of Students
Knowledge of Content
Knowledge of Materials
Knowledge of Lesson Presentation
Knowledge of Instructional Strategies
Knowledge of Student Assessment
Sustained Silent Planning Time
Long-Term Curriculum Mapping, Monthly Overviews, Weekly Overviews and Daily Plans
Direct Instruction Lesson Plan
Five E's Lesson Format
Curriculum Integration
KWL
Topic Web
Time for Reflection
Questions for Reflection
Instruction
Student Engagement
Effective Instructional Strategies
Teacher Behaviors Leading to Student Success
Differentiation
Differentiating for Students in Special Education
A Brief Overview of Special Education
Differentiating for English Language Learners
Instructional Resources and Technology
Questions for Reflection
Self-Assessment
4. Assessment: Managing Student Progress
Establishing a Comprehensive Assessment System
Evaluating Student Learning
Types of Measures and Assessments
Formative and Summative Assessments
On-Demand Assessment
Ongoing Assessment
Determining What to Assess
Assessing What Students Have Learned
Assessment in Action
Planning Instruction Based on Ongoing Student Assessment
Rubric Assessment
Questions for Reflection
Record Keeping
Report Cards
Portfolios
Selecting Student Work
Portfolio Evaluation System
Questions for Reflection
Self-Assessment
5. Collaboration: Managing Communications
Parent Interactions
Welcoming Classroom Events
Back to School
Room Roam
Open House
Parent Volunteers
Organizing Volunteers
Guidelines for Parent Volunteers
Ongoing Contacts
Newsletters
Phone/E-mail Logs
Conferences
Questions for Reflection
Collegial Relationships
School Community
Support from and Accountability to Administration
Mentoring Relationship
Expectations Beyond the Classroom
Support Personnel
School or District Personnel
Educational Support Teams
Questions for Reflection
Self-Assessment
6. Professional Development: Managing Reflective Growth
Teacher Self-Management
Know Yourself
The Array Interaction Model
Teacher Scenarios
Identifying and Modifying Stress
Energy Drains
Proactive Planning
Identifying Needs
Building Energy Gains
Warning Signs
Stress Relievers
Questions for Reflection
A Purposeful Closure
Until the Last Bell Rings
Special Learning Projects
Student Reflections
Closure with Students
Closure with Parents
Until the Key is Turned In
Closure with Colleagues
Closing Down Your Classroom
Reflections: Identifying Professional and Personal Goals
Questions for Reflection
Self-Assessment
References
Index
Print Package
$80.00
ISBN 9780757552816
Details Print Prod w/Audio/Video