RETURN TO SEARCH RESULTS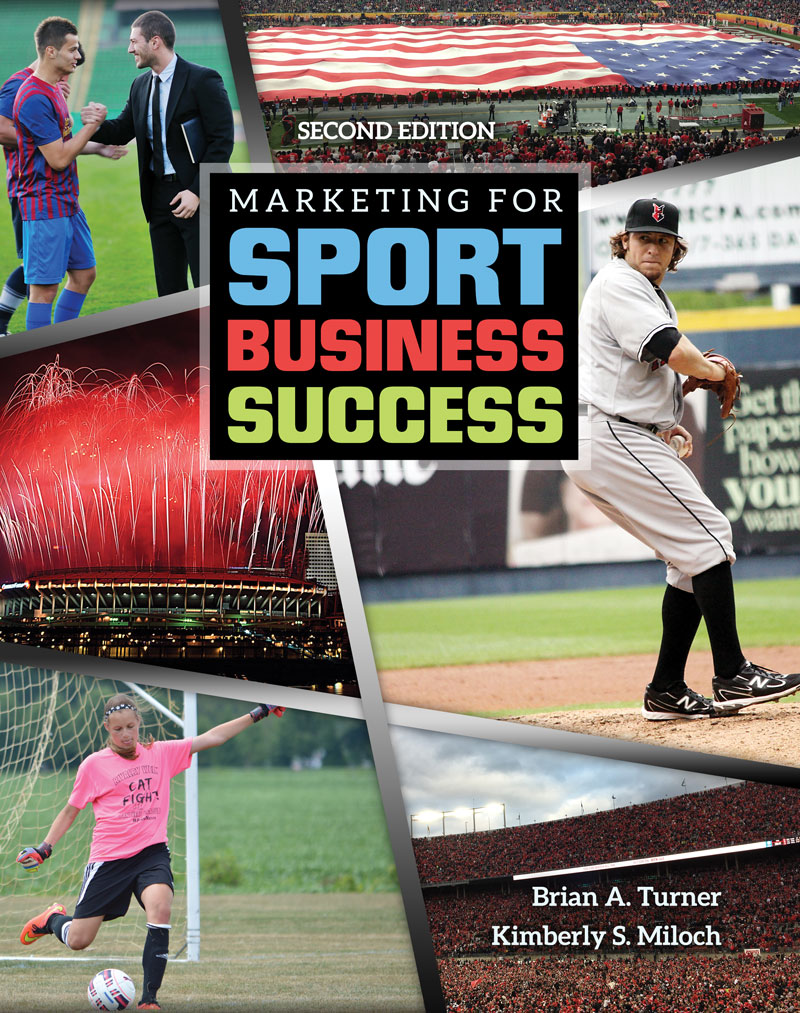 Details: Print Product |
The field of sport marketing is growing….
As the field thrives and becomes more specialized, it is necessary to call upon a number of experts in various areas to create a comprehensive publication necessary to meet the job-related needs of a growing, challenging, and competitive industry.
Combining two editors and 23 contributing authors, Marketing for Sport Business Success provides an all-inclusive, practical introduction to the field of sport marketing by applying state-of-the-art marketing strategies to the business of sport.
Featuring the most current information in the industry, the new second edition of Marketing for Sport Business Success by Brian Turner and Kimberly Miloch:
Includes a new chapter dedicated to the growing marketing trend of social media.
Features comprehensive discussion on the uniqueness of sport marketing ever published.
Challenges the reader to apply concepts learned by completing critical thinking exercises in each chapter.
Preface
List of Contributors
About the Authors
Chapter 1 Sport Marketing: Definition, Evolution, Uniqueness, and Importance
Brian A. Turner and Jonathan A. Jensen
Chapter Objectives
Definition
The Evolution of Sport Marketing
Industry Evolution
Academic Evolution
The Special Nature of Sport Marketing
Sport Pervades All Elements of Life
Sports Fans Consider Themselves Experts
Sport Leads to Strong Emotional Attachment
The Sport Product Is Intangible
The Sport Product Is Inconsistent and Unpredictable
Sport Is Publicly Consumed in a Social Environment
The Sport Product Is Simultaneously Produced and Consumed
The Sport Product Is Subjective
There Is Little Lead Time to Promote the Sport Product
Sporting Events Cannot Be Replicated
Emphasis on Product Extensions
Demand Fluctuates Widely
Widespread Media Coverage
Sport Organizations Simultaneously Cooperate and Compete
Importance of Sport Marketing
Professional Sports
Intercollegiate Sports
Interscholastic Sports
Youth Sports
Summary
Discussion Questions
Critical Thinking Exercises
References
Chapter 2 Developing a Strategic Sport Marketing Plan
Chris Greenwell and Dustin Thorn
Chapter Objectives
Strategic Sport Marketing
Preparing the Marketing Plan
Marketing Plan Introduction
Data and Analysis
Examination of Internal Environment
Examination of External Environment
SWOT Analysis
Goals and Objectives
Target Markets
Marketing Strategy
Implementation
Evaluation
Marketing Plan Summary
Key Questions to Address in a Marketing Plan
Summary
Discussion Questions
Critical Thinking Exercises
References
Chapter 3 Understanding Sport Consumer Behavior
B. Christine Green and Matthew T. Bowers
Chapter Objectives
Internal Factors
Motivation
Perceptions
Attitudes
Identity and involvement
External Factors
Reference Groups
Situational Factors
The Decision-Making Process
Stage 1: Need Recognition
Stage 2: Information Search
Stage 3: Evaluation of Alternatives
Stage 4: Purchase
Stage 5: Post-purchase Evaluation
Shortcuts in the Decision Process
Applications
Video Games
Fantasy Sports
Premium Website Subscriptions
Athlete Use of Social Media
Summary
Discussion Questions
Critical Thinking Exercises
References
Chapter 4 Marketing Information and Analytics
Todd Hall
Chapter Objectives
Marketing Research
Basic Steps of Marketing Research Process
Step 1: Identify and Define Area of Need or Opportunity
Step 2: Develop and Design Proper Approach/Research Design
Step 3: Collect and Organize the Data
Jacksonville Armada Employs Business Analytics to Assess Fan Base and Business Partners.
Step 4: Perform Data Analysis
Step 5: Prepare and Present Final Research Findings/Report
Information Management and Analytics
Basic Steps in Database Management Process
San Francisco Giants & Sales Analytics
Summary
Discussion Questions
Critical Thinking Exercises
References
Chapter 5 Sport Market Segmentation
Lindsay Krol Pursglove & Allison Manwell
Chapter Objectives
Introduction
What Is Market Segmentation?
Who Are Sport Consumers?
Sport Market Segmentation
Sport Organization Segmentation of Consumers
Implications for the Sport Marketer
Summary
Discussion Questions
Critical Thinking Exercises
References
Chapter 6 Creating the Marketing Mix
Andrea N. Geurin
Chapter Objectives
Introduction
Elements of the Marketing Mix
Product
Product Extensions
Price
Place and Distribution
Promotion
Public Relations
Marketing Mix Orchestration
​Oiselle
San Francisco 49ers
Commonwealth Games: Gold Coast 2018
Summary
Discussion Questions
Critical Thinking Exercise
References
Chapter 7 The Sport Product and Pricing Strategies
Chi-Wen Yang, Lindsay Krol Pursglove, and Allison Manwell
Chapter Objectives
(1) Sport Products
(2) Spectator sports products
(3) Participation sports products
Sporting goods, apparel, athletic shoes, and sports-related products
The Sport Product Mix
Product Life Cycle
Sport Products Differentiation
Form
Features
Customization
Performance Quality
Conformance Quality
Durability
Reliability
Reparability
Style
Sport Services Differentiation
Ordering Ease
Delivery and Returns
Installation
Customer Training
Customer Consulting
Maintenance and Repair
Pricing of Sport Product
Psychology of pricing
Company
Costs
Customer
Competition
Conditions
Customer Value
Sport Pricing Strategies
Bundling Pricing
Variable Ticket Pricing
Secondary Ticket Market
Dynamic Ticket Pricing
Forward Ticket Sales
Summary
Discussion Questions
Critical Thinking Exercises
References
Chapter 8 Place and Sport Facilities
Chad Seifried, Ari de Wilde, and Salvatore De Angelis
Chapter Objectives
Introduction
The 4 "P's" of the Marketing Mix and Sport Facilities
​Aesthetics to Sell in the Sport Facility
Summary
Discussion Questions
Critical Thinking Exercises
References
Chapter 9 Promotional Mix and Public Relations in Sport
Lindsay Krol Pursglove
Chapter Objectives
Introduction
Advertising
Public Relations
Public Relations Models
One-Way Models
Two-Way Models
Audiences for Public Relations Activities
Identification and Influence of Publics
Messaging for Publics
Community Relations
Investor Relations
Employee Relations
Sales Strategy and Promotion
Summary
Discussion Questions
Critical Thinking Exercises
References
Chapter 10 Ensuring Strategic Sport Marketing Success
​Erianne Weight and Matt Walker
Chapter Objectives
Introduction
Strategic Marketing Management
Integration of Marketing Concepts
Implementation of Marketing Plan
Accountability and Social Involvement
Disentangling the Terms
Strategic Asset Generation from Social Involvement
Summary
Discussion Questions
Critical Thinking Exercises
References
Chapter 11 Sport Sponsorship and Athlete Endorsement
Jonathan A. Jensen
Chapter Objectives
Sponsorship vs. Traditional Marketing Approaches
Defining Sponsorship
Objectives of Sponsorship
Sponsorship-Linked Marketing
Consumer Effects of Sponsorship
Sponsorship-Focused Experimentation
Mere Exposure Effect
Social Identity Theory
Image Transfer
Schema Theory
Congruence
Articulation
Sponsorship Measurement and Evaluation
The Future of Sponsorship
Discussion Questions
Critical Thinking Exercises
References
Chapter 12 Sport Brand Management and Licensing
Dr. Laci Wallace-McRee, Dr. Ryan Rodenberg, Dr. Jason W. Lee and Dr. Kimberly Miloch
Chapter Objectives
Introduction to Sport Brand Management
Benefits of Branding
Brands in Sport
Brand Theories
Sport Celebrities
Principles and Key Concepts of Branding
Brand Awareness and Associations
Logos
Mascots
Brand Attributes
Brand Loyalty
Brand Equity
Role of Sport in Branding
Threats to Brand Management
Professional Athletes
People Brands
Sport Teams
Protection in Brand Management
Sports Industry Licensing Overview
Licensing and the Law—American Needle v. NFL
Learning Activity: Sports Video Games
Discussion Items/Questions
Critical Thinking Exercises
References
Chapter 13 Legal Issues in Sport Marketing
John T. Wolohan
Chapter Objectives
Introduction
Intellectual Property Law
Image Rights Right of Privacy
The Right of Publicity
Common Law Misappropriation
Statutory Protections
Intellectual Property Provisions
Federal Trademark Law (The Lanham Act)
False Endorsement Claims
Personal Names
Service and Collective Marks
Artistic Expression
Defenses against Unauthorized Use
Federal Copyright Act
First Amendment of the United States Constitution
Transformative Use Defense
Newsworthiness Doctrine
The Incidental Use Exception
Parody Defense
Contract Law
Factors that impact the validity of a Contract
Breach of Contract
Venue Naming Rights
Daily Fantasy Sports
Summary
Discussion Questions
Critical Thinking Exercises
References
Chapter 14 Social Media, Sport Marketing, and Public Relations: Maximizing the Integration and Minimizing the Risks
Jimmy Sanderson
Chapter Objectives
Introduction
Social Media and Sports Marketing
Prioritize the Right Social Network
Creating a Distinct Story
Leverage Players
Collect and Use Feedback
Social Media and Public Relations
Summary
Discussion Questions
Group Activities
Critical Thinking Exercises
References
Chapter 15 Future of Sport Marketing
Brian A. Turner and Kimberly S. Miloch
Chapter Objectives
Academic Trends
Online and Hybrid Learning
Summary
Critical Thinking Exercises
Discussion Questions
References
Index
Print
$113.56
ISBN 9781465287526
Details Print Product