RETURN TO SEARCH RESULTS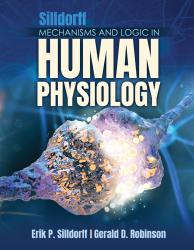 Details: Print Product |
Mechanisms and Logic in Human Physiology is a next-gen learning resource, adapting to a variety of pedagogical strategies as well as strongly promoting higher order thinking, the ultimate goal of 21st century pre-clinical education. Physiology - a study of complex systems in motion - requires a deeper level of learning than rote memorization can provide. Only when systems are truly understood can knowledge be applied. This "decade in the making" textbook is loaded with features that facilitate learning through real understanding – all developed and created by the authors themselves who have more than 60 years of combined experience teaching the subject.
Mechanisms and Logic in Human Physiology: Mechanisms and Logic provides students with a means to employ real comprehension and critical thinking, allowing them to engage the content meaningfully and effectively. Our approach emphasizes the "how" and the "why" behind physiology, demonstrating consistency in mechanism fundamentals and providing a wider perspective that makes concepts almost intuitive. Students learn to think from the standpoint of functional logic, tackling novel situations with critical and analytical minds. Reading this text is perfect training for students (and others!) interested in learning physiology via true understanding. Mastering the concepts and cognitive skills developed here will be excellent preparation for advanced study, teaching, research, or a medical career.
Mechanisms and Logic in Human Physiology features:
figures designed specifically to overcome historically difficult content through unique presentation and descriptive labeling, providing elucidation and logical comprehension.
more that 170 embedded "whiteboard" video explanations of figures (soon to be 300+). This ubiquitous tool provides on-the-spot explanations of difficult topics while also effectively supporting instructors who choose to employ a partially or fully flipped classroom. It's the textbook that comes with an instructor! - aiding comprehension outside of the classroom.
750+ audio explanations of both correct and incorrect answers to practice questions afford students the needed clarity to understand why they are right or wrong in their thinking about physiology.
150+ essay-style questions that require students to think critically about the integrative aspects of physiology and then formulate cogent responses.
300+ embedded application questions that prompt students to employ material in novel situations immediately after reading each section of text or examining a particular figure.
an accessible presentation style, such as approachable tone, the regular use of analogies, and questions that cumulatively build upon content.
section introductions that emphasize The Big Picture, helping students understand the larger framework within which they should fit specific details.
The authors have created a white paper that specifically addresses these topics entitled, Logic and Physiology: The Case for Revised Pedagogy.
Access Whitepaper
The authors have also created a webinar that explores The Difficult Art of Explaining Physiological Concepts.
Access Webinar
UNIT I — THE CORE ELEMENTS OF PHYSIOLOGY
Chapter 1: Philosophy, Approach and Core Principles of Physiology
Chapter 2: Organizational Hierarchy of Physiological Systems
Chapter 3: Body Fluids and Membrane Dynamics
Chapter 4: The Energetic Basis of Physiology and General Metabolism
UNIT II — CONTROL SYSTEMS
Chapter 5: The Nervous System
Chapter 6: Endocrine Regulation
UNIT III — ORGAN SYSTEMS
Chapter 7: Muscle Physiology
Chapter 8: Blood and Immunity
Chapter 9: Cardiovascular Physiology
Chapter 10: The Respiratory System and Gas Transport
Chapter 11: The Kidneys
Chapter 12: Digestive Physiology
Chapter 13: Reproduction
UNIT IV — PHYSIOLOGICAL INTEGRATION
Chapter 14: Blood Pressure Regulation
Chapter 15: Acid-Base Regulation
Chapter 16: Exercise Physiology
Glossary
Index
Print
$126.00
ISBN 9781792490248
Details Print Product