RETURN TO SEARCH RESULTS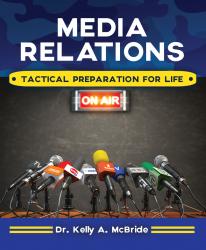 Media Relations: Tactical Preparation for LIfe
Author(s): Kelly A. McBride
Edition: 1
Copyright: 2020
Pages: 136




Details: Print Product |
Many of the text and trade books look at media relations from a journalist's viewpoint, which is vastly different than what the practitioner should be aware of. Sure, there are deadlines and writing…lots of it, but the methodology in which we approach the communication exchange needs to be different.
Media Relations: Tactical Preparation for Life by Kelly A. McBride:
introduces readers to the dynamic and growing world of media relations.
highlights the differences and similarities between journalists and practitioners.
discusses more than traditional journalists – the publication discusses the overwhelming rise of influencers.
includes tips from experienced experts on the field on how to handle scenarios and relations between practitioners and journalists / media.
describes how to conduct media interviews, presents theoretical application, and how to apply these concepts to stress fueled crisis communication scenarios.
is student friendly! Discussion questions, end of chapter references, and other learning vignettes encourage retention and comprehension of concepts presented.
Chapter 1 – Introduction
Chapter 2 – First the Boring Stuff – Theoretical Applications
Chapter 3 – Basic Tools of the Trade
Chapter 4 – Telephone Interviews – "One Ringy Dingy" (an ode to Lily Tomlin)
Chapter 5 – In Your Face (Face-to-Face Interviews)
Chapter 6 – Social Media Is Still the Media (A.K.A. Citizen Journalists)
Chapter 7 – Fashion First
Chapter 8 - Crisis Media – Pre-Crisis Warning Signals
Chapter 9 - Crisis Media – It's Happening Now!
Chapter 10 – Crisis Media – It's Still Happening!
Chapter 11 – It's Over, But Now What Do We Do?
Chapter 12 – Staging a Press Conference
Case Studies
Print
$57.89
ISBN 9781792408083
Details Print Product