RETURN TO SEARCH RESULTS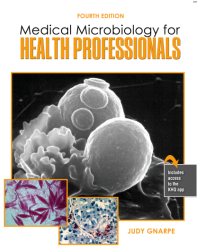 Medical Microbiology for Health Professionals
Author(s): Judy Gnarpe
Edition: 3
Copyright: 2019
Pages: 596






Details: Ebook w/KHQ | 180 days |
New Edition Now Available!
Medical Microbiology for Health Professionals presents the reader with new up-to-date information about recent advances in our understanding of health and disease. The knowledge we now have about the role of biofilms in infection helps us understand how infections can become chronic and difficult to treat. Biofilms are part of what we describe as the human microbiome. The microorganisms within our microbiome are revealing themselves as integral to human development, and new information has come to light which may give us more control and allow us to manipulate human health.
New to this version of the book is a set of multiple choice and short answer questions for each chapter which will allow students to increase and practice the knowledge acquired, and a chapter on biofilms and the human microbiome.
Preface
Learning Objectives
1. Introduction to Medical Microbiology and Immunology
2. Basic Bacteriology
3. Basic Virology
4. Basic Mycology
5. Basic Parasitology
6. Nosocomial Infection, Disinfection, and Sterilization
7. Antimicrobials
8. The Innate Immune Response
9. The Adaptive (or Acquired) Immune System
10. Hypersensitivity and Vaccines
11. Mechanisms of Pathogenicity
12. Normal Flora and Epidemiology
13. Skin and Wound Infections
14. Eye Infections
15. Upper Respiratory Tract Infections
16. Lower Respiratory Tract Infections
17. Upper Alimentary Tract Infections
18. Lower Alimentary Tract Infections
19. Urinary Tract Infections
20. Sexually Transmitted Infections
21. Neonatal, Perinatal, and Congenital Infections
22. Central Nervous System (CNS) Infections
23. Cardiovascular and Lymphatic Infections
24. HIV and Immunodeficiency
25. Laboratory Techniques for Diagnosis of Infection
26. Biofilms and the Microbiome
27. Appendix A: Top Organisms to Know
28. Appendix B: Cases and Questions
29. Index
Ebook Package
$125.61
ISBN 9781524996055
Details Ebook w/KHQ 180 days