RETURN TO SEARCH RESULTS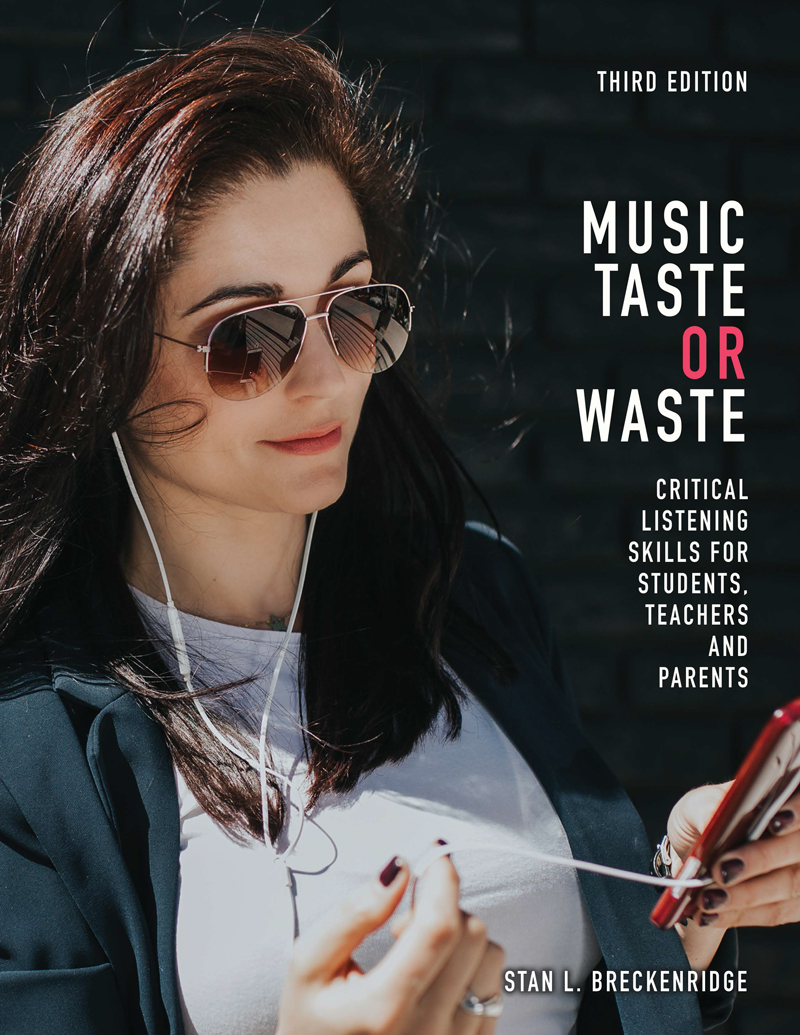 Music Taste or Waste: Critical Listening Skills for Students, Teachers, and Parents
Author(s): Stan L Breckenridge
Edition: 3
Copyright: 2018
Pages: 136
The catalyst for Music Taste or Waste: Critical Listening Skills for Students, Teachers, and Parents resulted from many discussions with parents, teachers, and students, and others about their paucity of knowledge regarding today's popular music scene as well as music in general. The spirit of this book does not seek to suggest any music is wasteful, but rather encourages readers to use music terminology as a way to draw conclusions about whatever music they hear. To accomplish this, the book consists of seven chapters that are organized in the following manner:
Chapter One address the meaning of music by speaking about its substance, functionality, and quality or character.
Chapters Two – Seven focus on music's analytical parameters such as melody, harmony, rhythm, dynamics, instrumentation, timbre, texture, form, and performance practices.
Students will find this book useful because. . .
It offers an introduction to music's principal elements without any music training.
It will strengthen his or her ability to apply learned skills to all genres and styles of music.
Individuals who delight in staying abreast of current styles and music trends will not be disappointed with this book's practical approach to learning how to understand and/or appreciate any music.
Whether a student of classical, jazz, folk, country, or popular music, it focuses on music elements as analytical parameters for understanding music.
Teachers will find this book useful because. . .
Music is a didactic methodology as well as a pedagogical paradigm for developing discipline through the process of acquiring skills, application of these skills, and performance (i.e., articulation).
Whether for mathematics, science, language, reading and writing, the arts, social sciences, and so on, acquiring and using practical listening skills in music can help to strengthen, through its disciplined processes, one's ability and confidence in achieving many goals.
It allows him or her to stay abreast with understanding current music styles and types.
It enhances his or her personal knowledge and skill where music is concerned.
Parents will find this book useful because. . .
It lends a hand at knowing, by analyses, the inner substance, musically and lyrically, in a child's music choices.
With the continued diminishing of music education in public schools, young students grow up with undeveloped critical listening skills. Therefore, it provides parents with the needed tools to help nurture their children's development of critical listening skills.
It provides a way to listen to their children's music objectively.
It may open a line of communication with their children to explore music's many appealing and fascinating aspects.
CLICK HERE to view author Stan L. Breckenridge's YouTube Channel
About the Author
Acknowledgments
List of Song Navigators
Preface
Introduction
Why Should We Seek to Better Understand Music?
Who Will Benefit From This Book?
How to Use This Book?
CHAPTER ONE: THE NATURE OF MUSIC
Playlist One
¿Qual Es Musicum? (What Is Music?)
Music in Antiquity
Categories of Music—Definitions
Substance
Functionality
Quality
CHAPTER TWO: MELODY, HARMONY, AND RHYTHM
Playlist Two
Introduction
Melody
Harmony
Rhythm
Conclusion
CHAPTER THREE: DYNAMICS
Playlist Three
Introduction
Dynamics: Volume
Dynamics: Tempo
Dynamics: Articulation
CHAPTER FOUR: INSTRUMENTATION AND TIMBRE
Playlist Four
Introduction
Instrument Classifications
Woodwinds
Brass
Strings
Percussion
Voice
Rhythm Section
Keyboards
CHAPTER FIVE: TEXTURE
Playlist Five
Introduction
Monophony
Homophony
Polyphony
Closing Remarks
CHAPTER SIX: FORM
Playlist Six
Introduction
Overall Structure
Verse Form
ABA
Multi-Movement
Specific Harmonic/Chord Progressions
12-Bar Blues Progression
AAB Lyric Song Form
I–vi–ii–V Chord Progression
32-Bar Form (AABA)
Theme and Variations
CHAPTER SEVEN: PERFORMANCE PRACTICES
Playlist Seven
Introduction
Performance Practices Related to Melody (Chapter 2)
Performance Practices Related to Harmony (Chapter 2)
Performance Practices Related to Rhythm (Chapter 2)
Performance Practices Related to Dynamics (Chapter 3)
Performance Practices Related to Instrumentation and Timbre (Chapter 4)
Performance Practices Related to Texture (Chapter 5)
Performance Practices Related to Form (Chapter 6)
Glossary
Ebook
$26.24
ISBN 9781524962272
Details Electronic Delivery EBOOK 180 days