RETURN TO SEARCH RESULTS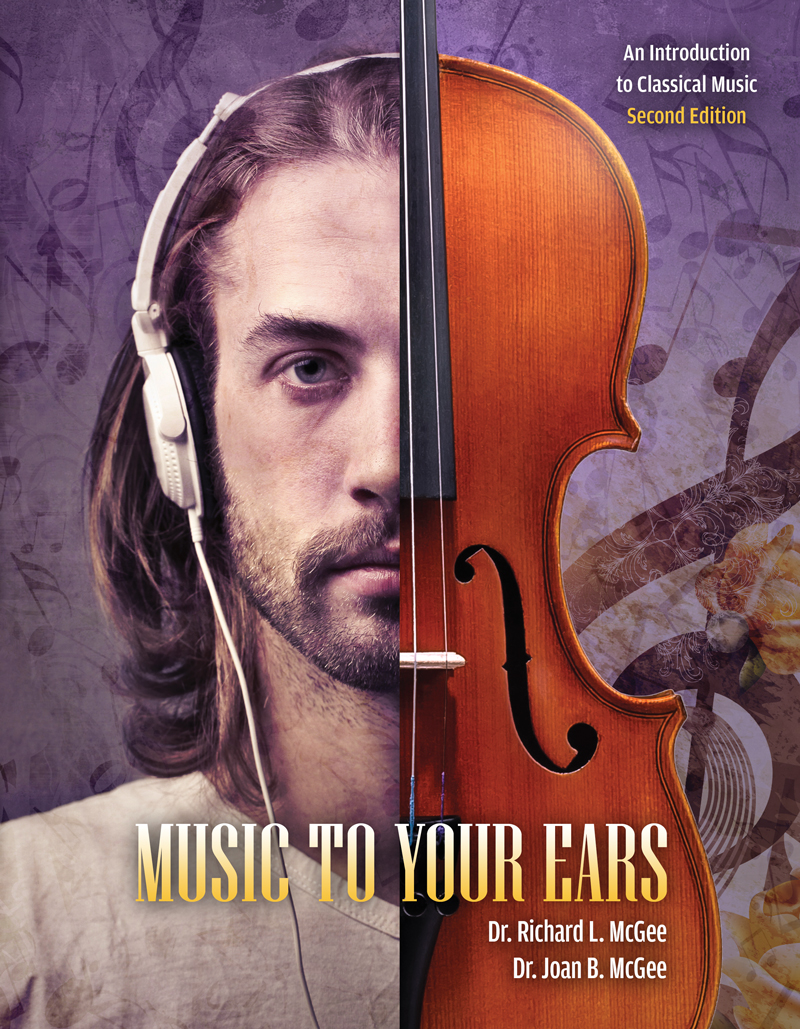 Details: Print Product |
Music to Your Ears introduces the lay reader or beginning music student to the history and evolution of classical music in the western hemisphere. Every attempt has been made to relate the events and significant musical trends in plain English, without excessive musical terminology. Aimed primarily for non-music majors, the book nevertheless provides a clear, concise overview of the history of western music from the beginning of the Medieval period to the present day.
Music to Your Ears:
provides a brief outline of the development of jazz and rock musical styles is provided.
discusses and defines basic musical terms within the book, which are helpful for any person who wishes to discuss music intelligently.
offers musical descriptions presented in general terms so that people who do not read music can still benefit from the descriptions and analyses.
Preface
Chapter 1 What Is Music?
Introduction
Music Really Is the Universal Language
How Music Is Created
Ancient Music
Music History Timeline
The Building Blocks of Musical Sound
PITCH—How high or low a sound is
Musical Notation, or how to tell a musician which note to play on the instrument
DURATION—The length of time that a sound lasts
DYNAMICS—How loud or soft a musical sound is
TIMBRE—The kind or quality of a musical sound
Summary
Key Terms
Review
Chapter 2 Musical Instruments
Modern Instrumental Families
The Woodwind Family
The Brass Family
The String Family
The Percussion Family
Keyboard Instruments and Electronic Instruments
The Symphony Orchestra
Other Ensembles
Summary
Key Terms
Review
Chapter 3 Music of the Middle Ages
Music History Timeline
Christianity and Music
Gregorian Chant
The Rise of Polyphonic Music
Secular Music in the Middle Ages
Summary
Historical Events of Note
Important social, cultural and political events in the
Middle Ages – 313 – 1450
Key Terms
Review
Chapter 4 The Renaissance
General Characteristics of Renaissance Music
The Mass
The Reformation and the Counter Reformation
Secular Vocal Music
Instrumental Music
Historical Events of Note
Important social, cultural and political events in the
Renaissance Period –
Key Terms
Review
Chapter 5 Music of the Baroque
The Ages of Absolutism and Science
Major and Minor Modes
Dynamics, Tempo, and Structure
From Renaissance to Baroque: Opera
Baroque Vocal Music: Opera, Oratorio, Cantata
Baroque Instrumental Music
The Baroque Orchestra
The Concerto Grosso
The Suite
Baroque Keyboard Forms: Prelude, Toccata, and Fugue
The End of the Baroque: Rococo
Historical Events of Note
Important social, cultural and political events in the Baroque Period – 1600 – 1750
Key Terms
Review
Chapter 6 The Classical Period
Social Trends
The Piano
The Mannheim School
The Classical Orchestra
Structure and Symmetry in Music
The Classical Sonata
The Symphony and String Quartet
The Concerto
Opera in the Classical Period
Summary
Historical Events of Note
Important social, cultural and political events in the
Classical Period – 1750 – 1800
Key Terms
Review
Chapter 7 Beethoven and the Transition to Romanticism
Cultural Overview
Beethoven's Life
Beethoven's Music
Beethoven's Symphonies
Summary
Historical Events of Note
Important social, cultural and political events in
Beethoven's Time – 1770 – 1827
Key Terms
Review
Chapter 8 The Early Romantic Period
Introduction
Romantic Thinking
Cultural Perspective
Musical Trends
The Enlargement of Forms
Rubato
The Lied
The Character Piece
Clara, Fanny, and the Role of Women in the Romantic Period
Giacchino Rossini: Early Romantic Opera Buffa
Summary
Historical Events of Note
Important social, cultural and political events in the
Early Romantic Period – 1800 – 1850
Key Terms
Review
Chapter 9 The Late Romantic Period
Introduction
Cultural Perspectives
Conservatives vs Radicals
Opera in the Late Romantic
Symphonic Trends of the Late Romantic Period
Nationalism
From Romantic to post-Romantic
Summary
Historical Events of Note
Important social, cultural and political events in the
Late Romantic Period – 1850 – 1900
Key Terms
Review
Chapter 10 The Twentieth Century
Introduction
Five Major Stylistic Trends in the Twentieth Century
Impressionism
Expressionism
Neo-Classicism
Neo-Romanticism
Modern
Summary
Historical Events of Note
Important social, cultural and political events in the 20th Century – 1900 – 2000
Key Terms
Review
Chapter 11 Beyond Classical Music
Introduction
From Ragtime to Jazz
The Big Band Era
From Bebop to Cool School
The Blending of Styles in Jazz
Rock Music and Other Popular Styles
Summary and Closing Statement
Key Terms
Review
Glossary
Bibliographic References
Index
Print
$55.00
ISBN 9781524985929
Details Print Product