RETURN TO SEARCH RESULTS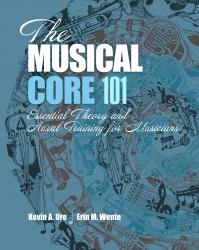 The Musical Core 101: Essential Theory and Aural Training for Musicians
Author(s): Kevin Ure, Erin Wente
Edition: 1
Copyright: 2018
The Musical Core: Essential Theory and Aural Training for Musicians provides information for all levels of musicians, from the beginner who has yet to learn an instrument, to the music hobbyist looking to further develop their musical knowledge, to the advanced musician wishing to supplement their current skillset. The publication includes YouTube playlists, drills, and quizzes.
The online, interactive publication begins with music fundamentals, staff system and notation, music reading basics, scales and key signatures, intervals in music, and concludes with triads and seventh chords.
Prior musical knowledge is not required in order to understand the material laid forth in this text. However, it's important to understand some basic music terms as a pre-requisite to understanding the textbook. These terms and their respective definitions are purposefully general; more advanced concepts are discussed at relevant times later in the reading.
UNIT 1: THE BASICS
Chapter 1 - Types of Musicians
Chapter 2 - The Piano Keyboard
Unit 1 Drills & Quiz
UNIT 2: THE STAFF SYSTEM AND NOTATION
Chapter 3 - The Development of the Staff System
Chapter 4 - Common Music Clefs
Chapter 5 - Notes and Pitches
Chapter 6 - Chromatic Notes
Chapter 7 - The Grand Staff and Pitch Notation
Chapter 8 - The Overtone Series
Unit 2 Drills & Quiz
UNIT 3: MUSIC READING BASICS
Chapter 9 - Origins of Rhythm
Chapter 10 - Performance Indicators
Chapter 11 - Counting Rhythms
Chapter 12 - Common Time Signatures
Chapter 13 - Classifying Time Signatures
Chapter 14 – Tempo
Unit 3 Drills & Quiz
UNIT 4: SCALES AND KEY SIGNATURES
Chapter 15 - The Chromatic Scale
Chapter 16 - The Circle of Fifths
Chapter 17 - Major Scales
Chapter 18 - Minor Scales
Unit 4 Drills & Quiz
UNIT 5: INTERVALS IN MUSIC
Chapter 19 - Generic Intervals
Chapter 20 - Interval Quality
Chapter 21 - Chromatic Intervals I: Major Scale
Chapter 22 - Chromatic Intervals II: Chromatic Scale
Chapter 23 - Simple and Compound Intervals
Unit 5 Drills, Quiz, & Final Exam
UNIT 6: TRIADS AND SEVENTH CHORDS
Chapter 24 - Chords and Triads
Chapter 25 - Constructing Triads
Chapter 26 - Triads in Inversion
Chapter 27 - Seventh Chords
Works Cited
Website
$72.22
ISBN 9781524949181
Details KHPContent 180 days