RETURN TO SEARCH RESULTS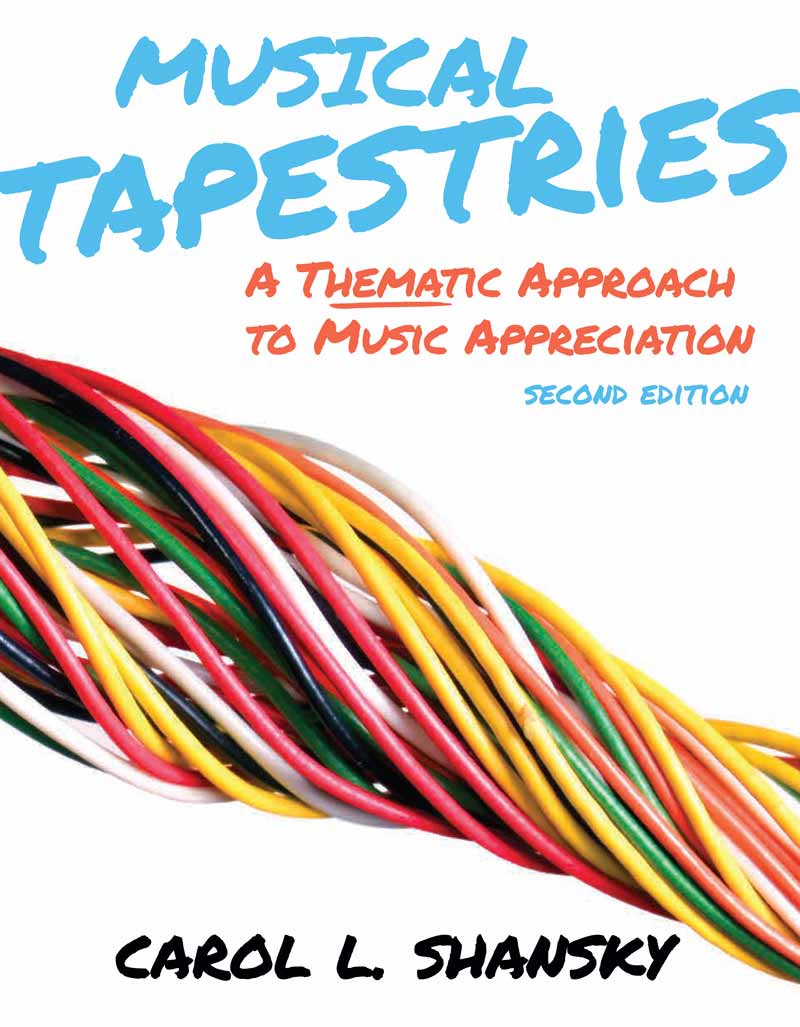 Musical Tapestries: A Thematic Approach to Music Appreciation
Author(s): Carol Shansky
Edition: 2
Copyright: 2014
Pages: 168




Details: Print Product Only (SA,CP, Pak, all Print) |
---
Studying music involves history, sociology, psychology, and many other fields and broadens not just our musical horizons but a number of other ones as well.
Musical Tapestries: A Thematic Approach to Music Appreciation is a student-centered and interactive exploration of the multi-genre field of music through the threads that connect those genres, from classical and jazz, to rock and world musics. Discussion questions and activities encourage student engagement and critical thinking, as well as hone students' research skills by finding their own musical examples. Musical Tapestries: A Thematic Approach to Music Appreciation is lean and approachable, and delves into music appreciation in new and unexpected ways.
The text encourages students to start looking at music critically, appreciatively and respectfully and enables them move on to the specifics of genres on their own or in a follow-up class.
Available in convenient and affordable print and eBook formats, Musical Tapestries: A Thematic Approach to Music Appreciation:
Presents the elements of music - the building blocks common to most musical forms. Studying the elements enables readers to listen actively, not passively as they may be accustomed.

Addresses music from a variety of perspectives, examining how music functions in different applications such as religion, politics, and drama. 

Connects different styles and means of music making and reveals the colorful tapestries of the world of music.

Encourages students to connect themes to current material they are engaged with on a daily basis – from music on reader's iPods, to playing guitar, dancing in a club, and more.

Does not emphasize particular composers or genres, which can create an unfortunate hierarchy or suggestion that some music is "better" than others, but to look at music broadly.

Includes listening examples for each of the themes presented although students may supply listening examples of their own – increasing engagement!
CHAPTER 1 – First Steps: Music, Music Everywhere – But Where Do I Find It?
Task 1: An Initial Exercise
Task 2: What Do You Hear?
Listening Critically
Three Perspectives of Listening
CHAPTER 2 – The Elements of Music
Task 3: What Do You Hear Now?
CHAPTER 3 – Music and Storytelling
CHAPTER 4 – Music and Politics
Task 4: Emotions in Music
CHAPTER 5 – Music and Religion
Task 5: Research other Chant Types
CHAPTER 6 – Instrumental Music
CHAPTER 7 – Music and Drama
Task 6: Create your own Musical Drama
CHAPTER 8 – Music for Honor and Expression of Loss
Task 7: The National Endowment for the Arts
Task 8: Chance Project
FINAL NOTES – What now?
GLOSSARY
 
Print
$92.59
ISBN 9781465247346
Details Print Product Only (SA,CP, Pak, all Print)