RETURN TO SEARCH RESULTS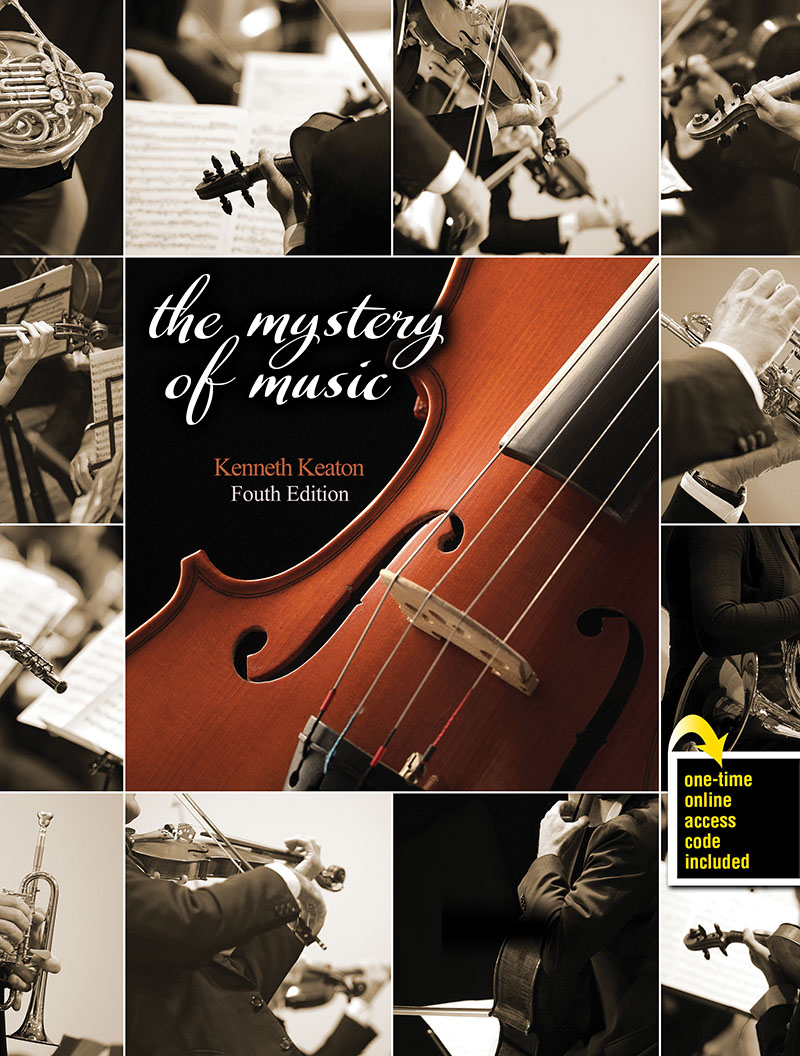 The Mystery of Music
Author(s): Kenneth Keaton
Edition: 4
Copyright: 2015




Details: eBook w/KHPContent Access | 180 days |
Music is a part of every person's life. It speaks to the heart of our humanity and can be understood by anyone.
The Mystery of Music celebrates the universal artistic heritage of Western Art Music - the finest musical expression of European and American civilization from the last thousand years. The content analyzes the greatest western art music all written and performed by some of the most fascinating and colorful figures of all history.
To assess the comprehension of concepts taught, the package is bundled with an accompanying website with PowerPoints, interactive music tlimelines, music playlists, study guides, exams, glossaries, and more.
INTRODUCTION: To the Student
Chapter 1: The Language of Music
What is Music?
Pitch
Duration
Intensity
Timbre
The Linear Aspects of Music
Pitch
Duration
Melody
Intensity
Timbre
The Voice
Strings
Woodwinds
Brass
Percussion
Keyboard
Electronic
The Orchestra
A Closer Look: Benjamin Britten's A Young Person's Guide to the Orchestra
Repetition and Contrast
Vertical Aspects of Music
Harmony
The Overtone Series
The Scale and Tonality
Chords
Texture
Musical Form
A Closer Look: Mozart's Variations on "Ah, Vous Dirai-je, Maman"
Structure and Perception: How the Elements of Music Affect Emotions and Perceptions
A Closer Look: Simon and Garfunkel's Scarborough Fair/Canticle
A Closer Look: Nikolai Rimsky-Korsakoff's The Procession of the Nobles
Glossary
Chapter 2: The Middle Ages (500-1450) – The Dark Ages Between Civilizations
Music in Ancient Greece and Rome
Music in Greek Religion: Apollo and Dionysus
The Middle Ages (450–1450)
The Catholic Church
The Music of the Church
Hildegard of Bingen
Secular Music" Troubadors, Trouveres, Trovatori, Minnesinger
Something New Under the Sun: The Beginnings of Harmony
The Notre Dame School
The Ars Nova and Guillaume de Machaut
Glossary
Chapter 3: The Renaissance (1450–1600)—Humanity Awakens
The Italian Renaissance
The Origins of Renaissance Music
The Burgundian School
The Franco-Flemish School
The Reformation
The Counter-Reformation
Secular Vocal Music
The French Chanson
Monteverdi and the Italian Madrigal
Elizabethan England
Instrumental Music of the Renaissance
Glossary
Chapter 4: The Early and Middle Baroque (1600–1700)—The Extravagance of Opera
The Origins of the Baroque
The Venetian School
General Characteristics of the Baroque
The Beginnings of Opera
The Legend of Orpheus and Eurydice
The Language Question
Great Operatic Disasters
Problems of Baroque Opera
Monteverdi's L'Incoronazione Di Poppea
The Coronation of Poppea: Characters and Story
Performance of Poppea
A Closer Look: Act I, Scenes 6, 9, and 10; Act II, Scenes 3 and 4; and Act III, Scene 8, Final Duet
Other Important Figures of the Early and Middle Baroque
Glossary
Chapter 5: The High Baroque (1700–1750)—An Explosion of Genius
Georg Friederich Händel (1685–1759)
Johann Sebastian Bach (1685–1750)
The Fugue
The Concerto Grosso
The Suite
The Sonata
Bach and the Cantata
The Mass in b minor
Antonio Vivaldi (1678–1741)
Domenico Scarlatti (1685–1757)
Glossary
Chapter 6: The Classical Period (1750–1809)—Papa Haydn And Mozart's Perfection
The Enlightenment
The Emerging Classical Style
Sonata-Allegro Form
The Sonata Cycle
The Mature Classic Style: Franz Joseph Haydn (1732–1809)
Wolfgang Amadeus Mozart (1756–1791)
Instrumental Music: The Concerto
Vocal Music: Opera
Le nozze di Figaro (The Marriage of Figaro)
Glossary
Chapter 7: Ludwig Van Beethoven—Struggle and Triumph
Symphonies, String Quartets, and Piano Sonatas
Childhood and Early Youth
Haydn, Mozart, and Beethoven
Deafness
The Heiligenstadt Testament
Last Years
Three Style Periods
Important Works from the Three Periods
Early (Imitation), to 1802, Op. 36
Middle (Externalization), 1802–1812, Opp. 37–95
Late (Reflection), 1812–1817, Opp. 96–135
Rhythmic Propulsion: Three Short Notes and a Long
Symphony No. 5 in c Minor, Op. 67
Allegro con brio
Andante con moto
Allegro (attacca)
Allegro
String Quartet No. 10 in Eb Major, Op. 74, "Harp"
Poco Adagio—Allegro
Piano Sonata No. 23 in f Minor, Op. 57, "Appassionata"
Allegro assai
Symphony No. 9 in d Minor, Op. 125: Ode to Joy.
Glossary
Chapter 8: The Early Romantic Period (1809–1850)—To Express the Inexpressible
An Egalitarian Transformation
Music: The Most Romantic of the Arts
The Romantics: Victory Through Struggle1
Romantic Dualities
The Music of the Romantics
Program Music
Further Romantic Dualism: Revolutionary versus Reactionary
Early Romantic Orchestral Music
Hector Berlioz (1803–1869)
Symphonie fantastique
Felix Mendelssohn (1809–1847)
A Midsummer Night's Dream
Early Romantic Piano Music
Robert Schumann (1810–1856)
Papillons
Franz (Ferenc) Liszt (1811–1886)
Transcendental Etude no. 11: Harmonies du soir
Frederic (Fryderyk) Chopin (1810–1849)
Preludes
Early Romantic Vocal Music
Franz Peter Schubert (1797–1828) and the Lied
Schubert and the Art Song
The Song Cycle
Die schöne Müllerin
Early Romantic Opera
Germany: Carl Maria von Weber (1786–1826)
France: Grande Opera and Giacomo Meyebeer (1791–1864)
Italy: Bel Canto
Gioacchino Rossini (1792–1868)
Gaetano Donizetti (1797-1848)
Vincenzo Bellini (1801–1835)
Glossary
Chapter 9: Late Romanticism (1850–1900)—A New Cast of Players
Johannes Brahms (1833–1897)
Brahms' Music
Piotr Ilych Chaikovsky (1840–1893)
Chaikovsky's Music
Nationalism
Russia: The Mighty Five
Eastern Europe: Antonin Dvorák (1841–1904)
Spain: Isaac Albéniz (1860–1909)
Scandinavia: Jean Sibelius (1865–1957)
United States: Louis Moreau Gottschalk (1829–1869)
Nationalism in the 20th Century
England: Ralph Vaughan Williams (1872–1958)
Spain: Joaquín Rodrigo (1901-1999)
Argentina: Astor Piazzolla (1921-1992)
The Nationalist Heritage
Late Romantic Opera
Italy: Giuseppe Verdi (1813–1901)
Otello
Germany: Richard Wagner: (1813–1883)
The Ring of the Nibelungs
Glossary
Chapter 10: Postromanticism and Impressionism—The Glowing Sunset of the Romanticism
Postromanticism
Gustav Mahler (1860–1911)
Richard Strauss (1864–1949)
Sergei Rachmaninoff (1873–1943)
Arnold Schoenberg (1874–1951)
Opera: Verismo
Giacomo Puccini (1858-1924)
Sergei Rachmaninoff (1873–1943)
Impressionism
Claude Debussy (1862–1918)
Maurice Ravel (1875–1937)
Glossary
Chapter 11: The Early 20th Century—The Revolutionary Age (1910–1970)
A New Approach
The Revolutionary Age
The Technological Revolution
Classical and Popular Traditions and the Musical Canon
New Aspects of Music
Whither Music? The Battle to Determine the Direction of the Revolutionary Age
Igor Stravinsky (1882–1971): Nationalism and Primitivism
Paris and Diaghilev
Stravinsky and Neoclassicism (1914–1951)
Arnold Schoenberg (1874–1951): Postromanticism and Expressionism
Expressionism: The Emancipation of Dissonance (1909–1916)
7 + 5 = 12
Pierrot lunaire, Op. 21
Schoenberg's Atonal Language
Twelve-tone or Serial Composition
The Second Viennese School
Anton Webern (1883–1945)
Alban Berg (1885–1935)
Other Important Composers of the Revolutionary Age
Béla Bartók (1881–1945)
Paul Hindemith (1895–1963)
Benjamin Britten (1913–1976)
Olivier Messiaen (1908–1992)
Sergei Prokofiev (1891–1953) and Dmitri Shostakovich (1906–1975)
"Schoenberg is Dead!" The Post-1950 Avant-garde
Total Serialism: The Darmstadt School of Ultrarationalists
Aleatory: The Antirational School
Music in the 1960s
Minimalism
Glossary
Chapter 12: What Next?
Four Works Since 1970
Henryk Górecki (b.1933): Symphony no. 3, Op. 36 "Symphony of Sorrowful Songs" (1977)
Postminimalism: John Adams (b. 1947): Harmonielehre (1985)
Jennifer Higdon (b. 1962): Cityscapes (2002)
Ellen Taafe Zwilich (b. 1939): Septet (2009)
American Nationalism
Charles Ives (1874–1954): The Fourth of July
Aaron Copland (1900–1990)
George Gershwin (1989–1937)
Leonard Bernstein (b. 1918)
Conclusion
Glossary
Ebook Package
$114.24
ISBN 9781465278739
Details eBook w/KHPContent Access 180 days