RETURN TO SEARCH RESULTS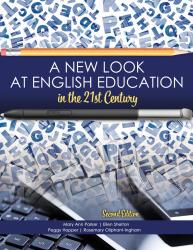 Details: Ebook w/KHQ | 180 days |
Written by three practitioners with a combined total of approximately a century of teaching experience at K-12 and university levels in both public and private institutions across the Southeastern United States, A New Look at English Education in the 21st Century offers pre-service and practicing teachers a look at current best practices and concerns related to teaching in secondary English classrooms. This text will examine issues common to all English/Language Arts teachers in an attempt to move the profession toward successfully meeting the challenges of teaching today's students. The authors address the question: Sixteen years into the twenty-first century, have we truly transitioned into twenty-first century educators?
The authors believe that the medium may have changed, but the methodology has not evolved. This manuscript offers practical suggestions for effectively working with Generation Z students and beyond in the English/Language Arts classroom. In addition to best practices in reading, writing, speaking, and listening, relevant issues such as folklore versus law in education—which includes standards and ethics, practice versus policy in the classroom, and points to ponder for professional development of pre-service and in-service teachers are explored.
The intent of this text is to lend support to current and future professional educators striving to meet the needs of the increasingly diverse students they serve in twenty-first century English/Language Arts classrooms.
Preface
Introduction: Letter from the Authors
What You Need to Know
Chapter 1
Teaching Realities: Standards, Policies, and Professionalism
Chapter 2
Literacy History: Background Information
Chapter 3
Literacy in Practice—The Reading Choices: Past and Present Student Literacy Implications for the English Language Arts Classroom
Chapter 4
Literacy in Practice: The Writing Instruction
Chapter 5
Beyond Our Individual Classrooms
Ebook Package
$37.50
ISBN 9798765712368
Details Ebook w/KHQ 180 days