RETURN TO SEARCH RESULTS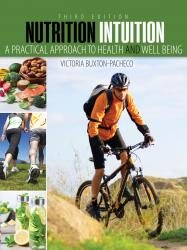 Nutrition Intuition: A Practical Approach to Health and Well Being
Author(s): Victoria Buxton-Pacheco
Edition: 3
Copyright: 2020


Details: eBook + DietTracker | 180 days |
Nutrition Intuition: A Practical Approach to Health and Well Being provides a practical approach to nutrition for non-nutrition majors. The goal of Nutrition Intuition is to provide the reader with the most up-to-date information about the basics of nutrition and be able to apply the principles learned. This textbook provides detailed information that is used to highlight some of the foods and nutrients that we eat every day. Each chapter focuses on certain foods and nutrients to help the reader understand the important roles they play in our health.
Nutrition Intuition features:
Functional Food Facts – Provides information about foods that have health benefits built right into the food
Nutrition Nerd Alerts – Fun facts about nutrition related topics
Everyday Superfoods – Features foods that are packed with powerful phytochemicals and antioxidants
Food in Focus – Highlights nutrition–related articles or current research about food–related topics
Tip Sheets – Intended to be used to apply nutrition principles learned in the chapter
End of Chapter Questions – Helps the student assess what they learned in the chapter
CHAPTER 1 - Nutrition Intuition: A Common Sense Approach
CHAPTER 2 - The "Un-Diet" Approach to Healthy Eating
CHAPTER 3 - Digestion and Absorption: The Human Body at its Best
CHAPTER 4 - Carbohydrates: "The Good, The Bad, and The Better"
CHAPTER 5 - Lipids: Be Good to Your Heart
CHAPTER 6 - Proteins: Building Blocks to Health and Well Being
CHAPTER 7 - The Water Soluble Vitamins: Building Blocks for Energy Metabolism
CHAPTER 8 - The Fat Soluble Vitamins: Building Blocks for Vision, Bone, and Blood Health
CHAPTER 9 - Water: Essential to Life, Electrolytes: Fluid Balance
CHAPTER 10 - Minerals: Small Amounts, Big Impact
CHAPTER 11 - Energy Balance and Weight Control: Healthy Body, Healthy Mind
CHAPTER 12 - Nutrition Throughout the Lifespan
CHAPTER 13 - Food Safety and Sanitation
Ebook Package
$92.61
ISBN 9781792410833
Details eBook + DietTracker 180 days