RETURN TO SEARCH RESULTS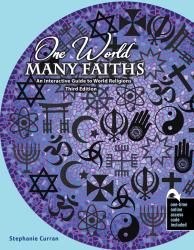 One World...Many Faiths: An Interactive Guide to World Religions
Author(s): Stephanie P Curran
Edition: 2
Copyright: 2018






Details: Print Product w/KHPContent and KHQ | 180 days |
One World, Many Faiths invites students to explore life's big questions and the wide range of answers offered by the world's faith traditions. From faithful believers to committed skeptics, human beings have long explored questions such as: Who am I? Why am I here? How do I make sense of suffering? Is there a sacred reality and how do I relate to it? The answers are diverse but the urge to question unites us all.
This textbook invites the reader to engage the various religions and philosophies present in our world today, to listen to a myriad of views and to think critically about the role of religion in society. It encourages students to interact and explore through discussion questions and opportunities for reflection embedded in each chapter.
New with the 3rd edition are updated statistics and additional content within the current chapter framework. Along with the text, a study app and a companion website are available for students and faculty.
Timeline of World's Religions
CHAPTER 1 Introduction to Religion and Religious Studies
Defining Religion
Religion and Spirituality
Personal and Social Needs Met by Religion
Views of the Sacred
Understandings of Time
Rituals
Symbols
Myths
Contemporary Trends in Religion
Combinative Nature of Religion
Women in Religious Traditions
Growth in Numbers of Nonreligious Today
Web Resources for Further Study
CHAPTER 2 Religious Diversity and Religious Pluralism
Global Religious Diversity
History of Religious Diversity in the United States
Religious Freedom and the Constitution
Trends in Religious Diversity in the United States Today
Approaches to Religious Diversity
What is Pluralism?
The World's Parliament of Religions and the Interfaith Movement
Pluralism in Action
Web Resources for Further Study
CHAPTER 3 Indigenous Religions
Challenges of Studying Indigenous Religions
General Characteristics of Indigenous Religions
Views of Divinity
Role of Sacrifice
Magic, Taboos, Fetishes, and Totems
Divination
Sacred Narratives
Spiritual Specialists
Rituals in Indigenous Religions
Native American Rituals
The Native American Church
Australian Aboriginal Religions
Indigenous African Religions
Yoruba
Vodou, Hoodoo, Santeria, and Candomble
Kwanzaa
Hmong: An East and Southeast Asian People
Web Resources for Further Study
EASTERN RELIGIONS
Comparing East and West
Map: Asia (Activity – Identify Countries)
Common Threads
CHAPTER 4 Hinduism
Introduction
Sacred Texts
The Vedas
The Upanishads
The Epics and the Bhagavad Gita
Hindu Deities
Philosophical Concepts
Symbols
Way of Life
Yoga and the Spiritual Pathways
Bhakti Yoga, the Path of Devotion
Karma Yoga, the Path of Selfless Service
Jnana Yoga, the Path of Knowledge
Raja Yoga, the Path of Meditation
Hindu Rituals
Rites of Passage
Hindu Festivals
Women in Hindu Tradition
Hinduism in the United States
Web Resources for Further Study

CHAPTER 5 Buddhism
Axial Age (Roughly 600–300 BCE)
Introduction
Life of Siddhartha
Teachings of the Buddha
Four Noble Truths
Characteristics of Existence
Dependent Origination
Triple Gem
Pali Canon
Nirvana
Branches of Buddhism
Theravada
Mahayana
Vajrayana
Additional Sects
Socially Engaged Buddhism
Sacred Practices
Tak Bat
Meditation
Offerings and Prostration
Relics
Festivals
Buddhism in the United States
Web Resources for Further Study
CHAPTER 6 Jainism
Introduction
Jain Cosmology
Tirthankaras
Mahavira
Major Branches of Jainism
Sacred Texts
Major Beliefs
Jain Symbol
Spiritual Practices
Sallekhana
Meditation
Confession
Puja and Veneration of the Tirthankaras
Festivals and Pilgrimages
Jainism in North America
Web Resources for Further Study
CHAPTER 7 Sikhism
Introduction to Sikhism
Life of Guru Nanak
The Succession of Gurus
Sacred Texts
Central Beliefs of Sikhism
Sacred Practices of Sikhism
The Khalsa
Rituals and Festivals
Sikh Symbols
Sikhism in the United States
Web Resources for Further Study
CHAPTER 8 Chinese Religion
A Word About Language
Introduction
Early Chinese Religion
Ancestor Reverence
Local Gods and Spirits
Yin and Yang
Divination
Daoism and Confucianism
Daoism
Daoist Principles
Daoist Religious Leadership and Sacred Practices
Confucianism
Confucian Texts
Five Basic Relationships
Confucian Virtues
Confucian Rituals
Falun Gong/Falun Dafa
Festivals
Chinese New Year
The Lantern Festival .
Qing Ming
Dragon Boat Festival
Mid-Autumn Festival
Chinese Religion in the United States
The Future of Confucius Institutes in the United States By Becca Thorpe
Web Resources for Further Study
CHAPTER 9 Japanese Religion
Introduction
Forms of Shinto
Central Concepts
Sacred Rituals
Purification Rituals
Honoring Kami and Ancestors
Rites of Passage
Festivals
The Kojiki and Nihon Shoki
Religious Leadership
Contemporary Shinto
Shinto and Popular Culture
Shinto in the United States
Web Resources for Further Study
PART 3A: ZOROASTRIANISM AND OTHER MINORITY MIDDLE EASTERN RELIGIONS
Introduction
Life of Zarathustra
Central Beliefs
Sacred Texts
Rituals and Festivals
Zoroastrianism in the United States
Other Lesser Known Middle Eastern Faiths
Web Resources for Further Study
PART 3B: ABRAHAMIC FAITHS
Similarities and Differences between Judaism, Christianity, and Islam
CHAPTER 10 Judaism
Introduction
View of History
Memory
Covenant, Exodus, and Exile
Sacred Texts
Central Concepts in Judaism
Branches of Judaism
Other Movements within Judaism
Jewish Symbols
Rituals and Sacred Practices
Kosher
Sabbath Practices
Rites of Passage
Festivals
The Holocaust
Jewish Feminism
Judaism in the United States
Web Resources for Further Study
CHAPTER 11 Christianity
Introduction
Judaism at the Time of Jesus
Historical Jesus
Paul's Role of Spreading Christianity to the Gentiles
The Christian Scriptures
Central Teachings of Christianity
History of Christianity
Councils and Creeds
Non-Chalcedonian Churches
The Great Schism
The Reformation
Anabaptists or Radical Reformers
Sacred Practices
Monasticism
Sacraments
Liturgical Year
Devotional Practices
Pilgrimage
Music
Christian Symbols
Christianity in the United States
Evangelicalism
Nineteenth and Twentieth Century Christian Movements in the United States
Christian Science
Church of Jesus Christ of Latter-Day Saints
Seventh Day Adventist
Jehovah's Witnesses
Pentecostalism
Ecumenism
Nondenominationalism and the Emerging Church Movement
Liberation and Feminist Theology
Growing Centers of Christianity Today
Web Resources for Further Study
CHAPTER 12 Islam
Introduction
Life of Muhammad
Scripture and Tradition in Islam
Central Teachings of Islam
Forms of Islam
Sunni-Shi'a Split
Sufism
Wahhabism and Salafi Islam
Sacred Practices of Islam
Five Pillars of Islam
Communal Worship
Dietary Restrictions
Hijab
Jihad
Dating and Marriage
Death and Burial
Banking and Finances
Islam and Women
Islamic Feminism
Islamic Art
Islam in the United States
Web Resources for Further Study
EMERGING RELIGIOUS TRADITIONS
CHAPTER 13 Paganism
Introduction
General Characteristics
Wheel of the Year
Samhain
Yule
Imbolc
Ostara
Beltane
Summer Solstice
Lammas/Lughnasdh
Mabon
Individual Traditions
Anglo-Saxon and Celtic Traditions: Wicca and Druidism
Hellenistic Polytheism
Revival of Ancient Egyptian Religion
Norse/Scandinavian Paganism
Contemporary Shamanism
Web Resources for Further Study
CHAPTER 14 New Religious Movements
Introduction
The Social Climate in which NRM Develop and Thrive
Baha'i
Early History
Beliefs and Sacred Texts
Rituals and Symbols
Baha'i in the United States
Cao Dai
Eckankar
International Society of Krishna Consciousness
Jediism
Mahikari
Osho
Pastafarianism
Raëlism
Rastafarianism
Satanism, The Church of Satan
Scientology
Theosophy
Transcendental Meditation
Unification Church
Unitarian Universalism and Th e Unity Movement
Web Resources for Further Study
APPENDIX
Religious Site Visit Worksheet
Sample Interview Questions
GLOSSARY
INDEX
One World Many Faiths is a beautiful guide to the diverse faith practices expressed around the world. I found the scope of religions included fascinating and I was paticularly pleased at her inclusion of everything from the major world religions to lesser known indigenous and pagan beliefs.
This book stands out from other textbooks, however, because of the "interactive" component. Part text and part workbook, Ms. Curran encourages the reader with reflective questions and provides a space for the student to write their responses throughout the reading. This method guides the student to give written responses as they work their way through the text so they might build their critical thinking skills from one concept to the next. As you read you become comfortable with her experienced method because she has a wonderful balance of unpacking over used terms to introducing new vocabulary that encourages the student to stretch their cultural faith traditions so they might deepen and personalize their understanding of spirituality.
This book is beautifully illustrated and packed with web resources throughout and I particularly liked the opening text boxes that clearly define the "Learning Outcomes" and "Key Terms" to help the student navigate things more quickly. With this book as their guide the student will be taken on a quest around the world to discover a richer and more diverse perspective of our sister faith traditions.
Jennifer Rundlett, Adjunct Music Professor of World Music, Frederick Community College
Author of The Joyful Sound: Reflections on the Life of Christ in Art and Music
Print Package
$91.46
ISBN 9781792403286
Details Print Product w/KHPContent and KHQ 180 days