RETURN TO SEARCH RESULTS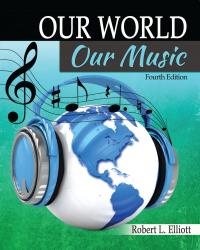 Our World, Our Music
Author(s): Robert Elliott
Edition: 4
Copyright: 2021
Our World, Our Music relates historical and discipline-specific concepts to students' existing knowledge gained through cultural participation. It addresses past and present, Western and non-Western societies and cultures, examining music in particular, the arts in general, and the societies that support them within a given culture. Students develop analytical and critical thinking skills through structured listening and global approaches to our world and its people.
Key Concepts
Music is a human activity that is practiced throughout our world and has been a part of the human experience since long before we had the ability to write about it.
Music reflects the culture and society in which it exists. When a type of music ceases to resonate within a culture or society, something else takes its place.
When different societies and cultures come into contact with each other, both are changed by the interaction and their music reflects these changes.
Online Features
An interactive student website, featuring access to music listening examples, drills and learning games, listening identification activities, the Pronunciation Assistant, practice quizzes, and more.
Instructor resources including a classroom presentation package, listening guides, instructor's test bank, a test creation program, a course content delivery calendar, the Pronunciation Assistant, and other supporting materials.
A turn-key online music appreciation course that is ready to upload and use in most course management systems.
CHAPTER 1: THE LANGUAGE OF MUSIC
Music in Life, Its Structure, Organization, Notation, and Performance
CHAPTER 2: BEGINNING OF THE MUSIC WE KNOW
Ancient, Medieval, and Renaissance Periods
CHAPTER 3: BEGINNING OF MODERN MUSIC
Baroque Period
CHAPTER 4: MUSIC TAKES FORM
Classical Period
CHAPTER 5: EXPLORING EMOTION, IMAGINATION, AND THE INNER SELF
Romantic Period
CHAPTER 6: CHANGE AND VIOLENCE
First Half of the Twentieth Century
CHAPTER 7: OUR RAPIDLY CHANGING WORLD
Second Half of the Twentieth Century through Today
CHAPTER 8: PARALLEL PATHS
Rise of Pop Music and Its Place in Society
Website
$92.60
ISBN 9781792468339
Details KHPContent 180 days