RETURN TO SEARCH RESULTS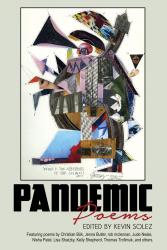 Pandemic Poems
Author(s): Kevin B Solez
Edition: 1
Copyright: 2020
Pages: 124




Details: Print Product |
New Publication Now Available!
Designed for the English and creative writing classroom as well as for the popular market, Pandemic Poems is an anthology addressing the unusual present and the challenges we all keep facing in the coronavirus pandemic. Featuring the work of renowned contemporary poets Christian Bök, Jenna Butler, Rob Mclennan, Jude Neale, Nisha Patel, Lisa Shatzky, and Thomas Trofimuk, it also showcases the work of regionally famous poets and new voices published for the first time. Almost all of the poems were composed between March and June 2020 and the collection represents one of the first records of artistic responses to the pandemic.
Jude Neale is a nationally and internationally known Canadian poet. Her eighth book, Impromptu, was launched in early March by Ekstasis Editions.
Preface (Kevin Solez)
Notes on Select Contributors
A Virus from Outer Space (Christian Bök)
Bannock at the Last Supper (Cobra Collins)
We Used to Rescue Each Other (Kevin Solez)
Dead Reckoning (Kathy Fisher)
Talkin' Corona Virus Blues (Clay T. O'Flanagan)
Plaint of Purse (Margaret Chandler)
Hypoxia (Kirk Miles)
Between Songs (Kelly Shepherd)
The Scaffolding of the Captive Frail (Kate Knowles)
Safe (Jude Neale)
Witness (Eugene Stickland)
Rescue: Conventional Gratitude (Will Lawrence)
Uncertainty (Mary Vlooswyk)
Days (Jason Williams)
From the Inside Looking Out (Christie Schultz)
Viral Dream Sequence (Blaine Marchand)
Exodus (E. Pourbaix)
intoxicated children in the time of covid (Sheri-D Wilson)
I am Becoming my Dog (Jason Shine)
Day 9 (Patrick Horner)
Packaging (The Night Before Lockdown) (Paul Marshall)
Blight Ideas (David Reddall)
Herd of Elephants (Poul Mark)
Zooming Into a Honeycomb (Sabrina Samuel)
Three weeks in a Decade, or An Ode to my Living Room Floor (Ellana Blacher)
Things I Do Between Naps: (Nisha Patel)
Poemdemic (Philip A. Jagger)
Pandemic Rules for Poets (Telmo dos Santos)
Whose Heart Cries Victory (Nathan Mutch)
Five Poems for the Covid-19 Global Pandemic (rob mclennan)
Vanity to Vision (Rebecca Reid)
Imagination Metric (field Basansikis)
Tribute (Shima A. Robinson, a.k.a. Dwennimmen)
Territory (Anthony Dawber)
The Birds Have No Idea (Thomas Trofimuk)
Returning to the Gardens (Francis A. Willey)
Distancing (Hau Truong)
COVID Spring (Jay Gamble)
Minus the Killing (Josephine LoRe)
Quarantine Dispatches from Montana (Natalie Elliot)
Fifty Days (Jenna Butler)
When Country Calls (Colin Morton)
Prisms (Susan McMaster)
COVID 20/20 (Andreas Loutas)
Let the TRUMPet Sound (Roylin Picou)
My Lungs (Zoe S. Todd)
Delirious (Jillian Gordash)
Healing (LD)
Maybe (Lisa Shatzky)
Print
$37.49
ISBN 9781792435027
Details Print Product