RETURN TO SEARCH RESULTS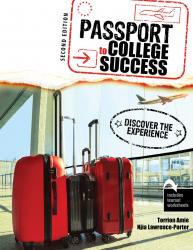 Details: Print Product |
Passport to College Success has had an amazing effect on my students by offering expanded definitions for each person of what it means to be in college. As a result, students using this workbook were better able to speak and understand the language of higher education and weave together the empowering aspects of their own stories.

This is a text that intentionally asks students to explore their backgrounds to draw on the "brilliance" inherent in them, as well as identify demographic factors that have meaning at the post-secondary level.

It provides a framework for moving students through a process of preparation for success in college as well as transitioning to their long-term goals. It is one of the rare guides that enables my students to benchmark themselves during their academic journey with practical tools that enhance their exposure to resources, mentoring, coaching, and what it means to become truly educated. The workbook helps students at all levels reflect on their college experience from a down-to-earth, strengths-focused approach, while moving them towards a growth mindset. I will use this book with future cohorts preparing for college-readiness, degree completion and transfer, as well as in my student success seminar course offered to new college students.

Richard Webb, M.Ed.
Finish Line Program
Normandale Community College
Foreword
About the Authors
Chapter I You Are Here
Education—A Way Up, a Way Out, and a Way Forward
The Reason You Are Here
Your Journey to Success Starts with Identity
Using the Passport to College Success on Your Personal Journey to Success
Education: The Great Equalizer
Passport Exercise: Insight and Identity
Passport Exercise: Identity Checklist
Identity Checklist: Social Class Background
Passport Exercise: Identity Reflection
Passport Exercise: My Back Story™
Passport Exercise: Unpacking Your Back Story™
Chapter Review Questions
Works Cited
Chapter 2 Academic Preparation and Self-Assessment: Identifying the Gaps
Introduction to the Chapter
Preparation and Assessment
Solidify Your Foundation
Passport Exercise: Find the Actual Study Time
Passport Exercise: Accountability Plan
Chapter Review Questions
Chapter 3 College Essentials
Introduction to the Chapter
Breaking the Code: Definitions for Safe Travel
Essential Tools to Master in College
Passport Exercise: Catalog Reconnaissance
Passport Exercise: Decoding the Syllabus
Chapter Review Questions
Works Cited/Online Resources
Chapter 4 Creating Balance in Academics and Life
Introduction to the Chapter
Mindsets (Growth, Fixed, and Deficit)
What Hinders Balance?
What Creates Balance?
A System to Sustain the New Changes
Managing Key Relationships . . . The Challenging Ones
Passport Exercise: The Pain–Pleasure Ratio
Passport Exercise: "1440"
Chapter Review Questions
Works Cited
Chapter 5 Coaching and Mentoring
Introduction to the Chapter
Identifying the Right Mentor and/or Coach for You
Where Can You Find a Mentor or Coach?
Becoming a Mentor or Coach—Giving Back
Who Is the Best Mentor or Coach for You?
Passport Exercise: Potential Coach/Mentor Interview
Passport Exercise: Mentor/Coach Summary
Passport Checklist: The Foundation of a Blueprint
Coach/Mentor Toolkit
Chapter Review Questions
Works Cited
Chapter 6 Transitions
Introduction to the Chapter
You Are Still "Here"
What to Do While You Are Still Here
Intentional Action
Connect with People at Your Place of Transition
The Readiness Factor
Getting in, Transferring, Applying to Upper Division Majors, and Even Graduate School
Transition Readiness Questionnaire
Steps to Navigate Any Transition
Passport Exercise: Brand Awareness: How Others See You
Passport Exercise: Brainstorm Your Brilliance and Construct Your Brand
Passport Exercise: Create a Transition Plan
Chapter Review Questions
Works Cited
Chapter 7 What's Next?
Introduction to the Chapter
Becoming an Educated Person
Seven Essentials for Becoming an Educated Person
Passport Exercise: My Legacy
Passport Exercise: Gap Reflection
Chapter Review Questions
Works Cited
I really like the workbook format because it sends a message that this is supposed to be used – not just read! The Transitions chapter is well-done and encouraging students to plan far in advance for their goals is certainly ideal. Research suggests a focus on planning helps from an academic performance and persistence perspective as well, because there is a strong plan and goal in mind. Much of what is in this book could easily be applied to career preparation and development as well. I also love the quote. "Expect favor, not failure!"
Paul Shepherd, Ed.D.
System Director for Student Development and Success, Minnesota State
I especially like the inclusive tone of Passport to College Success. It invites readers from a variety of backgrounds and life experiences to participate as a valid, authentic player in their education and journey forward into a collegiate career. The welcoming and encouraging nature of Passport to College Success establishes a basis for student confidence. The step-by-step goal-setting content creates a firm foundation for student agency. This would be a great text in First-Year Experience or Student Success classes, as well as TRIO and other college access or retention programs. Including the experiences of students from differing backgrounds invites students to see themselves in the students profiled. The insights shared allow students to self-evaluate while also receiving confidence-building encouragement in their ability to navigate the transitions ahead.
Robin S. Perez, M.A.
Senior Academic Advisor, University of Minnesota
I will certainly use this for my daughter in high school to get her prepared for the transition to college. I really like the exercises and journaling aspect of the text because it invites the student to invest in their own academic experience, moving them out of that passive, idealistic stage to a more active, self-directed and self-accountable approach, shifting the student's mindset from passive to active engagement. High school students need this.
Parent
Anonymous
Students using this book are better able to speak and understand the language of higher education and weave together the empowering aspects of their own stories. This is a text that intentionally asks students of all levels to explore their backgrounds and draw on the "brilliance" inherent in themselves. It is a rare guide that enables students to benchmark themselves during their academic journey with practical tools that enhance their exposure to resources, mentoring, coaching and what it means to become truly educated.
Richard Webb, M.Ed.
Diversity, Equity and Inclusion Consultant/Trainer, Second Layer Consulting
Print
$47.25
ISBN 9781792419799
Details Print Product