RETURN TO SEARCH RESULTS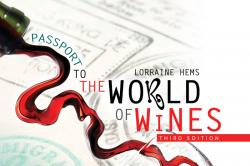 Passport to the World of Wines
Author(s): Lorraine Hems
Edition: 3
Copyright: 2020
Passport to the World of Wines is an anti wine-snob online course package. It fuses lectures, readings, and tasting while discussing the basics of viticulture and viniculture, labeling regulations, marketing, distributing, technology and more. In addition, it discusses wines from Old and New World countries and regions. Students of the course package will learn as much about their own palate and ignite a life-long passion for wine.
The turn-key online Passport to the World of Wines course package:
includes wine and food pairing suggestions designed to accompany each weekly wine tasting experience.
requires students to complete a wine etiquette review, tasting journals, and a paper / projects that explore the wine world in or outside the context of their own field of interest.
is easy to adopt! Assignments, exams, and journal entries are integrated within the framework of the course package and can be integrated with most course LMS.
Introduction
Acknowledgments
Wine Etiquette 101
CHAPTER 1 What is Wine?
CHAPTER 2 Viticulture and Viniculture
CHAPTER 3 Riesling and Terroir
CHAPTER 4 California
CHAPTER 5 Oregon and Washington
CHAPTER 6 New York State
CHAPTER 7 Australia and New Zealand
CHAPTER 8 Chile, Argentina and South Africa
CHAPTER 9 Champagne and Sparkling
CHAPTER 10 Wine and Food Pairing
CHAPTER 11 Burgundy
CHAPTER 12 Bordeaux
CHAPTER 13 Italy
CHAPTER 14 Spain and Portugal
Service and Storage
What to Consider When Hosting Wine Tastings
Continuing Your Education
Educational Groups and Organizations
Website
$104.74
ISBN 9781792424830
Details KHPContent 180 days