RETURN TO SEARCH RESULTS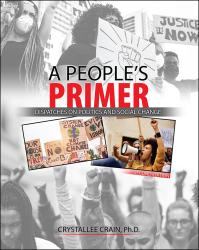 A People's Primer: Dispatches on Politics and Social Change
Author(s): Crystallee Crain
Edition: 2
Copyright: 2022




Details: Print Prod w/KHQ | 180 days |
This is not a traditional textbook. Dr. Crain takes readers through the historical and complex realities of the formation of the United States. With particular attention to the stories and contemporary experiences of indigenous people, people of color, women, and other groups fighting for the full spectrum of civil and human rights.
This book has four sections: Consent, Dissent, People Power, and Systems. Each section represents core information regarding the social, psychological, and decision-making elements of our democracy. Readers will have the opportunity to learn about the way our government works through a critical lens that allows for deeper questions and better solutions to some of our most pressing problems.
Introduction
Chapter One Genocide, The American Experiment, and Colonial Ambitions
Chapter Two Cultural Norms: Developing Personal and Political Agency
Chapter Three The Internet, Privacy, and Political Change
Chapter Four The Erasure of the Vote, Interest Groups, and Political Campaigns
Chapter Five Social and Economic Inequalities in the U.S.
Chapter Six Resistance Against Community and State Violence
Chapter Seven Human Rights, Civil Rights and The Movements For Equity
Chapter Eight Legislating Change: States Rights and Congressional Lawmaking
Chapter Nine The Realities and Misgivings of Presidential Power
Chapter Ten Supreme Justice: U.S. Courts and Constitutional Rights
Print Package
$59.00
ISBN 9798765713761
Details Print Prod w/KHQ 180 days