RETURN TO SEARCH RESULTS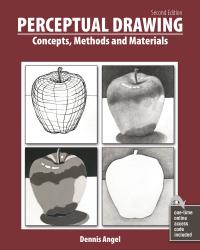 Perceptual Drawing: Concepts, Methods and Materials
Author(s): Dennis Angel
Edition: 2
Copyright: 2016
Pages: 191




Details: Electronic Delivery EBOOK | 180 days |
Drawing is a lifelong pursuit - a journey that provides endless visual exploration and a myriad of compelling challenges.
Perceptual Drawing: Concepts, Methods, and Materials is a guidebook to help students begin that journey. The result of Dennis Angel's nearly thirty years of teaching introductory drawing courses at the college level, Perceptual Drawing is intended for anyone who is interested in learning how to draw. It is written with the premise that drawing is a discipline. That it is teachable, learnable and should be accessible to anyone interested in a carefully organized and structured investigation of the drawing process.
Perceptual Drawing: Concepts, Methods, and Materials by Dennis Angel:
Contains 30 sessions that makes it perfect for a 2 or 3 credit hour college level introductory drawing course.
Features a logical format! Each session has been carefully sequenced so that as one moves forward, an understanding of drawing's vocabulary, techniques, and concepts are gradually nurtured and developed.
Demonstrates concepts in practice through diagrams, drawings, and brief video sessions that are accessible through web links.
Mirrors activities that typically occur in the studio/classroom setting: lecture/presentation, demo, in-class exercises, homework projects, and critiques.
Acknowledgments
Using This Book
Supply List
Introduction
Part 1: Line Studies
Session 1 Line and Observation
Session 2 The Pencil and Paper
Session 3 Exercises
Session 4 Cross Contour Line Drawing
Session 5 Cross Contour Drawings with Cloth
Session 6 Extended Line Drawing
Session 7 Linear Perspective
Session 8 Two-Point Perspective: Part 1
Session 9 Two-Point Perspective: Part 2
Session 10 The Circle in Perspective
Session 11 Linear Perspective: Interior Spaces and Atmospheric Perspective
Session 12 Composition
Session 13 Composition Studies Continued
Part 2: Tonal Studies
Session 14 Tone/Value
Sessions 15 and 16 Translating Color into Tone
Sessions 17 and 18 Tonal Collage
Sessions 19 and 20 Charcoal
Session 21 Complex Surfaces: Cloth
Session 22 Metal and Reflective Surfaces
Session 23 Transparent Surfaces
Sessions 24, 25, and 26 Three-Session Tonal Drawing and Archival Paper
Session 27 Introduction to Portraiture
Session 28 Placement of Facial Features and the Shoulder and Neck Area
Sessions 29 and 30: Self-Portraiture
Final Thoughts
About the Author
Ebook
$43.42
ISBN 9781792452925
Details Electronic Delivery EBOOK 180 days