RETURN TO SEARCH RESULTS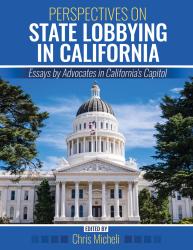 Perspectives on State Lobbying in California: Essays by Advocates in California's Capitol
Author(s): Chris Micheli
Edition: 1
Copyright: 2022


Details: Ebook w/KHQ | 180 days |
As a former colleague, Carl Brakensiek said, "A book of memoirs from seasoned lobbyists is long overdue and will be a significant addition to the lore."
Based on the author's past twenty-five years as a lobbyist at California's State Capitol, Chris Micheli, shares stories from colleagues and observations over the years. Newer lobbyists who come after some of these individuals should know the stories of these advocates because they were among the first after California's Legislature became a full-time lawmaking body in the late 1960s.
Perspectives on State Lobbying in California: Essays by Advocates in California's Capitol captures some of experiences and advice from seasoned professionals so that those individuals who are now lobbyists, and those who will enter the profession in the years to come, can benefit from the knowledge these individuals have and are willing to share.
The author acknowledges and thanks former and current colleagues who wrote essays for this book. This book contains the essays of those who were willing to share their stories and their advice for those who are in the profession or who are contemplating a career as a lobbyist. This book is a simple compilation of their stories.
Shari McHugh

Maureen O'Haren

Fred Taugher

Robert Naylor

Bob Achermann

Jim Cassie

Paula Treat

Caitlin Vega

Bev Hansen

Paul Gladfelty

Donna Pane

Josh Pane

Barry Broad

Phil Vermeulen

Jerry Meral

Maureen Higgins

Linda Muir

Billy Rutland

Hedy Govenor

Cliff Berg

Dennis Loper

Mike Belote

Dan C. Dunmoyer

Chris Micheli

Louie Brown

Rand Martin

Maurine Padden

Tim Hart

V. John White

Jim Gross

Eileen Reynolds

Karen Coker Keeslar

Jennifer Fearing

Tony Gonzalez

Kathryn C. Rees

David Walrath

Christy Bouma

Alexander Creel

Cesar Diaz

Lenny Goldberg

Dominic Dimare

Kathy Van Osten

Lance Hastings

Terry McHale

Joseph Cruz

Skip Daum

Ray LeBov

Jon Ross

Samantha Corbin

Bob Giroux
Perspectives on State Lobbying in California provides the best inside look at how the process really works in Sacramento. In addition to shining a light on the negotiations and politicking – yes, the 'sausage making' – that go into shaping legislation and regulations, the book also offers a very human insight into the lives of lobbyists. I highly recommend it for students who have any interest in California politics, and especially for those who maybe considering a career in Sacramento.
Ted Lempert, Lecturer
Political Science Department, UC Berkeley (teaching California Politics)
President, Children Now
Former State Legislator
Ebook Package
$78.75
ISBN 9781792494635
Details Ebook w/KHQ 180 days