RETURN TO SEARCH RESULTS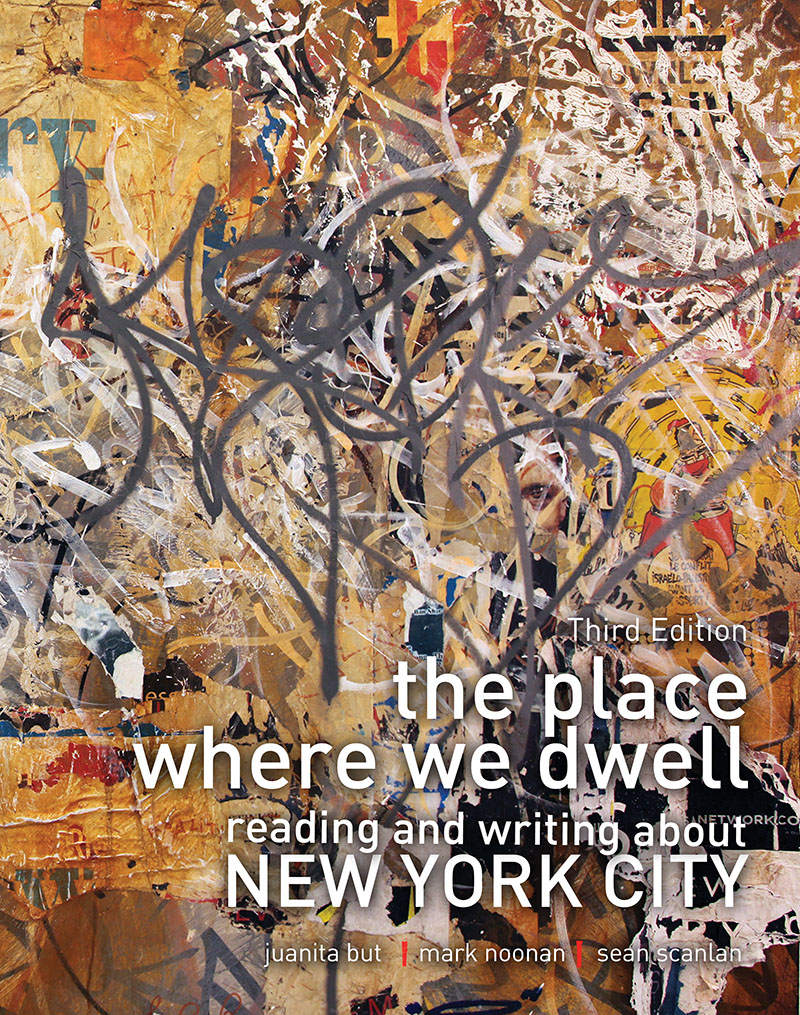 Many outsiders might view New York City as inscrutable - a place too vast and complex to understand - never mind to live in. But residents of New York know the city as a place that has both limits and great possibilities.
The Place Where We Dwell: Reading and Writing about New York City encourages the reader to explore the city in all of its complexity. Students taking their first or second composition class might approach writing and critical thinking as overwhelming, much like New York City to the newcomer. The Place Where We Dwell contextualizes critical reading, writing, and thinking, while exploring the city some call home.
The NEW third edition of The Place Where We Dwell inspires an animated discussion and to sustain conversations through several defined themes such as city life, immigration, urban education, art and design, current issues, and the waterfront.
The Place Where We Dwell: Reading and Writing about New York City:
Includes numerous essays that provide and demonstrate details and critical reflection that students could incorporate into their own writing.
Examines the rhetorical strategy of comparison and contrast.
Provides exemplary models of exposition, analysis, and argumentation and offer a broad context for student response.
Offers a sampling of imaginative writing that both expands upon many of the themes found throughout the reader and offers readers imaginative visions of the urban experience.
Includes student-friendly pedagogical elements such as chapter introductions, author biographies preceding each selection, pre-reading questions. Discussion questions, writing tasks, a companion website, and more!
SECTION I: Here is New York
Chapter 1. New Yorkers and their Neighborhoods
Colson Whitehead, The Colossus of New York
Katie Roiphe, Coney Island of the Mind
E. B. White, Here is New Yorks
Langston Hughes, Subway Rush Hour
Ralph Ellison, New York 1936
Anna Quindlen, Pregnant in New York
Ian Frazier, Take the F
Willie Perdomo, Where I'm From
Frances Chung, Yo Vivo En El Barrio Chino
Nelson George, Fort Greene Dreams
Chapter 2. Immigrants and the American Dream
Emma Lazarus, The New Colossus
Langston Hughes, Good Morning
Anzia Yezierska, America and I
Junot Diaz, The Money
Claude McKay, The Tropics in New York
Frances Chung, Riding the Subway Is an Adventure
Edwidge Danticat, New York Was Our City on the Hill
Suki Kim, Facing Poverty with a Rich Girl's Habits
Chapter 3. Urban Education
DeWitt Clinton, Free Schools
Colin Powell, My American Journey
Bilal Rahmani, Chronicles of a Once Pessimistic College Freshman
Esmeralda Santiago, When I Was Puerto Rican
Alfred Lubrano, Bricklayer's Boy Howard Gardner, Five Minds for the Future
Claudia Wallace and Sonja Steptoe, How to Bring Our Schools into the 21st Century
Chapter 4. Urban Art and Design
José Parlá, Research and Memory
Joseph Anastasio, My Life in Graffiti
Berenice Abbott, Photographing the City
Lewis Wickes Hine, New York at Work
Dinanda H. Nooney, Domestic Photographs of Brooklyn
Rem Koolhaas, Prediction
Donald Reynolds, The Making of an Icon
Mark Naison, From Doo Wop to Hip Hop: The Bittersweet Odyssey of African-Americans in the South Bronx
Chapter 5. Current Issues 177
James Parrott, As Incomes Gap Widens, New York Grows Apart
Brian Paul, Affordable Housing Policies May Spur Gentrification, Segregation
Margaret Morton, The Homeless
Mark Berkey-Gerard, Youth Gangs
Aarti Shahani, Legalization and De-Legalization
Courtney Gross, Despite Setbacks, Bloomberg Plan Has Made New York Greener
Benjamin Shepard, Fighting Police Brutality in Global Brooklyn
Chapter 6. Exploring the Waterfront
"Giovanni Verazzano Discovers the Bay"
Russell Shorto, Henry Hudson: The Pollinator
Walt Whitman, Mannahatta
Ernest Poole, The Harbor
Phillip Lopate, The Brooklyn Bridge
Jennifer Egan, Reading Lucy
Gloria Deak, The People, Parks, and Ambience of Brooklyn
SECTION II: Literary New York
Fiction
Herman Melville, Bartleby, the Scrivener: A Story of Wall Street
Stephen Crane, A Dark-Brown Dog
Edith Wharton, Mrs. Manstey's View
O. Henry, The Making of a New Yorker
John Dos Passos, I. Ferryslip
Ralph Ellison, Prologue to "Invisible Man"
Monique Ferrell, Tu Sabes: A Story In Three Parts
Kiran Desai, The Inheritance of Loss
Ha Jin, A Good Fall
Poetry
Hart Crane, The Bridge
Ezra Pound, In a Station of the Metro
Edna ST. Vincent Millay, Recuerdo
Amy Lowell, The Taxi
Langston Hughes, Lenox Avenue: Midnight
Hilda Morley, New York Subway
Li-Young Lee, The City in Which I Love You
Harvey Shapiro, Meditation on a Brooklyn Bench
Abraham Benjamin (2011), Lost Son's Self-Assessment
Taiyo Na, Immigrant Mother (Lovely to Me)
Gang Starr, The Place Where We Dwell
Meena Alexander, Central Park, Carousel
George Guida, Life in the New World
Toni Morrison, The Dead of September 11
Print
$72.04
ISBN 9781465228314
Details Print Product Only (SA,CP, Pak, all Print)