RETURN TO SEARCH RESULTS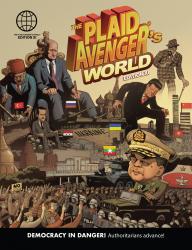 The Plaid Avenger's World: Democracy in Danger! Authoritarians advance!
Author(s): John Boyer
Edition: 11
Copyright: 2021




Details: Print Prod w/Plaid Avenger | 180 days |
The most easily-digestable and entertaining world regions textbook. Adopted by over 20 universities and schools around the country.
Get on board now as this 21st century train is leaving the station! This is the newest in new, the coolest in cool, most engaging textbook for the future generations of Americans as yet untaught in the basics of world geography, world history, international relations and current events. The Plaid Avenger's World is an introduction to the world, the whole world, and nothing but the world...which includes a little bit of everything.

It can be employed in courses like World Regional Geography, Intro to the Modern World, 20th Century History, 21st Century Happenings, Global Politics, and/or Global Literacy in general. The primary goal of this textbook is to essentially 'catch up' our woefully internationally-clueless students to the who/what/when/where/why arena of global events...in essence, to give them a framework of understanding into the critical and complex issues of our time that are now occurring in a global context.

That's right! There's that nefarious word 'global'! It seems to be everything nowadays...but for good reason. The world has changed rapidly in the last few decades, becoming ever more irrevocably interconnected than ever before. Like it or not, economies, politics, health/safety/environmental issues, and even cultures from across the planet are increasingly affecting each other every day and in every way. We now live in a global community....but most students know nothing of their neighbors! This international ignorance must end, and soon, as the success of our future generations-- and the great USA itself--depend on a literate, confident, and comprehending population that is not just aware of the world, but is engaged in it. But how can we immerse and interest an American population long-trained to be self-absorbed and globally disengaged? Enter: the Plaid Avenger.

A meek and mild-mannered college professor by day, by night the Plaid Avenger roams the planet by night to fight international injustices and solve instances of international intrigue....and explain it to students across the nation, in serious plaid fashion too! More importantly, he has written this textbook (The Plaid Avenger's World) as a titanic tool for international enlightenment, but with a twist: the narrative is presented in first person, straight from the Avenger's mouth, in the vernacular of the street, with gritty detail that students seem to relish. Forget the arcane and abstract academic treatises. This is a real dude, telling the real deal, to real students. It's real! Yes! It does all that, and a whole lot more. It's really a novel!

Why else so novel and new and a revolutionary concept? Because it is a book that continues to be written every day! Say what? The textbook has all the basics and backgrounds of the major regions of the planet which can be used for weekly readings and discussion. However, the Plaid Avenger him- self appears on a video blog on-line 2-3 times weekly to explain and elaborate on current events as they are unfolding! Have your students tune in and get turned on to what is actually happening out in the real world, as the man in plaid makes the connections from the page to the planet.

Additional web resources such as World Leaders Profiles, an on-line current event Comic Book

Adventure, International Interviews, interactive student forums, and Plaid Avenger Film Reviews have been developed for, and with input from, actual high school and college students....just as the original textbook was developed too. It is a product of the peoples! As such, you and your students have a voice in future topics as well: all Plaid Avenger current events missions and website content is based on user requests from you! Want an explanation on a hot topic or to see an additional world leader of note? Just drop a line to the Avenger and it will happen!
The Plaid Avenger's World Atlas is a digital app included with each purchase of The Plaid Avenger's World. With six major topical themes (Biomes & Ecology, Climate Regions, Land & Water, Physical Dynamism, Population Density and Political Geography) available to explore for each region covered in the book, the app provides students and instructors alike with a valuable and explorable resource, allowing students to engage their curiosity beyond the confines of a textbook. Students open the app to find a three-dimensional likeness of the earth, which can be moved and zoomed just like Google Earth and other online mapping platforms. By interacting with the features on the map, students can learn more about places, how they interact, and more!
Part One: Understanding the Plaid Planet
A Plaid World Intro
World Population Dynamics
The State of States
The Plaid World Economy
Developed or Developing?
International Organizations
Part Two: The Regions
Anglo-America
Western Europe
Eastern Europe
Euro-Addendum
Russia
Japan
Australia and New Zealand
Latin America
Mexico
Central America
The Caribbean
South America
Middle East and North Africa
Addendum: The Competition for Control
Turkey
Sub-Saharan Africa
South Asia
Central Asia
East Asia
Southeast Asia
Part Three: The Global Wrap Up
Democracy in Danger! Authoritarians advance!
Plaid Avenger's Hotspots of Conflict
Team Play: Evolving Power Centers of the 21st Century
Print Package
$113.40
ISBN 9781792473029
Details Print Prod w/Plaid Avenger 180 days