RETURN TO SEARCH RESULTS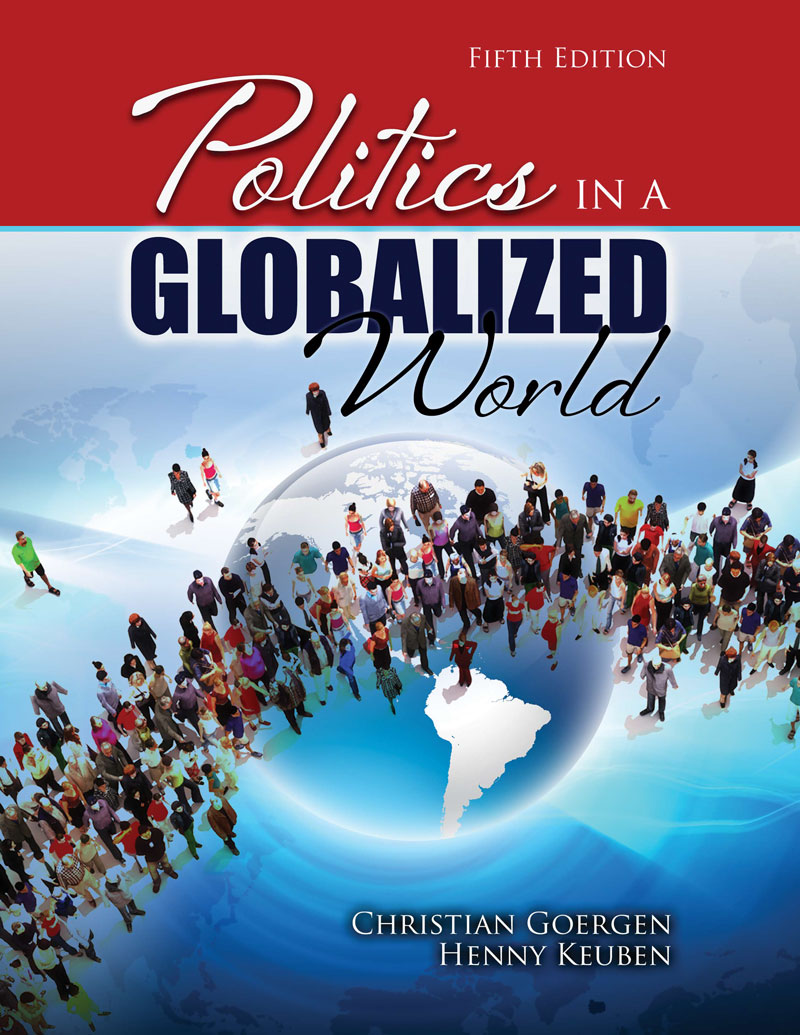 Politics in a Globalized World: A Problem-Based Introduction to Politics and Political Science
Author(s): Christian Goergen, Henny A Keuben
Edition: 6
Copyright: 2018
Pages: 250
New 6th Edition Now Available!
Political science is important because it can help us to better understand and eventually solve or alleviate the problems we face as a society…

Featuring the most recently available real-world data, Politics in a Globalized World: A Problem-Based Introduction to Politics and Political Science provides the reader with a unique and innovative style to the dynamic world of politics by discussing the major political problems the world faces at the beginning of the twenty-first century.

Written from a globalization perspective, the leading paradigm for research in many of the social sciences, Politics in a Globalized World:
Encourages the reader to become engaged in politics. Interactive features include links to numerous relevant sources, tutorial quizzes, and "What do you think?" questions that encourage the reader to reflect on the reading and apply the material to his/her own life.
Takes a decidedly international view of problems using examples from countries around the world. This focus reveals that the main dividing lines of political conflict emerge as those between North and South, that is, high income countries (HICs) versus less developed countries (LDCs).
Is truly interdisciplinary by including "A View From Across" essays written by anthropology, biology, geography, economics, health sciences, history, psychology, and sociology experts to show how they look at politically relevant problems.
Does not follow the traditional structure of introductory books, which often discuss one subfield of political science after another. That structure might make sense to political scientists, but not to undergraduate students. Instead, the publication includes arguments from political theory, comparative politics, and international relations. Each subfield is introduced in context and as a tool that helps students to understand pressing political problems.
Chapter 1 > Who Gets What, When and How in a World with Fewer Borders?
CHAPTER OVERVIEW
WHAT IS POLITICS?
OTHER WAYS TO THINK ABOUT POLITICS
HOW PEOPLE MAKE DECISIONS
GOVERNMENT, STATE, NATION STATE
NATION
NATIONSTATE
POLITICS & POLITICAL SCIENCE )
INTERDISCIPLINARY APPROACH OF POLITICAL SCIENCE
HOW USEFUL IS POLITICAL SCIENCE?
POLITICAL SCIENCE IS A TRUE SCIENCE
POLITICAL SCIENCE DOES NOT HAVE ALL THE ANSWERS
THE IMPORTANCE OF STUDYING POLITICS
WHAT IS GLOBALIZATION?
GLOBALIZATION AND ITS EFFECT ON GOVERNMENT
WINNERS AND LOSERS OF GLOBALIZATION
THE CULTURAL CONSEQUENCES OF GLOBALIZATION
GLOBALIZATION AND THE ENVIRONMENT
LET'S GET INVOLVED
A VIEW FROM ACROSS: ECONOMICS
FURTHER READINGS
FOOTNOTES/EXTERNAL LINKS
WHO GETS WHAT, WHEN AND HOW IN A WORLD WITH FEWER BORDERS?
FLASH CARDS

Chapter 2 > Origins, Rights, and Values
CHAPTER OVERVIEW
THE NEED FOR GOVERNMENT
ORIGINS OF GOVERNMENT
RELIGION AND GOVERNMENT
SOCIAL CONTRACTS
RIGHTS AND VALUES
WHAT ARE VALUES?
POLITICAL SOCIALIZATION
WHERE DOES POLITICAL SOCIALIZATION TAKE PLACE?
IDEOLOGY
MASLOW'S HIERARCHY OF NEEDS
NEEDS AND SOCIAL ENVIRONMENT
NEEDS AND THE ROLE OF GOVERNMENT
THE SIGNIFICANCE OF POLITICS IN EVERYDAY LIFE
FROM VALUES TO BEHAVIOR
VALUES AND CULTURE
CULTURE AND RELIGION
CULTURE AND PROGRESS
CULTURAL PLURALISM
CULTURE AND CHANGE
RULING ELITE THEORY VERSUS PLURALISM
CULTURES AND HOMOGENEITY
CULTURAL RELATIVISM
GLOBAL PROBLEMS POLITICAL
SOLUTIONS
A VIEW FROM ACROSS: ANTHROPOLOGY
FURTHER READINGS
FOOTNOTES/EXTERNAL LINKS
FLASH CARDS

Chapter 3 > The Problem of Poverty
CHAPTER OVERVIEW
WHAT CONSTITUTES POVERTY?
THE MANY FACES OF POVERTY
POVERTY IN RICH COUNTRIES: WHO IS TO BLAME?
POVERTY IN POOR COUNTRIES
HOW SHOULD WE MEASURE POVERTY: ECONOMY OR HUMAN DEVELOPMENT?
HOW MUCH OF A DIFFERENCE BETWEEN HIC AND LDC?
WHY ARE SOME COUNTRIES POOR?
DOES LOCATION MATTER?
MODERNIZATION AND CULTURE
CLOSING OBSERVATIONS ON MODERNIZATION
COLONIALISM AND THE DEPENDENCY SCHOOL
SUMMARY
THE CORE OF POVERTY: HUNGER
HUNGER AND FOOD SUPPLY
HIGH INCOME COUNTRIES AND FOOD PRODUCTION
IMPACT OF FARM SUBSIDIES ON EDCS AND LDCS
SUMMARY: WHY PEOPLE IN EDCS AND LDCS GO HUNGRY
WHAT CAN BE DONE?
WHAT CAN BE DONE: MODERNIZATION SCHOOL
WHAT CAN BE DONE: DEPENDENCY SCHOOL
WHAT CAN BE DONE: AN INTRIGUING INITIATIVE
GLOBALIZATION AND POVERTY
SOME CONCLUSIONS
A VIEW FROM ACROSS
APPENDIX 3.1: CHILD HEALTH KEY FACTS
APPENDIX 3.2: SOME PROS AND CONS OF NEW CATEGOIES
APPENDIX 3.3: DEBT CRISIS
FURTHER READINGS
FOOTNOTES/EXTERNAL LINKS
FLASH CARDS

Chapter 4 > The Problem of Violence
CHAPTER OVERVIEW
THE FACE OF VIOLENCE
DEFINING WAR
INTERSTATE AND INTRASTATE WARS
WHERE WARS ARE FOUGHT
WHO FIGHTS?
TWO WARS: THE WARS IN IRAQ AND AFGHANISTAN
INTRASTATE/CIVIL WARS AND LIGHT WEAPONS
JUST WARS
WHAT CAUSES WAR?
WAR AND HUMAN NATURE
WAR AND NATIONALISM
WHAT CONDITIONS MAKE WAR MORE LIKELY?
HOW WAR HAS CHANGED
GLOBALIZED TERRORISM
WHY TERRORISM?
WAR AND THE MEDIA
EFFECTS OF MASS MEDIA DURING THE RUNUP
TO WAR
EFFECTS OF MASS MEDIA DURING WAR
WAR, MEDIA, AND GLOBALIZATION
WHAT CAUSES PEACE?
WILL A GLOBALIZED WORLD BE MORE PEACEFUL?
A VIEW FROM ACROSS: GEOGRAPHY
A VIEW FROM ACROSS: PSYCHOLOGY
APPENDIX 4.1: WARS 19452000
FURTHER READINGS
FOOTNOTES/EXTERNAL LINKS
FLASH CARDS

Chapter 5 > The Problem of Attaining Freedom
CHAPTER OVERVIEW
WHAT PRICE FREEDOM
A TYPOLOGY OF FREEDOM
THE CHANGING CONCEPTIONS OF FREEDOM
HOBBES, LOCKE AND STUART MILL
IMMANUEL KANT
CONCEPTIONS OF FREEDOM TODAY
MEASURING FREEDOM
HOW IS FREEDOM MEASURED?
CALCULATING THE FREEDOM SCORE
EVOLUTION OF FREEDOM
FREEDOM AND DEMOCRACY
FREEDOM, DEMOCRACY AND ISLAM: THE ARAB SPRING
FREEDOM, DEMOCRACY, AND ASIAN VALUES
FREEDOM, BUDDHISM AND CONFUCIANISM
FREEDOM AND BUDDHISM
FREEDOM AND CONFUCIANISM
FREEDOM, DEMOCRACY AND EMPIRES
POLITICAL AND ECONOMIC FREEDOM IN CHINA
FREEDOM AND CULTURAL DIVERSITY
FREEDOM OF THE PRESS
DOES INFORMATION FLOW FREELY?
ORGANIZING THE INFORMATION SOCIETY
HOW FREE IS THE FREE MARKET?
FREEDOM AND ECONOMIC RIGHTS
FREEDOM AND GLOBALIZATION
A VIEW FROM ACROSS: HISTORY
FURTHER READINGS
FOOTNOTES/EXTERNAL LINKS
FLASH CARDS

Chapter 6 > The Problem of Achieving Social Justice
CHAPTER OVERVIEW
JUSTICE DELAYED
WHAT IS JUSTICE?
ARISTOTLE
DAVID HUME
RELIGION
JOHN STUART MILL
JUSTICE AS FAIRNESS
IMMANUEL KANT
JOHN RAWLS
FRIEDRICH VON HAYEK
KARL MARX
DISTRIBUTIVE JUSTICE
JUSTICE AND POLITICS
JUSTICE, MERIT AND EQUALITY
JUSTICE AND ECONOMICS
JUSTICE AND TRICKLEDOWN
ECONOMICS
STANDARD OF MERIT
ARE FREEDOM AND EQUALITY COMPETING VALUES?
SUMMARY
THE REALITY OF (IN)JUSTICE
GLOBAL INEQUALITY: WHAT TO DO?
JUSTICE AND THE GLOBAL ECONOMY
WHY ECONOMIC GLOBALIZATION IS GOOD
WHY ECONOMIC GLOBALIZATION IS BAD
CAN GLOBALIZATION'S BENEFITS BE MORE EQUALLY DISTRIBUTED?
INTERNATIONAL INSTITUTIONS: CAN THEY IMPROVE GLOBAL JUSTICE?
GLOBAL JUSTICE AND HUMAN RIGHTS
CLOSING
A VIEW FROM ACROSS: SOCIOLOGY
APPENDIX 6.1: HOW MOBILITY HAS CHANGED IN RECENT DECADES
APPENDIX 6.2: CHILD LABOR STATISTICS 20082012
FURTHER READINGS
FOOTNOTES/EXTERNAL LINKS
FLASH CARDS

Chapter 7 > The Problem of Sustaining the Ecology
CHAPTER OVERVIEW
TWO VERSIONS OF THE FUTURE
WHAT CAUSES OUR ENVIRONMENTAL PROBLEMS?
GROWING DEMAND ON NATURAL RESOURCES
INDUSTRIALIZATION AND ITS CONSEQUENCES
AIR POLLUTION
WATER POLLUTION AND OVERUSE
LAND AND FOREST LOSS
THE POLITICS OF ENERGY
ALTERNATIVE SOURCES OF ENERGY
FROM STOCKHOLM TO PARIS
CARBON FOOTPRINT
CO2 EMISSIONS
CAP AND TRADE
WHAT CAN BE DONE?
A VIEW FROM ACROSS: NASA
FURTHER READINGS
FOOTNOTES/EXTERNAL LINKS
FLASH CARDS

Chapter 8 > The Problem of Ensuring Political Participation
CHAPTER OVERVIEW
FORMS OF POLITICAL PARTICIPATION
TOTALITARIAN SYSTEMS
AUTHORITARIAN SYSTEMS
DEMOCRACIES
DISTINCTION BETWEEN THE SYSTEMS
DEMOCRACY AS THE FINAL ANSWER?
DEMOCRATIC GOVERNMENT AND ELECTORAL SYSTEMS
PRESIDENTIAL VERSUS PARLIAMENTARY SYSTEMS
WHO CAN VOTE?
POLITICS AND GENDER
DEMOCRATIC GOVERNMENT AND ELECTORAL SYSTEMS
SINGLEMEMBER
DISTRICT PLURALITY SYSTEM
MAJORITY SYSTEM
PROPORTIONAL REPRESENTATION
SMDP AND PR MIX
ELECTORAL SYSTEMS AND CONSEQUENCES
WHO PARTICIPATES?
FACTORS INFLUENCING POLITICAL PARTICIPATION
PARTIES AND INTEREST GROUPS
POLITICAL PARTIES
PARTY ORGANIZATION
INTEREST GROUPS
MEMBERSHIP GROUPS
ASSOCIATIONS
UNEQUAL PLAYING FIELD
CITIZEN GROUPS
NONGOVERNMENTAL
ORGANIZATIONS
INTEREST GROUPS AND METHODS
ELECTRONIC DEMOCRACY?
LOOKING TO THE FUTURE
APPENDIX 8.1: RUSSIA 2012
APPENDIX 8.2: GERMAN VOTING BALLOT
FURTHER READINGS
FOOTNOTES/EXTERNAL LINKS
FLASH CARDS

Glossary

Ebook
$81.04
ISBN 9781524949358
Details Electronic Delivery EBOOK 180 days