RETURN TO SEARCH RESULTS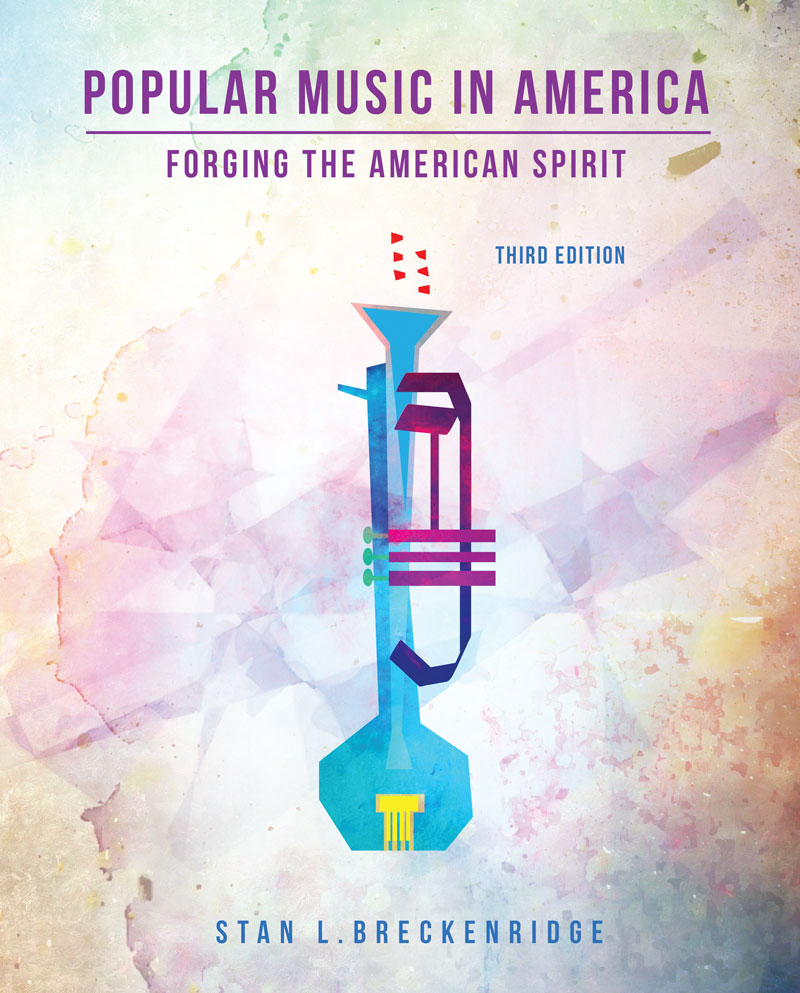 Popular Music in America: Forging the American Spirit
Author(s): Stan L Breckenridge
Edition: 3
Copyright: 2016




Details: Print Prod w/Audio/Video, Napster | 180 days |
If you purchased this book instructing you to access www.grtep.com for access to Napster, see below for the correct instructions:
1. Log on to http://www.kendallhunt.com/digitalmusic/order
2. Enter the code provided, then click Next.
3. Fill out the form completely.
4. Print out the next page for your records. You must have your Rhapsody coupon code to set up your Rhapsody account. If you cannot print the page, write your coupon code below exactly as it appears onscreen, or copy it to paste into the "Enter coupon code" field in the redemption page.
For support, email rhapsody@kendallhunt.com
There exists great interest in those music styles that have become a part of the American music scene. Some of these include American-born styles such as punk, folk, rhythm & blues, bluegrass, thrash, disco, jazz, and blues, soul, country, hip-hop, honky-tonk, heavy metal, and styles from abroad now nestled in American culture such as reggae, polka, Latin music, and classical music. Since the late 19th century, America remains to be a place where different musical styles and traditions are welcomed. Attributable to its diverse population and musical tastes, there exists, more so than in any other country, numerous styles of music in America.
Popular Music in America: Forging the American Spirit examines music in a chronological format. The book is organized chronologically and placed within historical parameters, thereby creating a framework for the discussion of artistic and stylistic tendencies, as well as specific influential musicians. Each time period examined includes coverage of the music, artists, and the social, political, cultural and economic environments.
Popular Music in America: Forging the American Spirit:
Examines the role of youth culture as a targeted consumer for marketing popular music has played and its role in the scheme of popular music and the business of music.
Uses the 1940s and WWII as principal dividing line for examining popular music in America.
Explains the advancements in technology and its role in popular music.
Includes coverage of popular music in the 21st Century.
Features a section on the "nature" or meaning of music – Particularly useful to students of diverse musical understanding, social and cultural backgrounds, gender, and age.
Dedicates an entire chapter to the business of music.
INTRODUCTION
• The Forging of the American Spirit
• The American Spirit Gives Birth to American Music
• Organization of this Book

PART ONE: GENERAL ASPECTS OF POPULAR MUSIC
Overview
Chapter One- What is Popular Music?
• Introduction
• Substance as a Contributing Factor to a Song's Popularity
• Functionality as a Contributing Factor to a Song's Popularity
• Quality as a Contributing Factor to a Song's Popularity

Chapter Two - The Business of Music
• Introduction
• The Recording Industry: A History
• Record Labels—Pre WWII
• Record Labels—WWII through the 1960s
• Record Labels—Present Day
• Record Labels—Divisions
• Record Labels—Distribution
• Copyright
• Music Contracts and Publishing
• Songwriter and Publisher
• Producer
• Artist and Manager
• Marketing and Artist Management
• Licensing
• Royalties
• Music Unions
• Trade Journals
• Music Charts
• Music Charting System

Chapter Three - Getting Music to the People
• Introduction
• Sheet Music
• Radio
• Popular Music and the Vinyl Record Industry
• Television Programs
• Music Festivals
• Youtube and Social Media Networks
• Athletic Events
• Video Games
• The Cloud
PART ONE: SUMMARY

PART TWO: MUSIC AND EARLY AMERICAN SOCIETY
Overview

Chapter Four - European Origins of Popular Music
• Introduction
• European Expansion into the New World
• Musical Styles and Dancing Activities during the Colonial Period–Overview
• Singing during the Colonial Period
• Singing among the Colonists
• 18th Century: Popular Music Activities
• High Art Music Activities: 18th Century
• Popular Music Activities: 19th Century
• Religious Music Activities

Chapter Five - African American Origins of Popular Music
• Introduction: Musical Activities during the African Diaspora
• Occasions for Music Activities among the Slaves: Work, Recreation, and Worship
Work: An Occasion for Slave Music Activities
• Recreation: An Occasion for Slave Music Activities
• Worship: An Occasion for Slave Music Activities
• Festival and Holiday Activities among the Slaves
• Conclusion

Chapter Six - Popular Entertainment
• Minstrelsy
• Traveling Road Shows
• Vaudeville
PART TWO: SUMMARY

PART THREE: A NEW CENTURY AND TWO WORLD WARS
Overview

Chapter Seven - Popular Entertainment
• Ragtime
• Marching Band Music
• Tin Pan Alley
• Mainstream Musical Theatre
• Black Musical Theatre

Chapter Eight - New Orleans Jazz
• Introduction
• Musical Character of New Orleans Jazz
• Musical Inl uences of Other Styles on New Orleans Jazz
• New Orleans Jazz Inl uences on Other Musical Styles

Chapter Nine - Blues: Folk and Classic Styles
• Introduction
• Historical Background and Musical Commonalities
• Blues Songs vs. Blues Style
• Blues Types
• Country/Folk Blues
• The Transition from Country to Classic Blues
• Classic Blues
• Classic Blues Lyrics and the 12-Bar Blues Progression
• Subsequent Country Blues Recordings

Chapter Ten - Country: Hillbilly and Bluegrass Styles
• Hillbilly
• Bluegrass

Chapter Eleven - Jazz: Chicago Jazz, New York Jazz, and Big Band Jazz
• Introduction
• Chicago Jazz
• New York Jazz
• Big Band Jazz [A.K.A. Swing]

PART THREE: SUMMARY

PART FOUR: MUSIC AND AMERICAN SOCIETY PRIOR TO AND SLIGHTLY AFTER WORLD WAR II
Overview

Chapter Twelve - Electri?ed Country and Blues Music
• Western Swing
• Honky-Tonk
• Electric Blues
• Conclusion

Chapter Thirteen - Jazz: Bebop and Cool Styles
• Bebop
• Cool Jazz
PART FOUR: SUMMARY

PART FIVE: POPULAR MUSIC IN AMERICA POST WORLD WAR II THROUGH THE 1970S
Overview

Chapter Fourteen - Rhythm & Blues
• Introduction
• Distinction between Electric Blues and Urban Rhythm & Blues
• Rhythm & Blues: Boogie-Woogie
• Rhythm & Blues: Urban
• Rhythm & Blues: Doo-Wop

Chapter Fifteen - Rock & Roll
• Rock & Roll
• Pop-Style Music
• Pop-Style Rock: Pop
• Pop-Style Rock: Teen Idols
• Pop-Style Rock: Surf Sound

Chapter Sixteen - A Revitalization of American Music: The British Invasion; 1960S Revival Music (Folk, Blues, and Country); and Psychedelic Music
• Introduction
• British Invasion
• 1960's Revival Music: Folk, Blues, and Country
• Folk
• Folk Rock
• Blues Revival
• Country Revival
• Country Revival: Southern Rock
• Country Revival: Country-Style Rock
• Psychedelic

Chapter Seventeen - New Approaches to Black Music during the 1960s: Funk, Disco, and Soul Styles
• Introduction
• Soul Music
• Soul: Basic
• Soul: Motown
• Funk
• Disco

Chapter Eighteen - Jazz Traditions: Free Form/Free Jazz, Fusion, and Jazz Rock
• Free Form/Free Jazz
• Fusion
• Jazz Rock
PART FIVE: SUMMARY

PART SIX: POPULAR MUSIC IN AMERICA FROM THE 1970s THROUGH PRESENT DAY
Overview

Chapter Nineteen - Rock Music and Theatricalism: Art Rock and Glitter and Glam Rock
• Art/Progressive Rock
• Glitter and Glam

Chapter Twenty - Hard Rock and Heavy Metal
• Hard Rock
• Transition: Hard Rock to Heavy Metal
• Heavy Metal

Chapter Twenty-One - Socio-Political Activism Music: Reggae, Punk, and Hip-Hop
• Introduction
• Reggae
• Punk
• Hip-Hop

Chapter Twenty-Two - Yesteryear's Mainstream and Alternative Rock
• Singer Sonwriters
• Rock Mainstream (A.K.A. Mainstream)
• Mainstream Artists: 1980s and 1990s
• Alternative Rock Styles

Chapter Twenty-Three - Popular Music in the 21st Century
• Introduction
• The Turn of the 21st Century Music
• Beginning of the 2nd Decade of the 21st Century
PART SIX: SUMMARY

BIBLIOGRAPHY
GLOSSARY
INDEX
Print Package
$165.38
ISBN 9781465299437
Details Print Prod w/Audio/Video, Napster 180 days