RETURN TO SEARCH RESULTS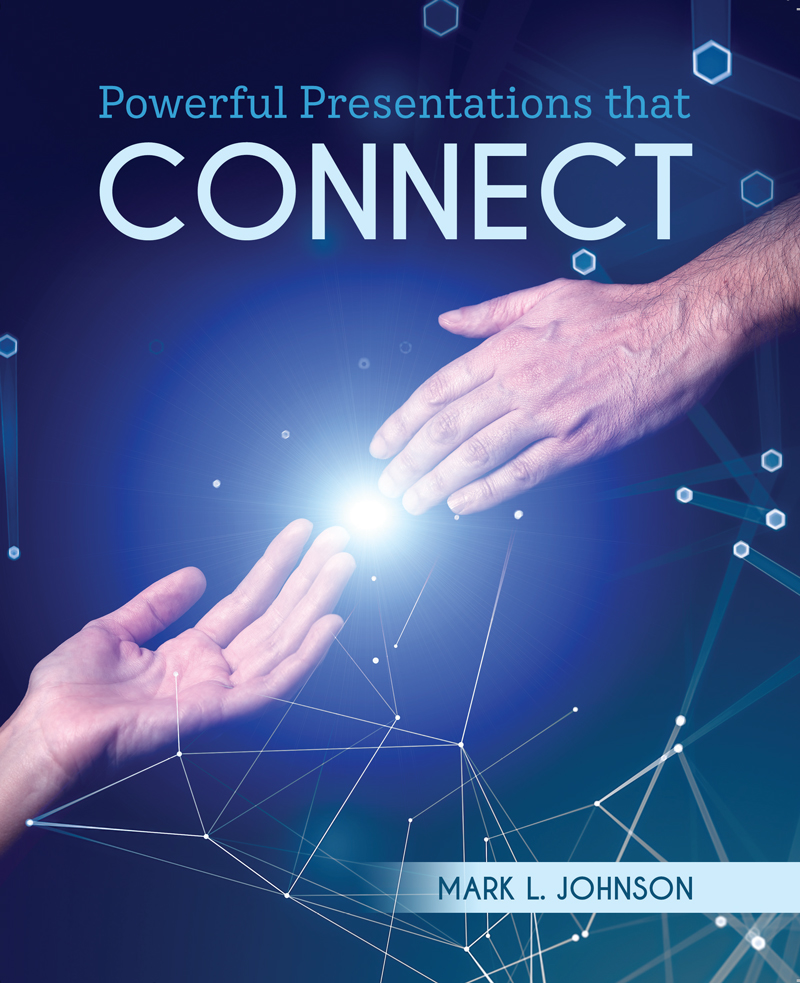 Powerful Presentations that Connect
Author(s): Mark Johnson
Edition: 1
Copyright: 2019




Details: Print Prod w/KHQ | 180 days |
Have you ever asked these questions, "Why am I so afraid to speak? What does it take for me to overcome my fear and be a better speaker? How can I get a better response from my audience?" If you have, you need to know there is hope. There is most definitely a way to overcome your fear and be not only a good presenter, but a great one.
Powerful Presentations that Connect is written for those who hope they can do better with presenting. They see a keynote speaker at a conference and say, "Wow, I wish I could speak like that!" The reality is simple—they can! But it takes time and it takes practice. Also, the key is that practice does not make perfect, only perfect practice makes perfect. You have to make note of how to improve and then each time you speak, intentionally make those adjustments as you speak. Doing it wrong again and again doesn't make you better, it just develops bad habits.
Powerful Presentations that Connect is a guide to making distinctive improvements in how you present. It includes hundreds of tips the author has learned over the years in connecting with audiences and making connections. It includes examples and case studies of actual situations. It provides worksheets and practical examples to overcome typical presentation situations. By following these suggestions and incorporating them into your presentation delivery, you will soon see a much greater response to your presentations and greatly improved evaluation results at the end of your performance.
Acknowledgments
Preface
Introduction
UNIT 1: CREATE A MESSAGE TO WHICH THE AUDIENCE CAN IDENTIFY
Chapter 1: Know the Purpose of the Presentation
Chapter 2: Analyze Your Audience
Chapter 3: Connect with the Audience
Chapter 4: Analyze the Environment
Chapter 5: Make the Topic Fit the Group
UNIT 2: DELIVER THE MESSAGE IN A WAY THAT WILL ENGAGE THE AUDIENCE
Chapter 6: Practice the Presentation
Chapter 7: Develop Effective Body Language
Chapter 8: Utilize Vocal Variety
Chapter 9: Deliver with Energy and Enthusiasm
Chapter 10: Use Technology Effectively
Chapter 11: Engage the Audience throughout the Presentation
Chapter 12: Check for Understanding throughout the Presentation
References
"I've been training OVER 30 years, but this course gave me a whole new perspective on how to improve my lesson plan and keep students more involved and interested."
Anonymous student
"Excellent class, exceeded expectations. Dr. Johnson is a highly competent, well-seasoned instructor. I understand and highly value the work and effort that Dr. J. has put into his development."
Anonymous student
"Very valuable training, excellent materials and a remarkable focus on the nuts and bolts of teaching and teaching techniques."
Anonymous student
"Changed the whole way I am going to teach in the future. Build trust with students, simplify lessons, focus lessons, step-by-step, guided practice, peer reviewing, student-student, frequent assessing."
Anonymous student
"It was really good to learn about creating effective PowerPoints. Breaking down duties down to steps. Always remember to teach what they need to know not what I know. Be the most dynamic thing in the room. Always be assessing. Don't be afraid of peer to peer review (criticism)."
Anonymous student
"Insights learned regarding visual learning. I will be reconstructing nearly all of my PowerPoints over time."
Anonymous student
"Dr. Johnson not only changed the way I will teach a class, he changed the way I will teach a colleague on the job site."
Anonymous student
"This was groundbreaking from start to finish. My entire training paradigm has shifted."
Anonymous student
"Exceeded all expectations! Helpful and fun way to improve any training class."
Anonymous student
"Great analogues and examples. Effective examples of making abstract ideas more concrete. I felt empowered to try something new in my presentation. Great feedback opportunities. More visual Power Point instead of a repeat of notebook content."
Anonymous studen
Print Package
$81.04
ISBN 9781524998059
Details Print Prod w/KHQ 180 days