RETURN TO SEARCH RESULTS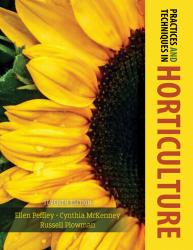 Details: Print Product |
The NEW 7th edition of Practices and Techniques in Horticulture has added some new exciting laboratory exercises as well as enhanced some of the previous activities. As students become more focused on the environment and sustainable plant production practices, we have evolved the book's focus to include these issues.
Practices and Techniques in Horticulture is designed to be the first introduction to the plant sciences and may provide the experiential components for a course to meet the laboratory science requirements in some core curriculums.
Practices and Techniques in Horticulture features:
learning objectives
a list of needed materials is provided for the faculty.
sufficient laboratory exercises that may be selected to provide a complete academic semester.
review questions, work sheets and report instructions create the backbone to help set the tone for this general education laboratory science course.
The Science of Horticulture
Lab 1: The Scientific Method
Lab 2: General Procedures in Microscopy
Lab 3: A Study of Stomata and Guard Cells
Lab 4: Plant Structures I
Lab 5: Plant Structures II
Lab 6: Sexual Propagation/Seed Germination
Lab 7: Sexual Propagation/An Alternate Look at Seed
Stratification/Germination
Lab 8: Seed Stratification
Lab 9: Light Effects
Lab 10: Transpiration
Lab 11: Identification of Herbaceous Plants
Lab 12: Identification of Woody Plants
Lab 13: Asexual Propagation
Lab 14: A Study of Insects
Lab 15: Hydroponic Production
The Art of Horticulture
Lab 16: Penjing/Bonsai
Lab 17: Topiary Art
Lab 18: Horticulture Industry Field Trip
Lab 19: Bulb Forcing (Flowering Bulb)
Lab 20: Urban Environmental Design
Lab 21: Judging Horticultural Products
Appendix
Print
$61.34
ISBN 9781792440229
Details Print Product