RETURN TO SEARCH RESULTS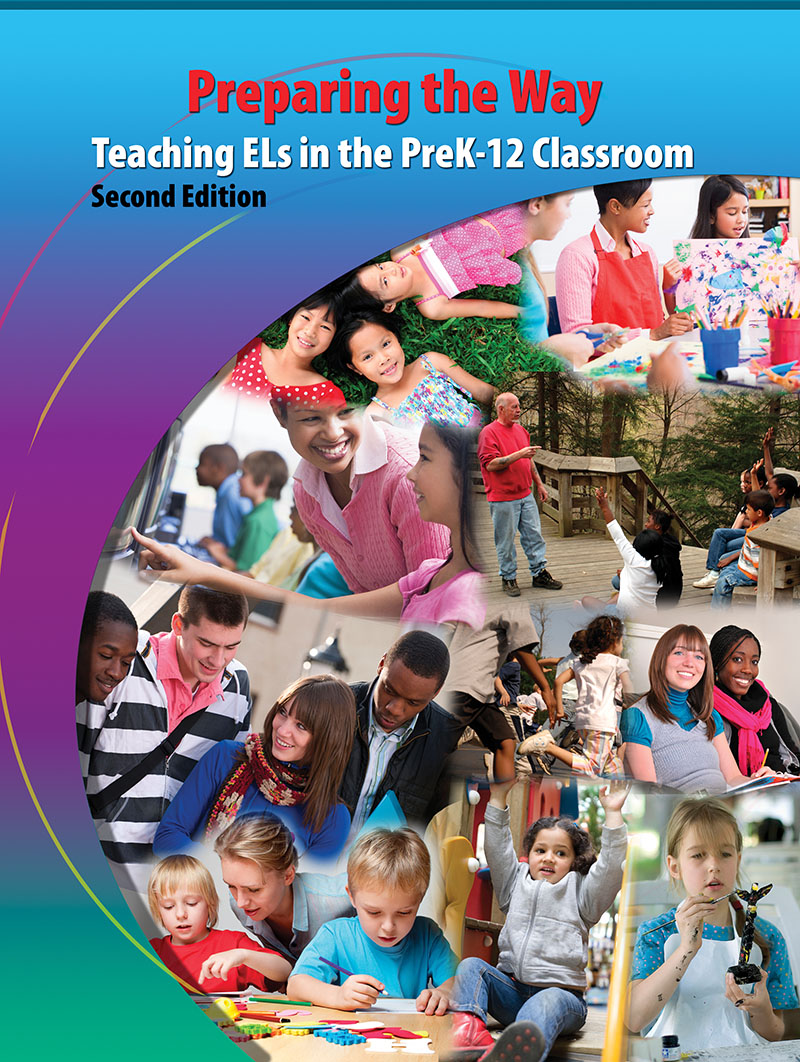 Preparing the Way: Teaching ELs in the PreK-12 Classroom
Author(s): Jane M Govoni
Edition: 2
Copyright: 2014
Pages: 288
CHOOSE FORMAT ?
Details: Electronic Delivery EBOOK | 180 days |
Experts in the field of second language acquisition (SLA) collaboratively provide a resource for pre-service and in-service teachers to meet the needs of English learners (ELs) in the PreK-12 classroom. Chapters are aligned to the five ESOL (English to Speakers of Other Languages) domains of culture, applied linguistics, methods, curriculum, and assessment. The readings are simple, but comprehensive, to support district trainings and teacher preparation programs. Readers are presented with the legal foundation of ESOL, ways to foster one's own cultural awareness, an understanding of the English language and its subsystems, SLA theories and their application to the classroom, connections to literacy instruction, and ways to modify lessons and adapt assessments to meet the needs of students from diverse backgrounds. Practical, hands-on activities provide the skills and knowledge to demonstrate ways to effectively teach and manage all students at varying levels of proficiency in English. Links for further discussion and research are provided along with tasks and assignments aligned to each of the five ESOL domains. New to this edition are rubrics for trainers and educators.
Preface
About the Authors
Acknowledgements
Introduction: Educational Policies and Practices
ESOL Foundations
Chapter 1 Understanding the Implications of the Florida Consent Decree
Gloria M. Artecona-Pelaez
Introduction
The EICM Model
Extended Thinking and Synthesis Questions
Chapter 2 Using Proficiency Testing to Improve Instruction: WiDA and CELLA
Florin M. Mihai and N. Eleni Pappamihiel
KWL Activity
Proficiency Testing
Stages of Second Language Acquisition: A Foundation for the WIDA Standards
The WIDA Standards and Language Proficiency Levels
The Comprehensive English Language Learning Assessment (CELLA)
Extended Thinking and Synthesis Questions
PART ONE: Culture (Cross Cultural Communications)
Introduction
Probable Passage Activity
Chapter 3 Transforming Challenges into opportunities: Becoming a Culturally
Proficient Educator
Samuel S. Perkins
Introduction
Surface and Deep Elements of Culture
Characteristics of Culture
Culture and Learning Styles
Cultural Pluralism
Multicultural Education
Culturally-Relevant Teaching
Cultural Proficiency
Think-Pair-Share Activity
Extended Thinking and Synthesis Questions
KWL Activity
Chapter 4 Embracing Cultural Diversity: implications for the Classroom
Allene Grognet
Exclusion Brainstorming Activity
Introduction
American Culture
Stereotypes
Cultural Implications for the Classroom
Double Entry Journal
Extended Thinking and Synthesis Questions
PART TWO: Language and Literacy (Applied linguistics)
Introduction
Anticipation Guide
Chapter 5 The Fundamentals of Applied linguistics: Communication through Language
Elizabeth Platt
Phonology
Phones, Allophones, and Phonemes
Systematicity of English Consonants
Minimal Pairs: listening and speaking
The Systematicity of English Vowels
Suprasegmentals
Phonology and Second Language (L2) Learning
Morphology
Classification of Morphemes
Derivational Morphemes
Roots and Stems
Inflectional Morphemes
Developmental Phenomena in L2 Learning
Problems in English Verb Morphology
Syntax
Theoretical Issues with Syntax
Lexical and Functional Categories
Universals in Word ordering
Case-Marking
Order of Elements in Phrases
Prescriptive Grammar Rules
Semantics
What It Means to Mean: Do Words Contain Meaning?
Denotation and Connotation
Semantic Relations
Concepts
Metaphors
Semantic Relations: Meaning Beyond Word Level
Ambiguity
Pragmatics
The Scope of Pragmatics
Dialects and Bilingualism
Child Language Socialization
Language Functions (Speech Acts)
BICS and CALP
Cross-Cultural Discourse Practices in Writing
Language Acquisition/Learning and Teaching
Language Experience Approach (LEA)
Extended Thinking and Synthesis Questions
Chapter 6 Analyzing Theories of Second Language Learning
Elizabeth Platt, María Beatriz Mendoza, and Teresa Lucas
Previewing Activity
Three Approaches to Language Development
Research in the SCT Framework
Story Mapping
Extended Thinking and Synthesis Questions
Chapter 7 Applying Literacy Strategies for Els in the Classroom
Valerie Wright
Introduction
Linda Evans
Talking Drawings Activity
Common Core Standards
Text Complexity
Matching Readers to the Text
Close Readings
Critical Reading Skills for ELs
Guiding Readers through Texts
Interactive Strategy Guide
Reciprocal Teaching Discussion Guide
Word Study
Word Study Strategies
Word Collections
Picture/Word Sorting
Spelling in Parts (SIP)
Vocabulary Strategies
Preview-Predict-Confirm strategy
Focused Discussions
Word Walls for Individual Books or Chapters
Vocabulary Mapping
Vocabulary Prediction/Confirmation
Comprehension Strategies
Pre-Reading Strategies
Talking Drawings
Anticipation Guides
Previewing
Probable Passage
Tea Party
During Reading Strategies
Read to Find out
sQ3R
ReQuest
Post-Reading Strategies
Double-Entry Journal
Think-Pair-Share
Response to Intervention (RtI)
Application of RtI to Els
PART THREE: Methods of Teaching ESOL
Introduction
Teach the Text Backward Activity
Chapter 8 Maximizing Learning in an ESOL-Infused Classroom: Instructional Dynamics and Management
Gloria T. Poole
Introduction
Traditional vs. Today's Classroom
Standards: Content and Performance
Perspective of Methods and Strategies for Second Language Learning
A Paradigm Shift toward Current ESOL Approaches
Classroom Schematics that Support Language Acquisition and Learning
PreK and Elementary Classrooms
Intermediate Elementary Classrooms
Secondary Classrooms
Twelve Corollaries of Knowledge, Skills, and Dispositions for an Effective Classroom
Extended Thinking and Synthesis Questions
Chapter 9 Expanding Teacher Knowledge: Using Technology with English Learners
Ruth Ban and Robert Summers
KWL Activity
Introduction
Differentiated Instruction
Web 2.0
Open Source
iPrep 174
Partnership with Comcast
Story Mapping Activity
Extended Thinking and Synthesis Questions
PART FOUR: ESOL Curriculum and Materials Development
Introduction
Bilingualism in the Classroom
Oneyda Paneque and Teresa Lucas
Historical Perspective
Benefits of Bilingualism
What This Means for Teachers
Principles of Skill Transfer
Teaching for Transfer
Chapter 10 Making the Connection to Literacy: Bilingual Special Learners
Diane Rodriguez
KWL Activity
Introduction
Connection with Instruction
Literacy and Bilingual Special Education Learners
Assessment of Bilingual Emergent Learners with Disabilities
Character Frames Activity
Extended Thinking and Synthesis Questions
Chapter 11 Taking off the Wrapper: Identifying and Serving Gifted English Learners
Cindy Lovell
Introduction
Perceptions and Misconceptions about Gifted Students
Perceptions and Misconceptions about ELs
Underrepresentation of ELs in Gifted Programs
Identifying Gifted ELs
Serving Gifted ELs in the Mainstream Classroom
Extended Thinking and Synthesis Questions
PART FIVE: Assessment (Testing and Evaluation)
Introduction
Chapter 12 ELs and Content Area Assessment: Large-Scale and Classroom-Based Applications
Florin Mihai and N. Eleni Pappamihiel
Assessment Principles
Types of Assessment
Test Accommodations for ELs: Definition and Examples
Effectiveness of EL Accommodations
Improving the Quality of Large-Scale Assessments for ELs: Policy Recommendations
ELs and Classroom-Based Assessments
Extended Thinking and Synthesis Questions
Bibliography
Index
Ebook
$66.36
ISBN 9781465279712
Details Electronic Delivery EBOOK 180 days