RETURN TO SEARCH RESULTS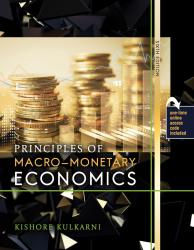 Principles of Macro-Monetary Economics
Author(s): Kishore G Kulkarni
Edition: 6
Copyright: 2019
Principles of Macro-Monetary Economics, 6th Edition, by Kishore G. Kulkarni has been revised to infuse modern literature, ideas, theories and updated data. It is an easy-to-understand text with clear cut explanation of terms. Students will benefit from the simplicity and straight-forward analysis in this edition.
Principles of Macro-Monetary Economics is ideal for a course that focuses on overall economic issues of GDP calculation, working of market system in a capitalistic economy, theories of consumption and investment, multiplier analysis, Fiscal and Monetary policy making in the U.S., and monetary theories of Keynes, classical economists and monetarists. The main objective of this text is to enable students to obtain basic understanding of economic thinking.
Also included is a workbook and access to the book's Web site.
Preface
About the Author
Chapter 1 Introduction and a Few Definitions
Chapter 2 Laws of Demand and Supply
Chapter 3 National Income Accounting and GDP Calculation
Chapter 4 Essence of Classical Economics: Pre-1930s Era
Chapter 5 The Keynesian Macroeconomics: Commodity or Product Market
Chapter 6 Money, Money Supply, and Banking Business in the United States, and the Money Creation Process of Banks
Chapter 7 Federal Reserve Banking and Monetary Policy Making in the U.S.
Chapter 8 The old Quantity Theory by Irving Fisher and Monetary Theory of Classical Economists
Chapter 9 The Keynesian Macro-Monetary Theory and Keynesian Chain
Chapter 10 Revised Quantity Theory of Money, the Optimum Monetary Policy, and Monetarism
Chapter 11 Inflation: Causes, Consequences, and Cures
Chapter 12 Business Fluctuations, Business Cycles, and Their Theoretical Explanations
Chapter 13 Phillips Curve Hypothesis: Old and New and Effectiveness of Macro Policies
Chapter 14 Expectations Hypotheses and Times Lags Involved in Policy Effectiveness
Chapter 15 Macro-Monetary Theory in Open Economy Setting: IS-LM and BB Curve Derivations and Mundell-Fleming Model
Chapter 16 Recent Developments in Macro-Monetary Theory: A Short Review
Chapter 17 Aggregate Demand and Aggregate Supply Analysis
Chapter 18 Fiscal and Monetary Policymaking in the United States: A Historical Review
Chapter 19 Financial and Macroeconomic Crisis in the US Economy 2008-2016
Chapter 20 Who Will Lead Global Growth? Slowing Trends Are the "New Normal"
Index
Website
$90.00
ISBN 9781792455902
Details KHPContent 180 days