RETURN TO SEARCH RESULTS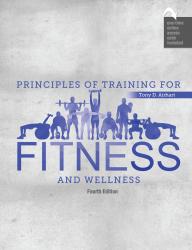 Principles of Training for Fitness and Wellness
Author(s): Tony D Airhart
Edition: 4
Copyright: 2020




Details: Print Prod w/NutriWellness | 180 days |
Chapter 1 The Importance of Increasing Physical Activity and Exercise
Learning Objectives
Lab 1.1–Par-Q Medical Form/Informed Consent
Lab 1.2–How Do You Rate on the Activity Pyramid?
Lab 1.3–Rating the Benefits of Physical Activity
Lab 1.4–SMART Goals
Lab 1.5–Health and Fitness Check
Chapter 2 Stress and its Impact
Learning Objectives
Lab 2.1–Common Stressors Among College Students
Lab 2.2–How Do You Respond to Stress?
Lab 2.3–Are You Sleep Deprived?
Lab 2.4–Stress Metric
Chapter 3 Assessing Physical Fitness
Learning Objectives
Lab 3.1–Student Pre-Test Assessment Form
Lab 3.2–Student Post-Test Assessment Form
Lab 3.3–Fitness Assessments Results
Lab 3.4–Body Composition/Disease Risk Assessments
Lab 3.5–Skill-Related Fitness Component Assessments
Lab 3.6–Evaluating Activities by Health-Related Fitness Components
Chapter 4 Essential Knowledge for Developing a Fitness Program
Learning Objectives
Lab 4.1–Evaluating your Exercise Program
Lab 4.2–How to Calculate Your Daily Calorie Needs
Lab 4.3–Planning an Exercise Program—FITT Formula
Lab 4.4–Determining Desired Body Weight According to Percent Body Fat
Chapter 5 Principles for Developing Muscular Strength and Endurance
Learning Objectives
Lab 5.1–Major Muscles and Muscle Groups
Lab 5.2– Determining the One Repetition Maximum (1RM) and Establish the Training Loads
Lab 5.3–Assessing Muscular Endurance
Chapter 6 Principles for Developing Cardiorespiratory Endurance
Learning Objectives
Lab 6.1–Target Heart Rates for Aerobic Exercise
Lab 6.2–Aerobic Exercise Lab
Lab 6.3–Determining Your VO2 Max
Chapter 7 Principles for Developing Flexibility
Learning Objectives
Lab 7.1–Comparisons of Flexibility Assessments
Chapter 8 Basics of Nutrition
Learning Objectives
Lab 8.1–Evaluate Your Eating Behavior
Lab 8.2–Portion Distortion Quiz
Lab 8.3–Fast Food Lab
Lab 8.4–Nutrition Analysis (Nutriwellness)
Glossary
Bibliography
Appendix
Par-Q Medical Form
Percent Fat Estimate For Men (chart p.155 of Training and Exercise)
Percent Fat Estimate For Women (chart p.156 Training and Exercise)
Student Pre-Test Assessment Form
Student Post-Test Assessment Form
Norm Charts
Fitness Assessment Results
Workout Chart (5 pages)
Cardiorespiratory Exercise Log (5 pages)
Print Package
$73.00
ISBN 9781792453571
Details Print Prod w/NutriWellness 180 days